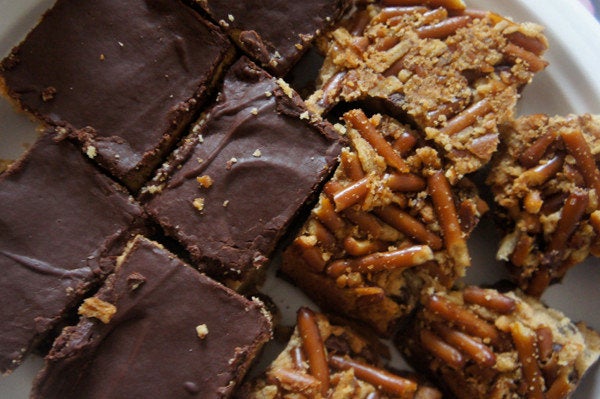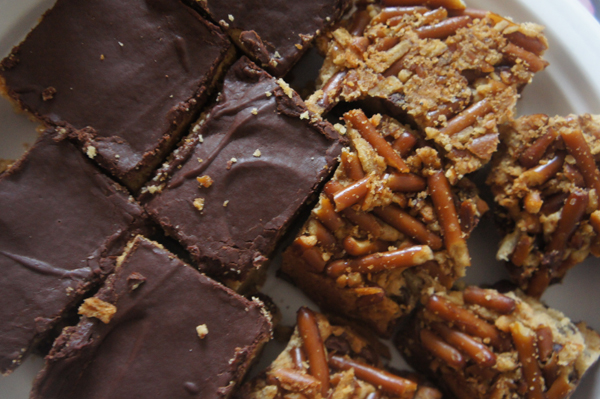 Photo Credit: Small Kitchen College
When it comes to dessert, I'm a sweet + salty kind of girl. In my opinion, any sweet treat can be made a whole lot better by a sprinkling of coarse sea salt. I used to work at a really great ice cream shop and bakery and one of my favorite treats there were these insane sea salt caramel brownies. The miniature chocolate bites had little wells in them to hold the wonderfully buttery, salty caramel -- I'm getting hungry just thinking about them. Once I discovered these and realized that salty sweet was the way to go, I started using my salt shaker more and more when I was baking. I made the most delicious salted caramel chocolate cake (which was extremely involved but totally worth it) and began experimenting with salted butter instead of the standard unsalted.
And then came these brownies. They're totally indulgent on my part, meaning that I managed to combine all of my favorite things into one bar. I matched the already perfect salty treat, peanut butter, whipped up a chocolate ganache to put on top and then crusted it with pretzels, and quickly found my new favorite dessert. I think the pretzel crust is a great idea and I plan on using it in place of other crusts -- graham cracker crust out, pretzel crust, in! Who's with me ?!
Katie Brossman is a senior at Johns Hopkins University where she studies creative writing and spends an inordinate amount of time "procrastibaking" for her friends. Her favorite condiment is sriracha and she enjoys exploring the Baltimore restaurant scene on the weekends.
For pretzel crust
2 1/2 cups crushed pretzels
1/2 cup melted butter
For brownies:
2 sticks unsalted butter, softened
1 3/4 cups sugar
1 cup peanut butter
2 large eggs plus 1 yolk
1 teaspoon vanilla extract
2 cups all-purpose flour
1 1/2 cups semisweet chocolate chips
For ganache:
1 1/2 cups semisweet chocolate chips
1/2 cup heavy cream
1 tablespoon unsalted butter, softened
Preheat oven to 350°F, placing rack in center. Butter a 13x9 inch baking pan and line with buttered parchment.
To make the pretzel crust, pour the melted butter over chopped up pretzels in a bowl and stir to combine. Pour into the baking dish and press down evenly with the back of a spatula.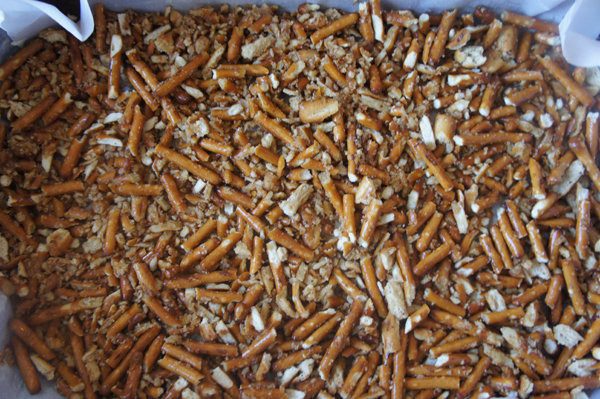 Photo Credit: Small Kitchen College
To make the brownies, beat together the butter and sugar with an electric mixer until light and fluffy. Add the peanut butter and beat until combined. Beat in eggs, yolk, and vanilla. Mix in the flour in stages until just combined. Mix in chocolate chips. Spread batter over pretzel crust.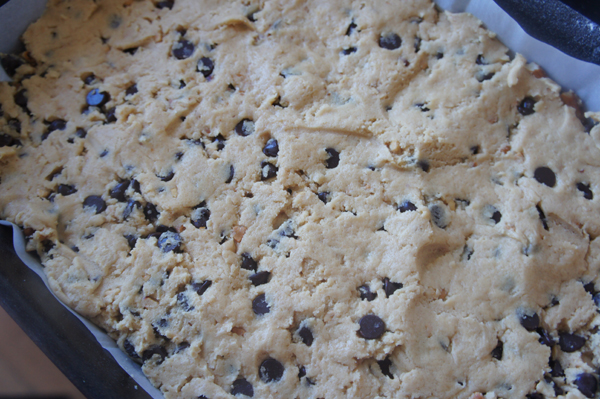 Photo Credit: Small Kitchen College
Bake until the brownies are golden and puffed on top, about 40 minutes. Let cool completely, about 1-1/2 hours.
To make the ganache, place the chocolate chips in a heatproof bowl. Bring cream to a boil in a small saucepan. Pour over chocolate chips and let stand for a minute.
Whisk in the butter, and stir until the chocolate is melted and the mixture is smooth.
Spread ganache over cooled brownies.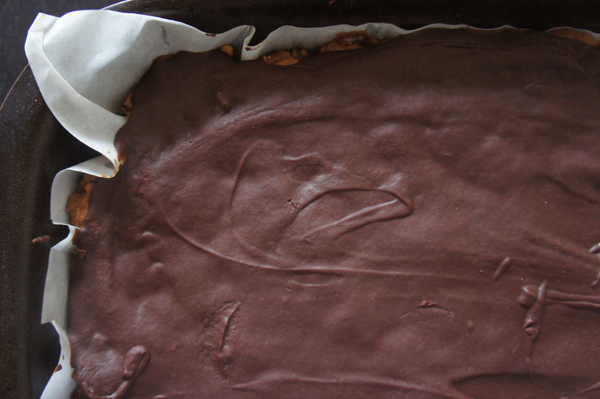 Photo Credit: Small Kitchen College
Let cool, then cut and enjoy!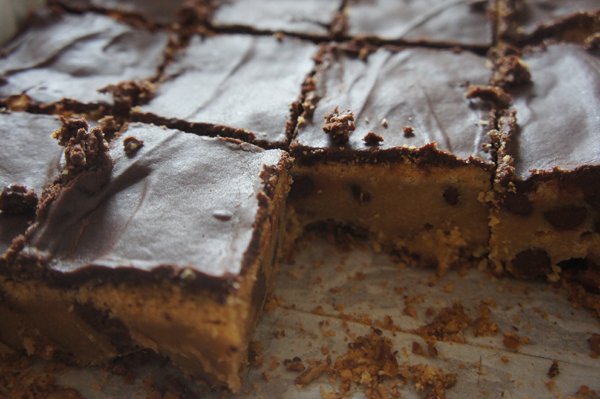 Photo Credit: Small Kitchen College
Popular in the Community