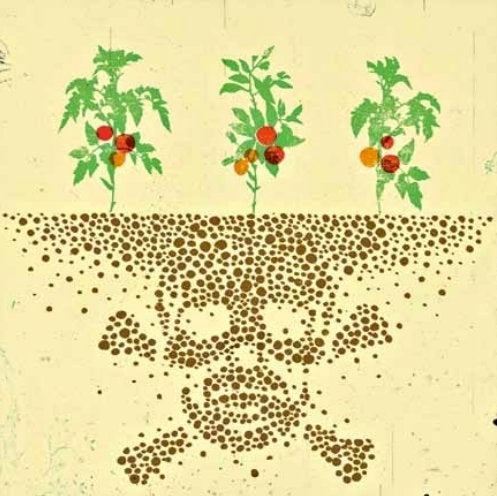 Since 1999, gardeners have experienced serious problems with herbicides that do not readily break down in compost. Residential lawn trimmings, hay and straw, municipal green waste, and cow and horse manure are all common compost ingredients that have become vectors for delivering unwanted chemicals, causing plant damage in home gardens. The offending active ingredients—the part of an herbicide that actually kills weeds—include clopyralid, aninopyralid, and the newest, aminocyclopyrachlor. This last is now attracting attention as the active ingredient in DuPont's brand-named Imprelis.
"These herbicides are all in the pyridine family," says Matthew Ryan, Ph.D., a Pennsylvania State University agroecologist. "They are classified as having a plant growth regulator, which means they kill plants by altering plant hormone levels. Because plants have different hormones than animals—for example, animals don't produce auxin and plants don't produce testosterone—they are generally considered safe for [ingestion by] livestock."
Agroecologists and weed scientists are concerned about the potential misuse of these herbicides because of their relatively long persistence in the environment and potential for injury to nontargeted plants, says Ryan, adding that the companies that make and market them emphasize the products' safety to livestock but aren't doing enough in noting posttreatment problems among plants. Ohio State University researchers found that when grass was treated with aminocyclopyrachlor and composted, it degraded by about 60 percent over 200 days, with plenty of the active ingredient remaining to do damage to susceptible crop plants—including beans, cucumbers, and tomatoes.
Currently, only those with a pesticide applicator's license can apply aminocyclopyrachlor. That includes the new product Imprelis, a broadleaf postemergent herbicide used on turfgrass (including professionally maintained home lawns). An Imprelis label states: "Do not use grass clippings from treated areas formulching or compost, or allow for collection to compost facilities. Grass clippings must either be left on the treated area, or, if allowed by local yard waste regulations, disposed of in the trash. Applicators must give verbal or written notice to property owners/property managers/residents not to use grass clippings from treated turf for mulch or compost."
The language raised a warning flag to many—commercial composters, landscaping professionals, and home gardeners who depend on the municipal compost stream. In a memo to members, U.S. Composting Council executive director Stu Buckner stated, "One problem is that the warning is on page 7 of a 9-page label, and unfortunately not everyone reads or follows the label. We are requesting [that] the Environmental Protection Agency initiate a special review of the registration due to the likelihood of residual herbicide levels in compost damaging nontarget plants."
This past summer, additional problems were discovered as tree damage and death—mostly to shallow-rooted trees such as spruces and white pines—linked to Imprelis use were reported in more than 11states from the Midwest to the East Coast. Still, DuPont and the Scotts MiracleGro Company are collaborating to develop and market to homeowners a new combination lawn fertilizer/herbicide containing aminocyclopyrachlor. Additional testing is being conducted, "so that we can provide the clearest guidance possible to consumers regarding the composting of grass clippings," says Lance Latham, spokesman for Scotts.
Meanwhile, a class-action suit against DuPont was lodged by a Pennsylvania homeowner and an Indiana golf course claiming damages for poisoned plants. Then, in early August, as we went to press, DuPont sent a voluntary recall for Imprelis to turf managers and product distributors, stating: " . . . DuPont is implementing a voluntary suspension of sale of Imprelis herbicide. In addition . . . we will soon be conducting a product return and refund program . . .We sincerely regret any tree injuries that Imprelis may have caused, and will work with you and all of our customers to promptly and fairly resolve problems associated with our product."
What's an Organic Gardener to Do?
Compost your own, and beware of outside feedstocks. If you import grass clippings from your neighbors or other sources, be familiar with their lawn-maintenance practices.
Know thy composter. Some commercial composters have stopped taking municipal green waste because of problems with persistent herbicides.
If your composter does accept green waste from landscapers, make sure they test each compost batch for herbicide residues.
Get active. Write to the U.S. Environmental Protection Agency and tell them it's time they live up to their name. Write to DuPont and Scotts and ask them how introducing persistent chemicals into the environment lines up with each company's sustainability mission.
Related
Popular in the Community