Already, on the drive from the airport, through the reserve of rainforest, lush and green for hundreds of miles, with drops to deserted ocean below, I felt it: a sudden descent of tranquility. I was now in Brazil, en route to Itacaré on the Bahian coast, where I would spend two weeks surfing with the EasyDrop school, celebrated, for over a dozen years, for having one of the best surf programs in the world.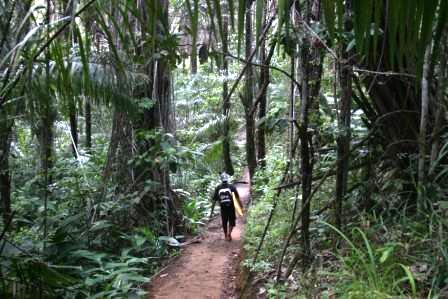 It's four hours of intense surf instruction a day, and this does not count the walks through the jungle, past a rush of a waterfall, to get to one beach (Engenhoca) or the boat ride across the river to get to another (Pontal). Owned by a German team in Europe, it is run and managed by a local Brazilian team of passionate surfers, all in extremely good shape---and, most important, eager to teach.
I was a bit scared of the boot camp intensity before I came. So I was surprised to find it not only invigorating (I developed strong biceps in a day), but very relaxing and chill.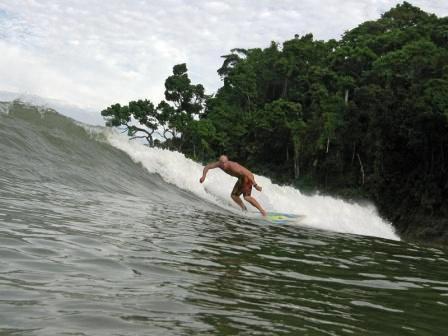 How can one not relish spending hours in the water with the instructor young Junior, with the yellow crinkly dredlocks, and hyper-lithe body, who smiles and laughs the whole time, because "I am happy" he says. He sings next to me in the water as we paddle out towards a lighthouse. "Relax," he says grinning, as he sees me a bit nervous before a huge wave. "Relax. Take it easy. Relax."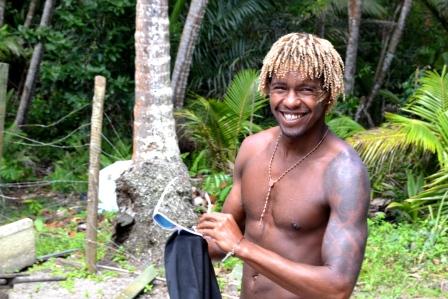 That wave, lolling and soft, went by. "Next one," he smiled. "Tranquila."

It is not only a matter of encouragement. Noting my errors, Junior made me memorize a Portuguese rhyme: "Sempre lembrar de se abaixar." Always remember to go low. And so my surfing improved steadily wave by wave, until by the end of the week, I was, for the first time, confident that I knew what I was doing--or at least should be doing, and this after dozens of previous lessons around the world.
This is what EasyDrop is known for: exact personal instruction from pop up to turn. I had come for this reason, because I was inspired by the exceptional lessons at their sister school in the Canary Islands, using the same approach. It is the only surf school I have ever been to in which the teachers (three for a group of eight students) actually make us practice our pop ups over and over on the sand, to get it imprinted into the body memory, with the instructor correcting not only the stance, but the hip placement and the arms. I never even knew there was a hip placement.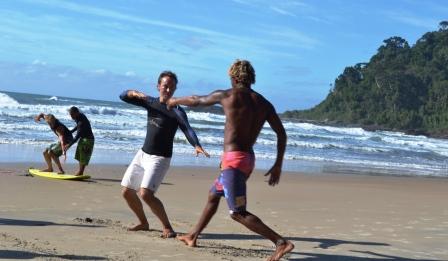 Our lead instructor Thiago, with ever-inspiring enthusiasm, draws spirals in the sand with his foot, and makes us--like a happy drill seargent--practice taking our turns, until we get it right. "Isso," he says when we do. "Isso!" A very relaxing drawn-out Portuguese word meaning, "Yes, that's it!"
At night, we reconvene in the office for the evening video session. Every wave we take is video-taped in the day, by the young grinning cameraman, Salomão (also a champion surfer), who sits under a palm tree on a cliff with his high tech camera. We eight students (including an Argentinian banker, a young German couple in love and a sensuous Portuguese med student) watch the screen as Thiago sits knee crooked up in his chair (surfing flexibility) and leaps up passionately to point to our errors. He analyses each move in slow motion. "See!" he says. "Knees could be a little closer." He is also quick with giving compliments. "Way to go Cristina," he says, to a young Malaysian business woman who--after two days of lessons--managed to stand up for the first time.
A matter of confidence, I learned, in both one's own skills and in the ocean. When dropping down a wave, you have to believe you will not get hurt---or you will look at your feet, get nervous, and wipe out. Rather like a dinner party. Trust your own skills and the guests around you, to make it a pleasant experience. Don't get nervous. Drop.
Easydrop is hands-down the best place to go for anyone who is serious about learning how to surf---in a safe and exotic location.
The town of Itacaré is a fantastic choice for a surf school not only because of its famed surf beaches under palm trees, but because it is a favored destination both among foreignors (I ran into a fellow NYU teacher on the main street) and Brazilians alike. With its cobblestoned streets, colorful homes and friendly Afro-Brazilian spirit, it oozes low-key good vibes. The Baianos are usually outside, playing dominos, chatting with children, standing at door fronts, smiling as you go by. It's very relaxed. Three times a week, there is capoeira in the Jungle bar. But you don't have to go to this bar to see it. Everyone in Itacare does capoeira, just like everyone surfs. Junior does capoeira cartwheels on the sand as I tie on my surf leash; laughing and calling out to his passing friends, who join him. An elderly man does a capoeira dance by himself. Smiling, he takes a break to teach me the basic ginga move. "It's back and forth," he said, staring me in the eye (a required interaction in capoeira.)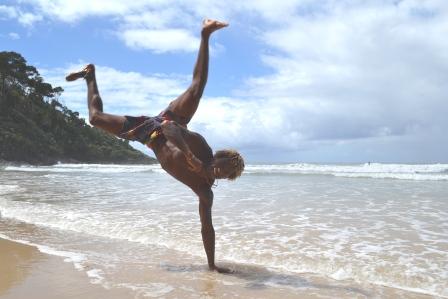 The best thing to do in Itacaré, for me, however, is to get lost: to go off the touristy "Pituba" street and explore the corner streets under the palms, with leather shops smelling of leather, and electronics stores smelling of metal, or the small local restaurants along the port, which serve the classic Bahian dish moqueca de peixe (fish with coconut, palm oil and coriander sauce) and of course caipirinhas.
Or take an afternoon to read stories to children in the Casa do Conto volunteer after-school program, in the poor bairro up in the hills, where children come running with enthusiasm to hear stories or learn English. An enterprise also supported by EasyDrop.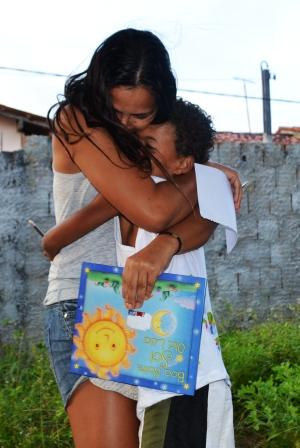 To follow with a sushi dinner in town: the most carefully sliced and delicious sushi I have had since Japan, with fresh tuna from the local fishermen, eaten to the music of Bob Marley. The owner, carefully wrapping the imported seaweed, explained to me that he had grown up in Sao Paulo with the biggest Japanese community outside of Japan--hence his agility with the sashimi.
Then back to the Pousada Girassol, a very clean and well-run family hotel, with tranquil views on the water, especially from the second floor (you can hear it lapping from your balcony), where Easydrop lodges its guests.

Inbetween the surfing and caipirinhas, I learn Portuguese from Márcia, a charming vibrant teacher in the EasyDrop office: six intensive lessons for just l00 dollars, that get me comfortable at once ordering more caipirinhas: kiwi, mango and limão.
And one evening, I have a Reiki massage with Veronica.
"Nice no?" Veronica smiles happily (everyone smiles happily in Itacare), as she removes the warm towel from my eyes. "The energy now flowing!"
"Do you surf?" I ask the happy young woman, knowing the answer (this is Itacaré after all), and feeling very relaxed and happy myself.
"Of course," she says. "It feels so nice, no? The long rush through the water." She imitiates being on a board flying through the foam. "I love it very much. So fast!"
Looking at the team of happy surfers running EasyDrop, the always grinning Thiago and warm-hearted Zuqueto (also a jujitsu master), or hearing Junior and Felipe rap back and forth with each other in the van as we come home from the surf, it is easy to be inspired to stick with the sport, to eventually be as joyously connected with the natureza, as Junio and Felippe rap it, as they.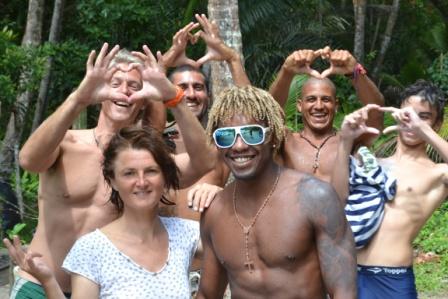 I hoped it was not too late.
"Oh there is no age limit for learning," exclaims Thiago. "Last week we had a 70 year old man from the US." He smiled. "Of course he used his knee to pop up, as he is a little bit old. But he did get the white water!"
I did not mention that until I took the EasyDrop lessons, I too used my knee.