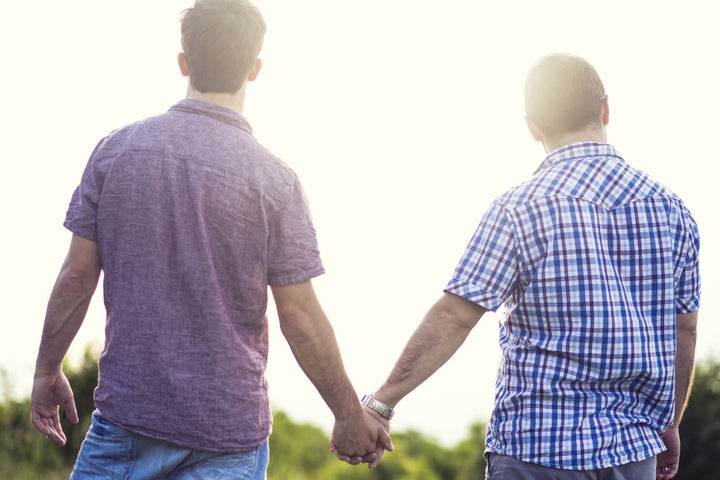 Being a teenager is hard, but it's even more difficult if you identify as lesbian, gay or bisexual.
The report paints an alarming picture of what it's like to grow up as a sexual minority in the United States. For Laura Kann, the researcher in charge of coordinating surveys that went out to high school students across the U.S., the results are a call to action.
"Hopefully this report will lead to some important action on behalf of these kids and the health problems that they're facing," said Kann, who is chief of the School-Based Surveillance Branch Division of Adolescent and School Health at the U.S. Centers for Disease Control and Prevention.
LGB teens are more likely to suffer from violence and depression
The report surveyed over 15,000 teens in schools across the United States and asked them about their sexual identity and sexual contact history in addition to health factors like smoking habits, sexual experience, drug use, diet, exercise, alcohol use and violence.
Based on the numbers, the CDC was able to estimate that out of about 16 million high school students in the U.S., a little less than 1.3 million teens, or about eight percent, either identify as gay, lesbian or bisexual. There are also approximately 514,000 teens who aren't sure about their sexual identity, and they too are considered "sexual minorities." The report also noted that sexual minority students were part of every race, ethnicity, economic, geographic and social group, as diverse as their peers in the sexual majority.
To get a sense of the relative risk gay, lesbian and bisexual teens face, this CDC graphic compares the rates of violence and risky behaviors between the two groups: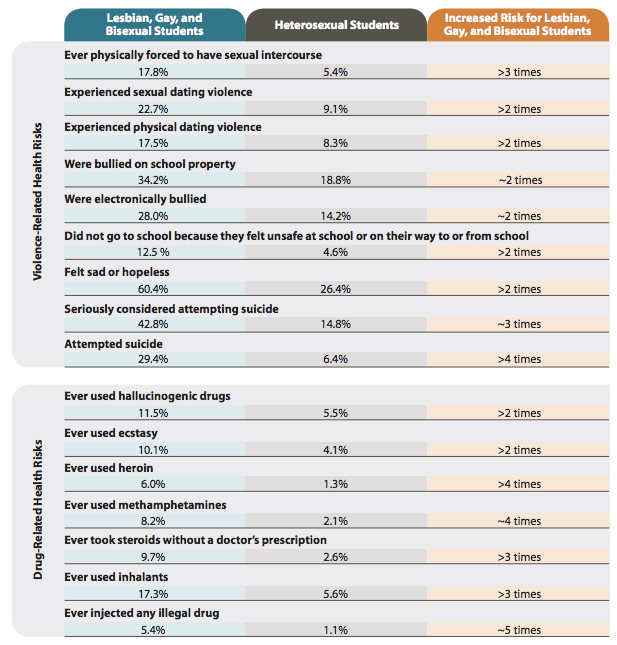 We're just starting to explore sexual fluidity
Because the survey asked teens both how they identified sexually and whether or not they had sexual contact with someone of the same or opposite sex, the CDC also managed to capture a snapshot of the sexual fluidity of American teens. That is to say, just because a teen identified as gay, that didn't necessarily mean that all of their sexual experiences had been with a same-sex partner. In the same way, a teen who identified as straight could also reveal that they had same-sex sexual encounters.
It's on us to make things better for teens
The report didn't go into why queer youth are at higher risk for these negative and violent life experiences, but past research shows that this group is more likely to experience shame, discrimination, family disapproval and social rejection compared to straight peers.
Kann points out that other studies have also identified protective factors that could help queer youth navigate tumultuous teenage years: strong family relationships, connections to other caring adults and peers, and access to support systems like mental health and substance abuse community services.
"If they've been raised with good problem solving and coping skills these too will help them transition through this period in their life and do so in a successful way," she added.
Kann makes it clear, both in her interview and in the report, that the onus is on communities, schools and parents to do more to foster a safe environment for queer youth. For schools specifically, this would include encouraging the formation of gay/straight alliance clubs, making sure health classes have inclusive curriculum relevant to queer teens and zero tolerance for bullying, harassment and violence against any student.
Unfortunately, only a minority of schools can claim to provide any services specifically targeted for queer youth. A 2014 study showed that only 52 percent of high schools taught about sexual identity and only 35 percent of high schools provided health services for gay, lesbian and bisexual students. Finally, only 17 percent of high school health service coordinators and only 30 percent of mental health and social services coordinators had been trained on providing services specifically for queer youth.
When it comes to gay/straight alliances or similar clubs, only 27 percent of middle and high schools across 47 states had one, but 61 percent of middle and high schools had a "safe space" where sexual minority students can turn to for support from school employees.
Survey will continue expanding to capture transgender data
The survey, which has been published every two years since 1991, did not ask about transgender identity. But Kann did say the CDC is planning pilot questions to be included in state-level surveys in 2017.
The CDC also plans to continue asking about sexual identity in all future youth surveys. They have also added sexual identity to the National Violent Death Reporting system to learn more about the causes of death that most affect the gay, lesbian and bisexual population.
"These data are absolutely critical for identifying the problem, and then hopefully leading to actions that can be taken among parents, school and communities to address these issues," said Kann.
CLARIFICATION: Language has been adjusted to indicate the CDC is already gathering sexual identity in mortality data, though it has yet to be published.
Before You Go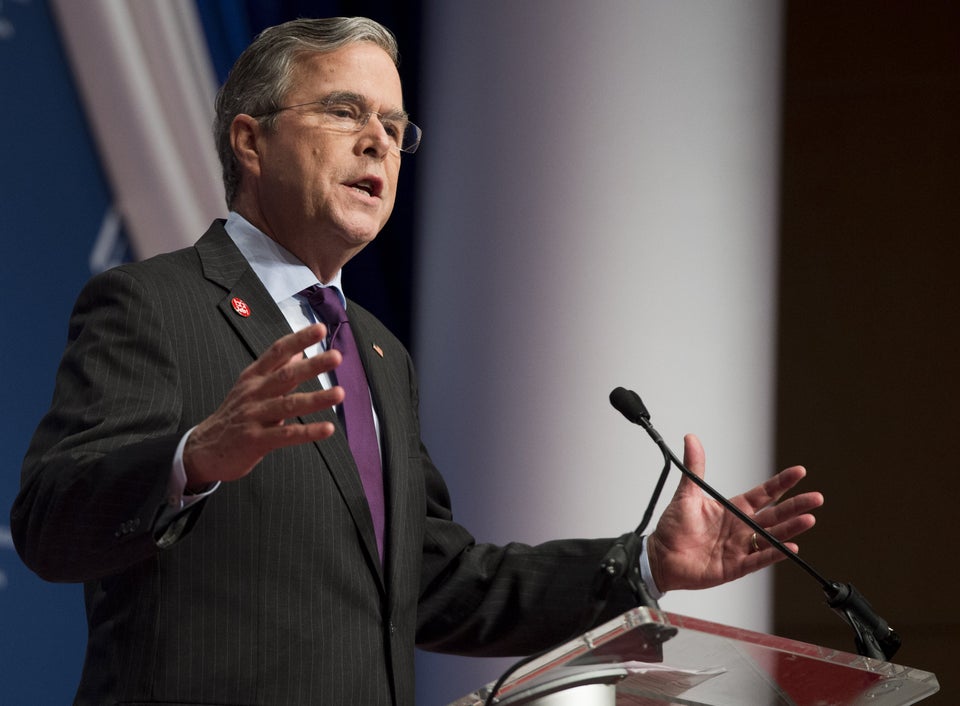 14 Worst Anti-Gay Statements By GOP Presidential Candidates