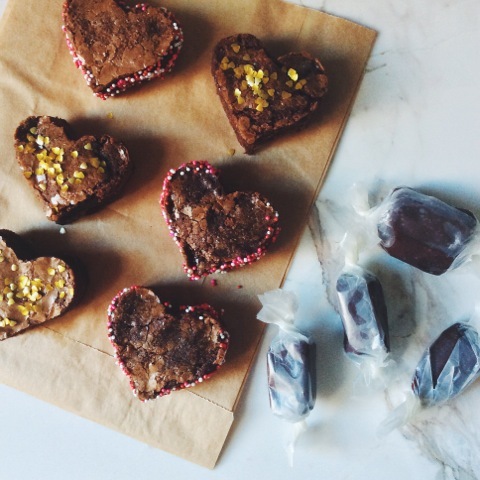 We can all admit that last minute Valentine's Day gifts will inevitably end up as some sort of cliché. But this year I'm re-vamping the all-time favorite cliché gift, that last-minute bouquet of red roses and turning it into a delicious declaration of chocolate love.
That's right, rosewater dark chocolate brownies. Skip the florist run and pick up a three-dollar bottle of rosewater extract instead, and from there your pantry will do the rest! These brownies aren't brain science, but the subtle hint of rosewater gives the softest kiss of sweet fragrant romance that no box mix can express.
Same old tricks but new sexy flavors: savory salted butter and Bonnat chocolate make a rich, moist classic brownie that's left lingering with rosewater's delicate fragrant aftertaste. Cook them up in petite cast-iron skillets and, twenty-minutes later, eat them right out of the oven, letting one spoon do the work for two, of course.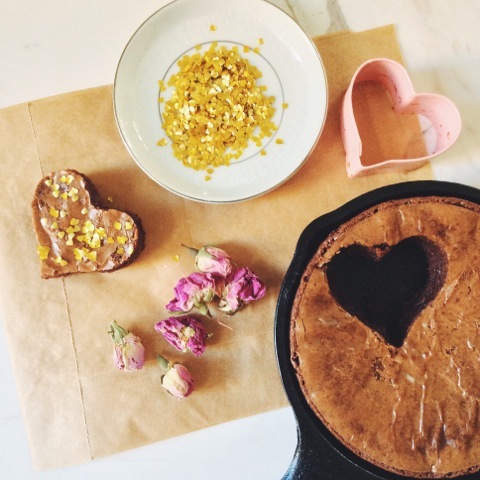 Or get creative and use that heart-shaped cookie cutter you never have time to actually make sugar cookies with to cut out a center of gooey love. Sprinkle with confectionery sugar, and let the rosewater, dark chocolate, and salted butter make the most sweet, salty, gooey kiss. And voila, homemade, last minute, cliché love just got a lot tastier. Guaranteed to blow roses, Russell Stover chocolates, and maybe even jewelry out of the park.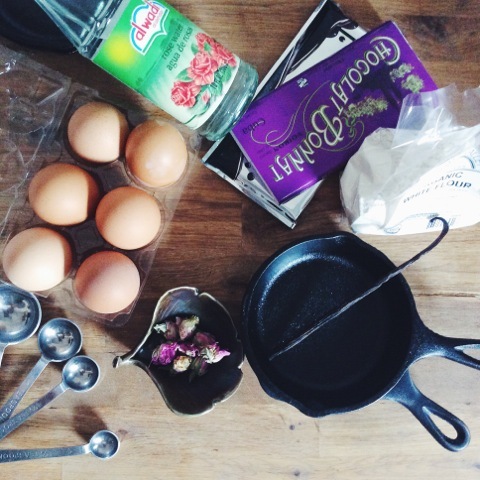 4 oz chocolate, chopped (Bonnat Chocolatier, yum yum)
6 TB salted butter (we used Kate's)
2/3 cup flour
1/2 tsp baking powder
1/4 tsp salt
1 cup sugar
2 eggs
1 tsp vanilla extract
2 tsp rose water (or more if you're a lover of rose)
Preheat the oven to 350 F. Whisk flour, baking power, and salt. Melt butter and chocolate over low heat in a double boiler. Let sit 10 minutes to cool. Whisk sugar, eggs, vanilla, and rose water together until pale, about 5 minutes. Slowly add chocolate mixture to egg mixture, tempering it. Add that mixture to dry flour mixture. Pour batter into four, buttered mini Lodge cast-iron skillets. Bake for 20 minutes.
If you don't have mini skillets, double the recipe ingredients and pour into 9x9 inch pan, bake for 25-30 minutes.
** P.S.! You like the looks of those caramels in the first shot? Erin McDowell made them. They are tasty...