For Vogue, by Brooke Bobb.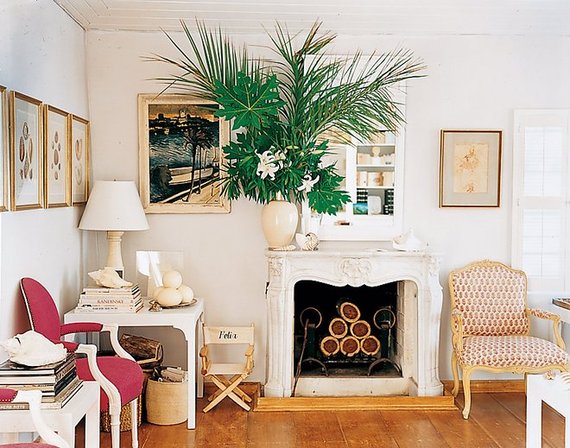 Photographed by Arthur Elgort, Vogue, May 1998
Once you decide to move in with that special someone, or you've just gotten married and are building a forever kind of home together, there's a lot to think about. It starts with considering where to settle down and how to finance it as a unit, but once that's all taken care of, the aesthetics start to come into play. More often than not, couples have varying tastes and styles when it comes to interior decorating, and it can be challenging to successfully merge the two and do so without any bickering or disagreements.
According to Noa Santos, cofounder of the online interior design company Homepolish, it can be done. It's all about having fun with the process and focusing on specific parts of the home that are easiest to approach and appoint together. However, Santos does acknowledge the importance of maintaining some personal space. "It doesn't hurt to have a corner of your very own," he explains. "I like to use a small powder room to decorate myself and really go bold, in my own way." He adds, "Worst case, your better half never uses your toilet, and best case, he or she realizes you have impeccable taste and gives you the Amex and free range over the rest of the house." Now that would be a real fairy-tale ending.
Below, Santos shares the four main categories that both of you need to focus on together. Don't make any of these decisions solo. Then you can branch out and add more personalized, decorative items that appeal to each of you individually.
Lighting
"This is always worth looking at together. The fixtures you choose, whether they're bathroom sconces or a living room pendant, are going to be focal points by default (they give off light, after all). Start by considering how you both want to use a certain space. For example, if the two of you like to entertain in the evenings, choose a pendant or chandelier with multiple bulbs and add a dimmer. Even on low light, you're going to get cocktail party drama that will be just enough for both of you."

Furniture and Rugs
"Larger pieces like rugs and sofas are worth getting a mutual buy-in. Make a list of what is most important to each of you separately, like comfort, color, shape, and fabric. Then use those constraints to narrow your options. When it comes to agreeing on a specific style, take your list and use tools such as Pinterest to search those terms. Find the images you both like and identify where there's overlap."
Wall Color
"Walls are the forgotten middle kid of the home. Most frequently left for the final phase of a space, wall color is often the easiest and least expensive way to make a massive statement together. It's also a sure way to take your look from apartment or house renter to owner. If both or one of you is afraid of committing to a color, don't. Opt for a soft gray, beige, or greige. Try bolder colors in the office or bathroom, and remember to choose an 'eggshell' not a flat finish if you want to wipe your walls clean."
Bedding
"We spend a third of our life in bed, and the right bedding can make or break not only your sleep but the vibe of your bedroom (obviously, very important to a couple in a new home together). Opt for a deep, saturated color rather than the white sheets your mom bought you for your first apartment. And material matters--if the two of you want to feel like you're curled up in the countryside and don't mind the trendy, messy bed look, try linen. For the type A couple who can't deal with wrinkles, go for cotton but keep in mind--the higher the thread count, the less your sheets breathe."