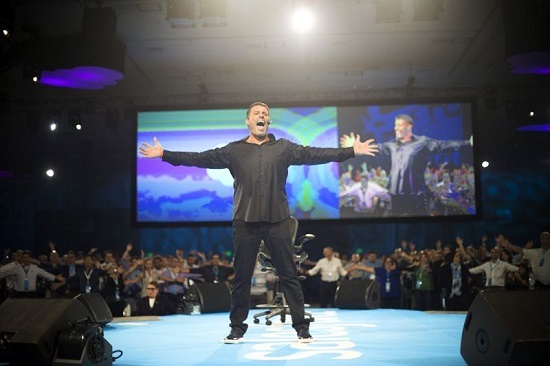 Publicity stilll from TONY ROBINS: I AM NOT YOUR GURU, courtesy of JoeBerlingerFilms.com.
The 5th Annual American Documentary Film Festival opens with "TONY ROBINS: I AM NOT YOUR GURU (Headed to Netflix July, 2016). The festival runs from March 30th to April 4th, 2016. The official opening night is March 31st. Nicholas Snow welcomes AmDocs Founder/Director Teddy Grouya for an exclusive interview.
As we learn at JoeBerlingerFilm.com:
TONY ROBBINS: I AM NOT YOUR GURU is a feature documentary film about internationally renowned life and business strategist Tony Robbins, is a revelatory cinema-verite film that goes behind the scene of his mammoth seminar Date with Destiny, attended by over 2,500 people in Boca Raton, Florida each year, to give an insider look at how one man can affect millions... Pulling back the curtain on Tony Robbins, a man that traverses the globe and consuls over 200,000 people annually, including world leaders, pundits and celebrities, TONY ROBBINS: I AM NOT YOUR GURU is an emotional tour de force that unveils the inner-workings of this mega event, the zealous participants and the man himself.
While relatively young, AmDocs has already established important credentials, being recognized internationally as an important venue for filmmakers, being named by MovieMaker Magazine as one of the five coolest documentary film festivals in the world! Over 1500 films were reviewed for screening consideration in the past year, coming from Argentian to Zimbabwe and across the U.S.
For information on how to pitch guests to the show and column, visit NicholasSnow.com. To be alerted of new episodes, follow me here on HuffPo, at Facebook or Twitter.
Calling all HuffPost superfans!
Sign up for membership to become a founding member and help shape HuffPost's next chapter