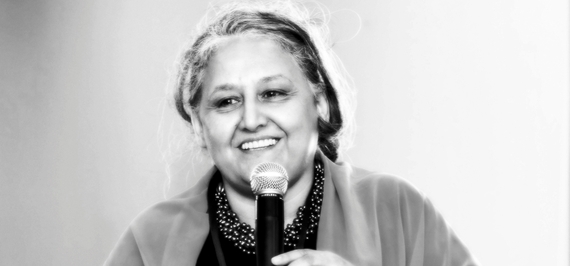 I have met many talented individuals on my journey who share a conviction, and have an idea or passion to create meaningful social change in the world. I have met just as many -- if not more-- talented individuals that try to make a difference but never leave the comfort of conformity with the existing paradigm. Wherever our own journey starts, my experience is that the tipping points are not when we get in touch with our values but when we are truly exposed to what we disvalue.
There are three tipping points on my journey that made a big difference for me. The first one was when the Berlin wall fell and I realized the meaning of "blind spots". I recognized that despite being well read and well educated, I have huge holes in my understanding of the world.
I was completely oblivious of many facts, which - once exposed - looked so obvious. I felt like an ant carrying diligently a straw within the limits of an urban city completely unaware of the fact that there is a presidential campaign going on and a car accident just close by.
Today, I am a fan of systems theory because I am convinced that there are always facts that remain unknown to us unless we consciously create the conditions that will enable us to see them. That means however exploring beyond our values, convictions, and judgments and venturing into the world of what we disvalue or fear.
The second tipping point for me was when 10 years later I became an expatriate and started living outside of my own "tribe". Exposure to otherness marked the beginning of a journey that helped me find my own authentic values and my own authentic voice. It was about seeing the values of "my own" from distance and being exposed to the completely different values of others.
The biggest tipping point for me came ten years and four home-countries later when I left the corporate world to start my own business. It was a change that put me out of my comfort zone and forced me to find my own authentic identity, this time outside of the corporate career ladder. The breakthrough was a book I read that described what I would find later to be Carl Jung's statement that "everything that irritates us about others, can lead us to an understanding of ourselves." The book advised on looking into what truly upsets and irritates us in others and what we really disvalue in them, as an opportunity to change ourselves.
At first, this put me back because so far I was convinced in the importance of knowing my own authentic values and acting according to them. The book advised into something that at face value was the opposite - finding value in what I disvalue. As I explored this in the months that followed, I went from shock to awe. Here is one of many examples from the experience that followed.
I have always valued being on time and meeting deadlines, and disvalued people that were sloppy in that regard. So, did I need to change that value? No, I still value reliability and accountability. What I learned though from such people, is that when I get obsessed with deadlines and timelines, I often miss on opportunities of being truly present in what is happening around me. Sometimes this comes across as not being compassionate of people I meet on the way. Sometimes it is about being stuck on my own expectations and worldviews, and missing to experience a much bigger possibility that is trying to emerge.
I write this article days away from the first ever World Values Day to which my company Eudaimonia Solutions is an Associated Partner. In celebration of this day and the importance of values, we encourage individuals and organizations to recognize their values, speak them up, act on them, share, and pass them on. In addition, I also encourage you to explore what you deeply disvalue and what gives you tension. Somewhere there is hidden your very own next tipping point.
Pioneers for Change is a seed-bed for innovative thought. An activator of personal potential. A catalyst for collective energy. A community to drive social change.
Our annual, international Fellowship is open to anyone aged 28 - 108 years old. We gather change-makers -- a business person, a community person, an investor, a thinker or doer -- who are willing to harness their talents, energy and resources as a force for good. Pioneers for Change is an initiative of Adessy Associates.
Adessy Associates believes a better world is possible, and equips and enables organisations and individuals to make positive change happen, and contribute to a sustainable future. We focus on benefit for people, planet and profit. Our bespoke services harness sustainability, innovation, consciousness and purpose. We are proudly B Corp certified.
About Natalia Blagoeva
Natalia Blagoeva founded Eudaimonia Solutions, following 20 years of international executive experience, as a leadership and organizational development company, which works today throughout Europe out of Zürich and Sofia. Natalia founded the company as a not-just-for-profit following her belief that to make the world a better place, we need to reimagine and co-create new ways to work, lead, and learn that make possible the emergence of purpose and values driven organizations that invite people to bring their whole selves to work. The result are organizations incapable of wrongdoings in which people say: "Thank God It's Monday!" and Tuesday, and every other day.
Natalia Blagoeva is a Certified Management Consultant with the ICMCI, a Certified Cultural Transformation Tools Consultant with the Barrett Values Centre, as well as a Certified Professional in Learning and Performance with the ATD. She often serves as an expert speaker on subjects of leadership, group culture, and diversity. Natalia is also a contributor to the global communities Teal for Startups, Theory U in Practice, and the Society for Organizational Learning (SoL).
Support HuffPost
The Stakes Have Never Been Higher
Related
Popular in the Community