The Boston Herald, February 8, 1995

"Verizon plans to offer cable television to customers in Rhode Island and Massachusetts - starting with Somerville.

"Verizon must upgrade switching systems, lay fiber optic and coaxial cable, making investments that could eventually reach billions of dollars, said spokesman John Johnson.

"'We will begin construction almost immediately. A good bit of it is going to be aerial, on poles. There will also be some underground,' Johnson said.

"Starting with Somerville, Verizon service is planned for 330,000 households in Boston, Winthrop, Brookline, Cambridge, Watertown, Peabody, Salem and Marblehead, Johnson said."
NOTE: The proposed Verizon fiber optic communities in the year 1995 also included Roxbury, Brighton, Beacon Hill, Back Bay and Revere.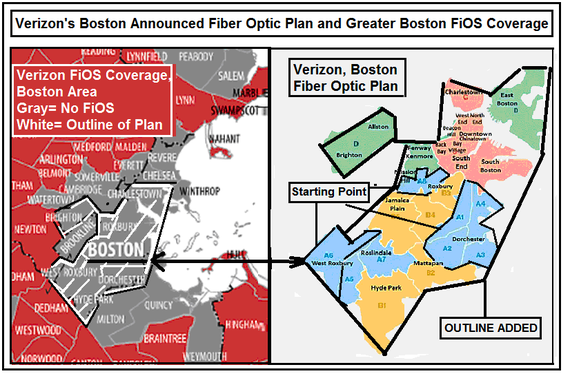 In April 2016, Verizon announced a plan to bring FiOS, the fiber to the home service, to the City of Boston, spending $300 million over the next 6 years. And, as we wrote, there are a bunch of serious holes in this story as it is clear that Verizon has decided it can now do 'faux FiOS' - where the wire is replaced by a fixed wireless broadband service - which, ironically, still requires a fiber optic wire.
However, I was struck by the fact that the Boston plan is not a plan to wire the surrounding towns - Cambridge, Somerville, Chelsea, Revere, Watertown, Brookline, Quincy, or even Salem, among other communities. In fact, there is a question whether Verizon is going to do fiber to the home anywhere except in a few sections, including Roxbury.
And ironically, as the opening quote reveals, many of these communities were supposed to have been wired, starting in 1995. I'll get back to this in a moment.
But, for the real sense of history repeating itself - in 1996, Boston was a test site to NOT do fiber optic upgrades but do a wireless replacement; it didn't work because there were tech and 'line-of-sight' issues, meaning there has to be a clear path for the service to work. In 2016, Boston is a test site for faux FiOS, the proposed '5G' fixed wireless, which also has line-of-sight issues.
To top it off, there are actually "Dead Zones" - (as described below) areas in the state of Massachusetts that do not even have cable service, much less were upgraded to FiOS; some areas in the state don't have reliable wireless or even 'high-speed' services, such as DSL.
Let's start with the current deployments and what Verizon claims will be done in Boston.
On the maps above, on the right is a Verizon-supplied layout of the areas to be covered, starting with section "A" in 2016. On the left is a map of the Greater Boston area and the FiOS coverage as told by "Where's Our FiOS?"; it covers the same areas, and then some. The areas marked in 'white' match the proposed coverage areas of Verizon's FiOS deployment; the areas marked in 'gray' are towns that have not been upgraded - and may never be upgraded.
Verizon has NOT filed for a full Cable TV Franchise for Boston.

Verizon has told the public that they were going to be doing the entire city of Boston, and at the time of the announcement, as trumpeted by the local media, most understood this to mean 'fiber to the home'. Truth be told, Verizon has only applied for the section "A" part of Boston for a cable franchise and "if successful" may "seek to amend" the license and add other sections.
Boston asked: If the proposed service area is not the entire municipality, specify the nature of the area (e.g., neighborhood) and explain why the entire municipality will not be served.
"The initial service area is for the Dudley Square area of Roxbury and the West Roxbury and Dorchester neighborhoods of the City. If Verizon is granted a cable License for the initial service area and is successful in providing cable service to that area, it may seek to amend its License with the City to add other sections of the City consistent with 207 CMR §3:07."
The proposed plan map, above, has 'blue' sections which contain the section 'A' neighborhoods of Boston. Dudley Square, etc. is where Verizon will start.
The Rest of Massachusetts and 'Dead' Zones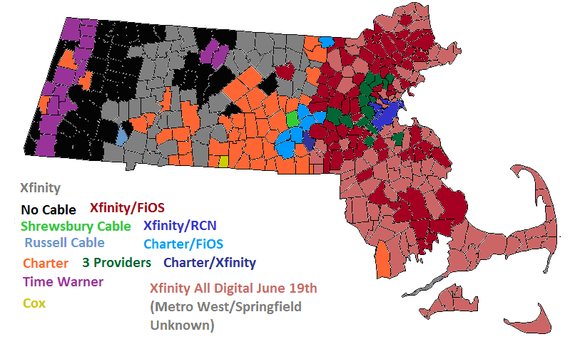 If the Boston area has not been upgraded and maintained, the mid and western parts of the state are a Verizon barren fiber optic wasteland. This map, created using the State's Massachusetts Broadband Institute (MBI)-collected information shows areas in the north central and western part of Massachusetts that do not have high speed broadband or even cable TV.
It appears that Verizon simply stopped deploying fiber infrastructure and the voice, video and data services it can deliver.
In trying to understand what's being deployed by Verizon in the areas that are 'black', we asked a few experts who work in this part of Massachusetts and they gave rather bleak reports. Verizon has some DSL in these areas, with a top speed of 3 Mbps in one direction, but it stopped new deployment a few years back. Worse, there are problems with even getting working phone lines and there is very poor cell coverage.
With the failure of the incumbent phone and cable companies to bring service to the underserved, there have been a number of plans to get these areas upgraded, but most have fallen short. The MBI received a major government "BTOP" grant as part of the Obama Stimulus program and built out a network to connect the Community Anchor Institutions (CAIs) in these towns called MassBroadband123, which served these 123 municipalities.
And there has been a movement of a cooperative to get towns wired in Western Massachusetts called Wired West, but it has been mired by problems, (and was the subject of a recent report by Harvard Berkman).
This part of the tale of Massachusetts broadband is way too detailed for this discussion. The real question is:
Should Massachusetts have already been wired/upgraded by Verizon, much less Boston? - You bet.
NOTE: NYNEX merged with Bell Atlantic in 1997 and became Verizon with the merger of GTE in 2000. For clarity, we'll use the current name.
Over two decades ago, now-Verizon made announcements that it would be replacing the existing copper wires with a fiber optic wire. While this happened in virtually every state in America, so Massachusetts is not unique, in almost every state, laws were changed to give the incumbent phone company--Verizon, extra profits that were supposed to be used for increased capital expenditures and tax breaks, to bring a fiber optic digital future.
And there are multiple ironies here.
First, the list of locations that would first enjoy this new fiber optic future overlaps with the current Boston plan -- except many of the towns are not on the 2016-2020 expected-to-be-upgraded list.
To repeat, the proposed Verizon fiber optic 1995 plan included: Somerville, Roxbury, Brighton, Beacon Hill, Back Bay, Winthrop, Brookline, Revere, Cambridge, Watertown, Peabody, Salem and Marblehead.
The plan, which actually started in 1991, nationwide, had the hype machine in full swing by 1994.
The Boston Globe, July 9, 1994
"Offering Massachusetts residents their first break from cable television monopolies, New England's regional telephone company yesterday proposed offering cable television service over its phone network in parts of Boston, Somerville, Cambridge and seven other communities as early as next year.

"Depending on FCC actions, Verizon said, construction of the new network would begin in Somerville, Revere and Winthrop late this year or early next year, with service starting as early as mid-1995. Work would then start in Roxbury, Beacon Hill, Brighton, Back Bay, Brookline, Cambridge, Watertown, Peabody, Salem and Marblehead. ... In all, 330,000 Massachusetts customers and 60,000 in Rhode Island would be linked to the network.

"While Verizon previously said it wanted to build the network, and set its price at about $500 million, it had never said when or where construction would start."
The Patriot Ledger, a few months later, added this on December 13, 1994:
"'Telephone customers in Boston and its western and northern suburbs will be the first to be offered cable television services by their local phone company,' a Verizon spokesman said yesterday.

"'In Massachusetts, Verizon plans to begin the new service in Somerville, Revere and Winthrop, then move to Brookline, Cambridge and neighborhoods in Boston, including Roxbury, Brighton, Beacon Hill and the Back Bay', spokesman Kenneth Horne said yesterday."
In 1995, the FCC approved the companies' petitions to offer cable service and replace the existing copper wires with fiber optics.
As the opening quote discussed, The Boston Herald, February 8, 1995, quoted the company claiming they were going to start 'almost immediately'.
And the plan was to do the entire East Coast. This projection to do 10 million households represents just NYNEX, which controlled from Maine to New York.

"It may take 15 years to reach the 10 million households in the northeast, but it's our long-term goal to reach everybody who wants this type of service."
I.e.--By 2010, Verizon should have completed this 'long-term' goal to have 10 million households wired with fiber optics.

Massive Profits from Customers Accrued from Not Building the Fiber Networks.
None of this fiber optic build out was ever deployed, but state laws were changed to essentially raise rates by giving the companies, that were monopolies, more profits on basic services, such as 'call waiting'.
Verizon Massachusetts Press Release: April 14, 1994
HEADLINE: VERIZON PROPOSES RESIDENCE RATE FREEZE THROUGH THE TURN OF THE CENTURY; COMPANY WOULD START BUILDING INFORMATION SUPERHIGHWAY TO REACH 330,000

Verizon (NYSE: NYN) today proposed a plan to cap residential rates for basic telephone service in Massachusetts at current levels through the turn of the century and to begin building the information superhighway in the commonwealth....The 10-year plan, submitted to the state Department of Public Utilities, calls for the DPU to regulate the prices Verizon charges for its services rather than the company's earnings. Price regulation would enable Verizon to make the investments needed to build the communications infrastructure for the 21st century.

"The plan also calls for Verizon to begin building the information superhighway in Massachusetts to bring customers a virtually unlimited range of advanced voice, video and data services in the future. In the first phase of construction, the company would invest nearly half a billion dollars to install 330,000 broadband lines over the next several years beginning in late 1994 or early 1995. Fiber-optic based broadband technology -- so called for its ability to transport high volumes of information including TV signals -- is an integral part of the superhighway."

NOTE: While "price caps" sound 'consumer friendly', the changes in state regulations just allowed more profits, which was supposed to be used to make infrastructure investments. Instead, the profits (EBITDA) went from 11% to 33.4%--an increase of 204%, (1995-1998) while the dividends paid to Verizon corporate doubled.
The State never audited the financial books to examine the benefits accrued to Verizon versus the impacts of the rate increases and lack of upgrades had on the economy of Massachusetts and its businesses and citizens or its towns and cities.
Thus, built into current rates--all these years later, are essentially a defacto tax that was supposed to build out the state utility's infrastructure, which is supposed to serve all who live in the Verizon footprint of service.

Funnier or Sadder? Verizon decides to offer wireless instead of fiber, April 1995
The ink wasn't even dry on the plans to deliver fiber to the home, and yet Verizon decided it would replace that plan with a 'wireless cable' solution.
The Boston Globe, April 27, 1995

"In recent weeks, three regional phone companies unwrapped plans to enter the cable-TV market sooner than expected, using simple transmission towers and fishbone-style rooftop receivers... the phone companies say it will enable them to offer customers an alternative to cable programming long before their exotic fiber-optic networks are rolled out later in the decade.

"It gives customer choices sooner than what we would otherwise be able to accomplish with fiber," says Jack Hoey, a spokesman in Boston for Verizon."
And if you want buckets of déjà vu, Verizon's plan was to do a 'test' of this new wireless cable service - in Boston, 1996-1997. According to CED magazine:

"Verizon will begin testing digital wireless cable in the Boston area sometime this quarter, made possible by its investment -- with Bell Atlantic (which is also part of Verizon) -- in CAI Wireless, which will provide the delivery networks for Verizon programming in Boston. Set-tops purchased by the Tele-TV consortium from Thomson will deliver the programming to the homes of Verizon "friendlys" in Boston, and sometime during the first quarter of 1997, Verizon will move the service from a trial into a limited deployment.
"'We will be evaluating the results in the Boston area to determine where we go next,' says the spokesman, 'and future rollout plans'."
Oops. By the end of 1996, Philly.com reported that the company had problems getting the fixed wireless networks to work because it required "line of sight".

"Verizon executives have recently voiced concerns that in trials, the microwave systems were only able to reach 50 percent of homes, instead of the 75 percent they sought. A line of sight is needed between the transmitter and a rooftop antenna, and the signals can be interrupted by trees or bad weather."
But, just to continue on the parallels, it's 2016 and 5G is coming but, oh, it has the same line-of-sight issue and requires fiber optic wires to be installed as well. Wired magazine writes:

"For example, 5G will include parts of the ultrahigh frequency spectrum that until recently most people thought were unsuitable for mobile data connections. The catch is that these frequencies still require a line-of-sight between the user's device and the access point. That's going to require a shift from big cell towers that blanket entire neighborhoods in wireless signals to tiny access points positioned, well, everywhere... 'Instead of thousands of cell towers, there will be millions of points of presence,' says Richard Adler, a fellow at think tank Institute for the Future."

So, let's review. The current reality is:
Verizon has only signed a cable franchise for a small area, and not the complete City of Boston, nor provided a timeline to get the rest of the city deployed with fiber optics.
Instead, Verizon is planning on doing a faux FiOS deployment of fiber-to-the-antenna, a "wireless fiber" deployment.
Many other towns in the Greater Boston area are not getting upgraded or are even mentioned. This includes. Cambridge, Somerville, Chelsea or even Salem Massachusetts.
In examining the state, Verizon stopped deploying fiber optic services along a Maginot line (defined by the Outer Ring of I-495 highway), leaving most of the mid and western part of the state with a deteriorating copper network or DSL at best--with a speed of two cans and string.
This has left some cities to fend for themselves to attempt to bring broadband, much less fiber optic services.
Ironically, over 20 years ago, Verizon claimed it was going to deploy 330,000 lines of fiber optics and would start in many of the cities and towns that are not even part of the new deployment list, including Cambridge and Somerville.
And, after the ink was dry on the new deregulations of 1995, the company decided to try a wireless replacement of the copper, only to find that there were problems, including 'line of-sight' issues--ironically, this is just like 5G, which also has the added problem that--THERE IS NO COMPANY WIRING AMERICA WITH FIBER OPTICS, which is required for 5G.
Thus, since the 1990's there has been a defacto "hidden" tax built into all services that use the copper and fiber networks for broadband upgrades.
To read the true history of fiber optic broadband in America - and what happened in your state/phone company, see "The Book of Broken Promises", now an inexpensive PDF for summer reading.
Related
Popular in the Community