AT&T's "IP Transition" Plan -- Shut Off 60% of Working Lines in the Alabama 'Test' and Force-Feed Wireless Service
In June 2012, Lowell McAdam, Verizon's CEO stated that 'killing the copper' was a "pot of gold."

"But the vision that I have is we are going into the copper plant areas, and every place we have FiOS, we are going to kill the copper. We are going to just take it out of service, and we are going to move those services onto FiOS. We have got parallel networks in way too many places now, so that is a pot of gold in my view." (Emphasis added)
And in May 2014, Verizon started the plan of shutting off the copper wires that are part of the state-based utility in some of the areas where they have deployed FiOS. Verizon New York filed with the FCC to shut off the copper wires and replace them with fiber optic wires in Bell Harbor, Queens, New York City, an area that was hit hard by the Sandy storm. After an investigation, our experts found that the plan will impact most of the Rockaways, Queens, NYC, an area that has a population of over 50,000 people and that would put it, by size, in the Top 20 of cities, towns or municipalities in the New York State.
Verizon has filed this with the FCC as a "short term wireline network change" notification using Section 251 of the Telecom Act. This process is used for simple, small changes of technology in the networks; the process just rubber-stamps and approves with no data, analysis or any major announcements or public comments required.
And to Verizon, this is very 'matter-of-fact'. Verizon NY writes that they are shutting off the copper networks and replacing it with 'fiber-to-the-home' and 'fiber-to-the-curb' loops (another term for wires). Verizon New York writes:

"Description of Reasonably Foreseeable impact of the Planned Change: After the retirement of the copper facilities, Verizon will: (1) No longer offer services over copper facilities; and (2) Cease maintaining the copper facilities... incumbent LEC's short term notice or notice of replacement of copper loops or copper subloops with fiber-to-the-home loops or fiber-to-the-Curb loops..."
We have always been pro-fiber optics-- but are these 'replacements' of the copper part of the state utility? Are these FTTP, (Fiber-to-the-Premises), Title II, common carriage networks that use the utility rights of way? Or is Verizon privatizing publicly funded assets? And what about the rights of customers?
Verizon doesn't say as there was no information supplied with the filing about how many customers would be impacted or even how many lines are in service that are based on copper.
We filed to halt these proceedings because we believe that Verizon New York or the other phone companies should not be allowed to use this administrative procedure due to the magnitude of the changes and impacts.
And this is just the beginning. This below-the-radar approach will be used everywhere Verizon has FiOS as Verizon has already filed to do the same thing in Ocean View, Virginia, and we uncovered that Verizon is adding additional locations in New Jersey, Pennsylvania and Massachusetts that have been posted at the Verizon site, but are not up at the FCC's web site so far (as of June 20th, 2014).
And there are other groups that are also concerned about all of this. The National Association of State Utility Consumer Advocates ("NASUCA") filed a motion for a "stay pending resolution of other proceedings; interim objections, comments and remarks on Verizon network change notifications" on May 20, 2014.
After comments by New Networks as NASUCA, Verizon responded, claiming that there were no objections and that they had filed everything appropriately.
"As required by the Commission's long-standing procedures in 47 C.F.R. §§ 51.325 and 51.333, Verizon properly served and filed its network change and copper retirement notices. Not a single objection was filed by a telecommunications or information services provider, nor did any of the four comments submitted contain the information required under Section 51.333(c) to substantiate a proper objection. No commenter submitted specific reasons why it could not accommodate these changes by November 1, 2014, nor did any explain what steps it was taking to accommodate these changes. Nor did any commenter submit comments or objections specific to these two wire centers. Likewise, no residents of these areas raised concerns."
There was no announcement of this change in any newspaper, magazine, online web site or outlet that average customers would even know about, much less small telecom or even big telecom competitors as this FCC posting was the only notice that would appear. Worse, the response time to file comments was only nine business days, and only Internet Service Providers, "ISPs" or telecom providers have any say in this process; the 'public's input was not required.

"Bway.net will never be able to offer our service and supply needed choice for these customers for their internet and broadband services because we have been restricted from using the fiber optic wires."
"Verizon had continually harmed our business, especially after Sandy or in 'FiOS areas'. I have documented proof that Verizon has been telling our customers and potential customers that they can not get copper wiring in areas that Verizon will some-day offer HOS fiber-optic based services. And they have been allowing the condition of the copper networks to deteriorate to such an extent that it has harmed our small business, as well as our ability to provide the best service we can.

"Is it legal for Verizon to not provide our current or potential clients with copper-based networks today in ALL areas of New York City?"

"That is why the FCC must, I repeat, must halt this 'under-the-radar' Section 251 'short term change as it will help to put us out of business."
There are those that will argue that Bway.net and the other competitors could 'file a complaint'. Over the last decade there were hundreds of complaints filed but as these are essentially court cases, (and even though the FCC implemented a "Rocket Docket" path) the costs effectively eliminates any serious challenges to the incumbents as this process takes years and it exhausts the resources of small competitors.
But this quick term change brings up a host of long term issues about the future of the networks such as -- who paid for this fiber optic swap-out of the copper wiring?
In this series of articles based on the new report by Public Utility Law Project, written by New Networks, Part 1 outlined that Verizon's FiOS cable franchise specifically states that the "FTTP" (Fiber-to-the-Premises) network is classified as a 'Title II', common carriage, telecommunication service, meaning that it should be part of the state utility. This is compared to FiOS, which is a brand of Verizon's cable, Internet and broadband service, which are classified as "Title I," an "Information" service, which has few obligations as compared to telecommunications, or "Title VI," a cable service.
But it is in Part 2 that we outlined how residential and business POTS, (Plain Old Telephone Service) customers, based on the old copper wires, have had major rate increases for 'massive deployment of fiber optics', (among other reasons) -- 84% since 2006 on 'basic' service, as well as increases on every ancillary service.
And using the Title II classification allowed the company to charge local POTS customers for parts of the construction expenses.
With this Section 251 change, we now need to ask:
Is Verizon New York replacing the utility networks with another utility network?
Did wireline POTS customers pay for these upgrades (or FEMA or insurance, etc.)?
Are these new installations even Title II?
If they are replacing the aging copper, are these networks really used for cable, Internet and broadband services and are these other services paying for the use of these networks?
And what rights do the customers have?
This is the beginning of two trends:
Shutting off the copper in areas that have been upgraded,
Shutting off the copper in areas that are not upgraded and are being replaced by wireless.
AT&T Plans to Shut Off the Copper in their "IP Trials."
In the Carbon Hill, Alabama trial area, which is a rural community that has 4,388 'living units', (which are businesses and residential locations, combined), while 100% of the customers have working wired services today over the old copper wires, AT&T is claiming that it is going to upgrade only 41%, shut off 55% and replace them with wireless, and with 4% there is no 'IP" alternative.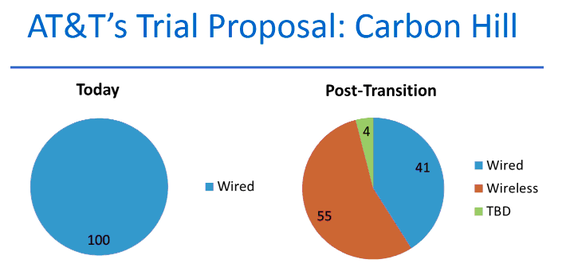 This action by AT&T exposes that the IP transition is a plan to simply force customers onto more expensive wireless service, especially when one remembers that U-Verse, AT&T's upgraded network, is a COPPER-TO-THE-HOME service that uses the exact same utility wires. AT&T now wants to draw a line in the sand and simply say -- sorry, we aren't going to upgrade your community.

Part VI: Net Neutrality Solved: Who Knew Your Communications Bills Would Reveal the Answer?
Related
Popular in the Community