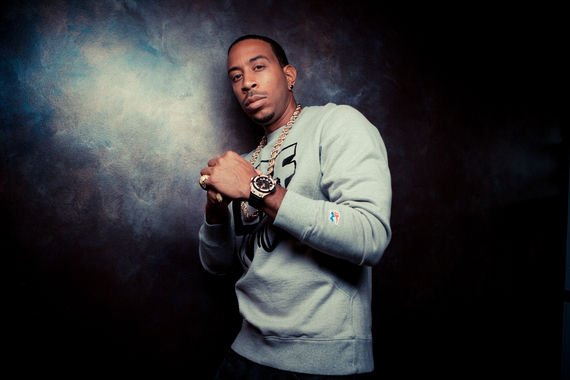 "The South got something to say." - Andre 3000, 1995 Source Awards
Told in five parts through the voices of local legends in the early Atlanta hip-hop movement, the VH1 Rock Doc outlines how politics (Maynard Jackson), economics (War on Drugs) and historical events (civil rights movement and Atlanta Child Murders) collided to create the socio-economic conditions out of which hip-hop culture emerged. Initially, the film does a solid job of exposing viewers to the local culture of the city in the 1970s and 1980s, using archival footage to highlight the places and events out of which much of the culture emerged. Appearances by civil rights icon Andrew (Andy) Young, Atlanta's current mayor Kasim Reed, rapper/actor Michael "Killer Mike" Render and Hip-Hop scholar Dr. Joycelyn Wilson help paint the political landscape against which Atlanta hip-hop was born.
Viewers also get a chance to hear from folks that were at the heart of the early Atlanta hip-hop movement, particularly rapper Mojo whose "Mama I made it" spirit is still on display. Record storeowner Shyran Blakely is positioned as the matriarch of the movement and Organized Noize's Rico Wade and Ray Murray speak to the creative process of developing ATL's distinct musical rap style. Wade and Murray also make crystal clear that ATL rappers were united in the fight against the common enemy, which was East Coast and West Coast rap. ATL rapper Killer Mike's insight into the struggle of David (Atlanta rap) against Goliath (NYC/L.A. rap) is hands down some of the best commentary offered on Hip-Hop culture in recent memory, but it isn't enough to save the film from itself.
Despite a strong introduction, the film quickly falls into a narrative that is hyper focused on rap music, yet fails to include in a meaningful way, other musical movements that were taking place simultaneously and contributed significantly to the rise of Atlanta rap.
Viewers hear from artists like Speech (Arrested Development), super producers Jermaine DuPri, Dallas Austin and DJ Toomp, marketing guru Shanti Das and Hip-Hop game changers like King Edward J, and yet it is striking that the documentary does not adequately locate Atlanta rap into a larger tradition of black musical production in Georgia. How can one talk about using music to document the socio-economic forces that were pulverizing the city of Atlanta and not mention James Brown, Gladys Knight and the Pips, Ray Charles or even Curtis Mayfield, who was Chicago-born but made Atlanta his musical home with the founding of Curtom Records in 1970?
How does one talk about the rise of Atlanta's rap music scene without mentioning the enormous success of Toni Braxton, whose first album "Give U My Heart" sold 10 million units and won two Grammys including best new artist (1993)? What about the Yin Yang Café, Groovement, Jamal Ahmad, the Chronicle, Donnie, Xscape or WCLK? Hip-Hop in Atlanta is more than The Dungeon Family, T.I., Jermaine DuPri and Ludacris, which is what this documentary would have you believe.
R&B superstar Usher is featured prominently in the documentary as a nod to the R&B dominance of the Atlanta music scene at that time, but there is very little else mentioned about groups like Jagged Edge, 112 and Xscape that merged smooth R&B melodies with Hip-Hop beats.
Can you really talk about Hip-Hop in Atlanta and not mention the Atlanta University Center Consortium (AUC)? Students from all over the country flocked to Spelman College, Clark Atlanta University and Morehouse College, embracing Atlanta's musical culture including rap. It is not a stretch to surmise that student culture coupled with the proliferation of images of Historically Black Colleges and Universities (HBCUs) in popular culture (School Daze, The Cosby Show, A Different World) played a role in the explosion of black music coming out of this cultural mecca. William "Will G" Griggs, a student at Georgia State University, started Chocolate Soul on Thursdays at Yin Yang Café where artists like India.Arie, Floetry and Jiva honed their craft. To give the appearance that the popularity of black music coming out of Atlanta had nothing to do with the rise of the Atlanta rap game is misguided.
The documentary collapses into a "remember when" narrative instead of tying the confluence of social and musical events that created an environment such that Atlanta could transgress the geographic boundaries that had previously stunted its growth. Luther "Luke" Campbell is heavily featured in the documentary, but UGK, the Geto Boyz and Mannie Fresh are absent. Perhaps in wanting to drive home the point that Atlanta rap music is as significant as New York and Los Angeles rap, producers forgot to close the ties that bind Southern rap into a genre. While ATL rap is dominant now, it was not the only game in town as it relates to black musical production, particularly in the South, during the late 1980s and early 1990s. Acknowledging that fact takes nothing away from the Atlanta rap music scene.
The documentary's reluctance to entertain the influence of other hip-hop cultures (Native Tongues, Digital Underground, Too Short) on Atlanta rap is ironically the same shortsightedness that led to Outkast being booed at the infamous 1995 Source Awards. It was ridiculous then and it is ridiculous now.
Hip-Hop culture is about more than just one region, city, country or gender. Leaving out the contributions of Lisa "Left Eye" Lopes, Da' Brat and Dionne Farris is treacherous. Excluding the voices of female music journalists like Tameka DePriest who wrote the first cover story on Outkast for Rap Pages, the Atlanta Journal Constitution's Sonia Murray and Melissa Manieri and Rolling Out's Yvette Caslin is outrageous.
One of the most difficult challenges to making documentaries is deciding who and what to keep in and leave out, but leaving out interviews with members of Goodie Mob, Jason Orr and Rodney Carmichael and Carlton Hargro of Creative Loafing is pretty big miss. The documentary becomes stifled because it only scratches the surface of a black musical movement that runs brilliantly deep.
One would expect more from a documentary executive produced by Atlanta's native sons rapper/actor Chris "Ludacris" Bridges and Chaka Zulu of the Disturbing Tha Peace collective.
Despite the lethargic storytelling, ATL: The Untold Story of Atlanta's Rise in the Rap Game is still worth watching if only for the historical value. Hearing from "old heads" who laid the foundation of the music and culture, seeing archival footage of places that are long gone (Bowen Homes) due to gentrification (which is not mentioned), and witnessing what is sure to be a classic musical gem from Atlanta's mayor Kasim Reed, makes it a worthwhile albeit problematic endeavor.
ATL: The Untold Story of Atlanta's Rise in the Rap Game debuted on Vh1 on Sep. 2 at 10 p.m. EST.
Nsenga K. Burton, Ph.D., is founder and editor-in-chief of the award-winning online news publication The Burton Wire. She is currently a Visiting Professor at Clark Atlanta University in Atlanta. Follow her on Twitter @Ntellectual or @TheBurtonWire.
REAL LIFE. REAL NEWS. REAL VOICES.
Help us tell more of the stories that matter from voices that too often remain unheard.