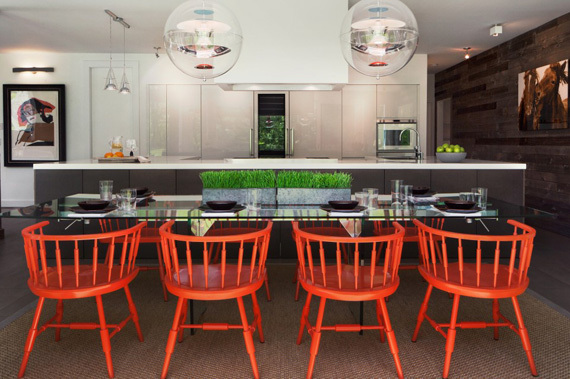 The dining room is the place where memories are made. It's where you gather for special birthday dinners, holiday meals and impromptu dinner parties. It's where you drink too many bottles of wine, share the events of the day, and laugh over embarrassing stories. And while you technically, don't need a dining table to do any of those things, Thanksgiving dinner isn't quite the same when you're balancing plates on your lap. Creating a dedicated space for gathering for a meal is more that just finding a table and chairs. You want to create an atmosphere that feels open and inviting even when the table is empty. We asked the our designers (who just happen to be Wayfair's Designer of the Month) for some tips how how to create a dining space that works it's filled with food or just waiting for the next meal to begin.
If you're lucky enough to have a lot of space for your dining, like the home owner in this Connecticut home (above), you can be more flexible in your table choice. Don't be afraid to experiment with your chair placement, but you want to be sure that you have enough space around the tables and chairs so that room still feels spacious. In this case, we wanted to emphasize the length of the room so we ran the chairs along the sides of the tables. But in some instances, the room will feel larger, if you place two chairs at the head of the table and the other chairs along the sides.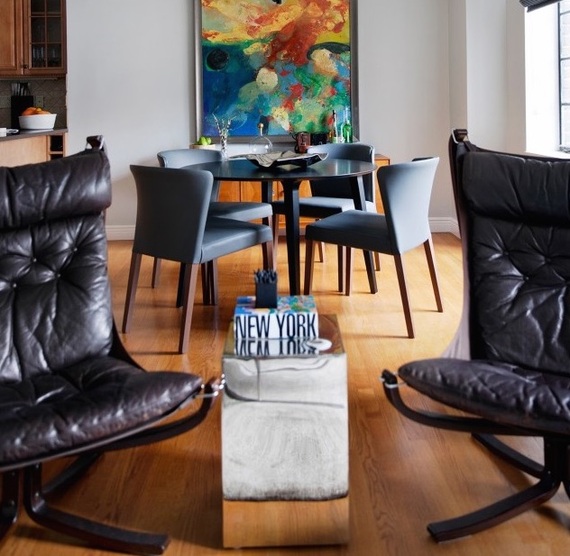 Choosing a Table: The Shape
If you're working to create a dining area within another space like a living room, a round table is a great choice. We went round in our New York pied a terre because it allows you to incorporate more seating within a smaller footprint. However, be sure that you have enough room around the chairs for people to walk around. If things feel too tight, the space will look much smaller.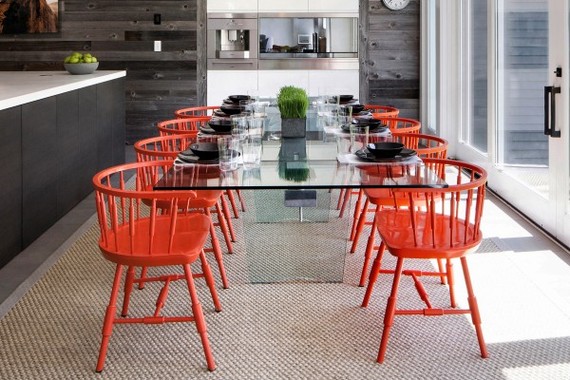 Choosing a Table: Material Considerations
In this recently designed Connecticut home, we suggested our clients use a glass table. A glass table is one of our favorite ways to create a feeling of spaciousness because it doesn't take up much visual space and can make the room feel open and airy. It is also one of the most versatile table choices because you can pair it with virtually any chair. Above, we chose chairs in a strong color to make a bold statement but if you have other strong elements in the room, you can choose a more subdued chair that will blend into the space.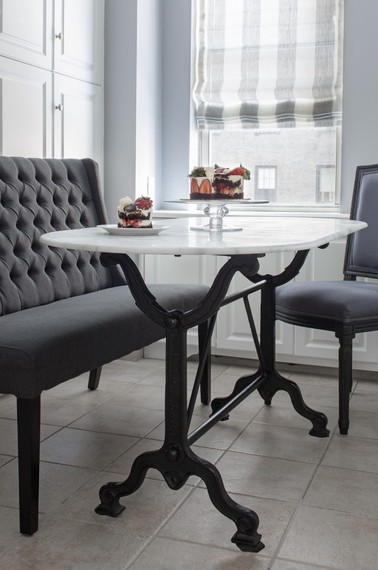 Seating
Mixing and matching chair styles is one of our favorite ways to create visual interest in a dining space. We love to take it one step further and mix benches or banquettes in with traditional dining chairs. When we designed this home in New York's Upper East Side, we chose a banquette, which is a great way to squeeze in more seating yet still keep things comfortable. In fact, a banquette is so comfortable that we find our dinner guests linger at the table long after the last plate has been cleared.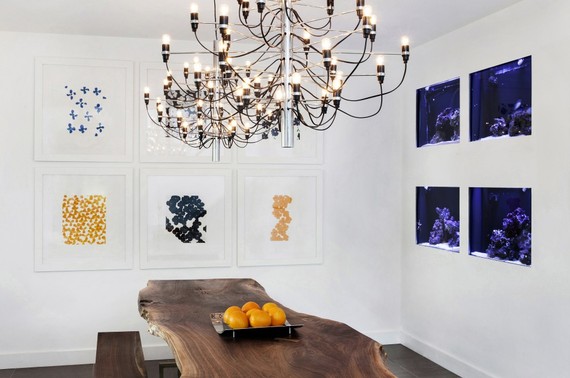 Lighting Drama
When we are choosing lighting for the dining room, we love to go big, bold and dramatic. In the New Jersey dining room (above), we kept the rest of the room calm and sedate and brought in drama with the chandeliers above the table. In this space, we used the chandeliers to emphasize the length of the table and the length of the space so we hung two chandeliers side by side. In other cases, a large pendant shade is the best fit.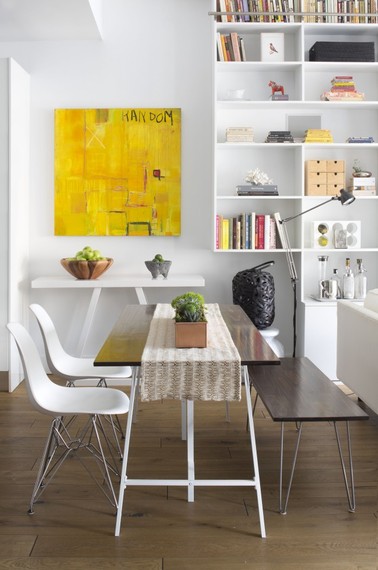 Table Styling Considerations
So now you have the perfect table shape and the perfect chair arrangement, but you're not quite finished. To keep your dining room from feeling cold when it's not in use, you'll want to give a little thought to styling your table like in this New Jersey dining space. When you're choosing exactly what to put onto that empty dining table, our designers say that there are four things to consider: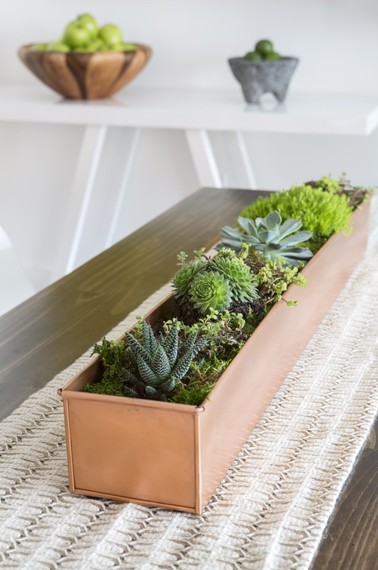 1. Texture - Hard table surface plus hard chairs can make a space feel cold. Bring some warmth into the space with a table runner. Use a runner that is one third the width of the table, place the runner in the center of the table and then place your centerpiece in the center of the runner.
2. Scale - It may seem obvious but a big table needs a large object on it, whereas a smaller object works for a smaller table. It seems intuitive but we've seen many large tables with tiny decor elements on them and that can throw the entire look off.
Height - If you plan for your table centerpiece to remain on the table at all times, be sure that it's not so high that it will obstruct people's views and hinder dinner time conversation.
Restraint - Make a statement by going for a single grand object rather than a lot of of tiny things.
And the final step? Deciding on the menu.
Related