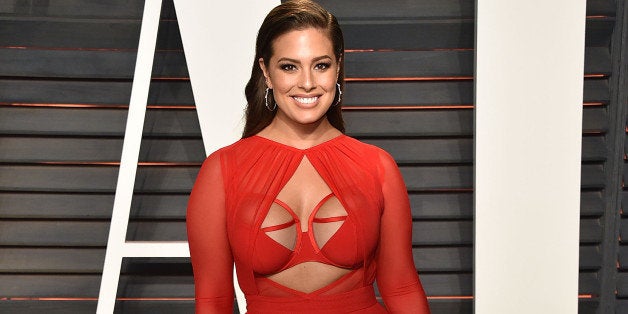 The conversation about body positivity -- embracing your figure, whether you're a size 4 or a size 4X -- has turned into a true cultural moment, with the buzz getting louder every day. Just think of the gorgeously curvy Ashley Graham on the groundbreaking cover of the Sports Illustrated swimsuit issue, or the beautiful, proudly unretouched models in Aerie's ad campaigns. It's beyond refreshing, since if there's one thing we all should know it's that great style doesn't discriminate by body type. The idea that "pretty" or "sexy" should only mean a super-toned size 2 feels weirdly out of date. Beauty is far more diverse than that. And wouldn't it be boring (not to mention unhealthy, and unrealistic) if we all wanted to look the same?
Then there's this little nugget: 67 percent of American women wear a size 14 or above. Think about it. When it comes to fashion, it makes no sense to ignore millions and millions of people. Every single woman deserves to feel confident and beautiful in her clothes.
When I became editor-in-chief at Redbook almost two years ago, I followed that idea to its logical conclusion: We started featuring many more curvy models and non-model readers in our fashion and beauty pages. Our audience -- more than 7 million ladies who want to look great, as most of us do -- loved it, and as an editor it felt like a no-brainer. We put extended-size picks on every fashion page and marked them with a "Comes in plus" bubble, which I thought would be a helpful way to signal that we were being inclusive. I didn't want anyone to feel left out.
But eventually, I realized this: "plus size" is just another label, and the last thing women need is to be slapped with more labels. It's all so confusing, anyway. Some "straight-size" brands go up to a size 18. Some "plus-size" brands start at a size 14. One company's XXL is equivalent to another's XL -- it's impossible to really know what fits until you try it on. So instead of using that old "Comes in plus" mark, we're ditching the term altogether. Instead, we put a little note in the caption signaling when an item of clothing comes in extended sizes, and exactly what those sizes are.
I asked the activist and model Iskra Lawrence what she thought about the term. "'Plus size,' to many, equals 'fat' or 'unhealthy,'" she told me. "It's just one of the reasons that 'plus-size' women have been made to feel inferior. If we start treating all women equally, without any labels, it can only be a positive step." Actress Melissa McCarthy -- who has her own amazing line of clothes that ranges from size 2 to size 28W -- wholeheartedly agrees. When told that Redbook was retiring the term "plus size," she had this joyful response: "Oh, my God, I love that! It's such a weird way to segregate women." True, right?
Yes, I know, rejecting one set of words isn't earth-shattering, but it's a start. And so is the ongoing conversation about what constitutes beauty, and how wrongheaded it feels to lump any subset of people together. As Amy Schumer pointed out, "Bottom line seems to be we are done with these unnecessary labels which seem to be reserved for women." Instead, let's celebrate the vast and beautiful range of shapes we all come in. If we can do that, I'd label it a win.
Calling all HuffPost superfans!
Sign up for membership to become a founding member and help shape HuffPost's next chapter