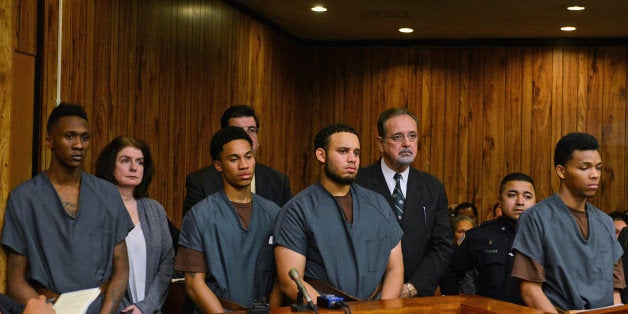 PATERSON, N.J., Dec 2 (Reuters) - Five college students accused of gang-raping a female fellow student in a New Jersey dorm room pleaded not guilty on Tuesday, in the latest in a series of sexual assaults and harassment incidents prompting colleges to reexamine conduct policies.
The five men blocked a dorm room doorway at William Paterson University in Wayne, and restrained and demanded sex from the woman on Nov. 25, when the campus had largely emptied out for the Thanksgiving break, according to the criminal complaint.
Four men, Noah Williams, Termaine Scott, Darius Singleton and Garrett Collick, all 18, were charged with conspiring to sexually assault the victim. Jahmel Latimer, also 18, joined the attack while it was in progress and is charged with aggravated sexual assault, prosecutors said.
All the students pleaded not guilty in Passaic County Superior Court in Paterson.
"From the facts, it appears that all these young men are innocent," Latimer's attorney, Ronald Ricci, said.
U.S. colleges have been grappling with a spate of sexual harassment and assault cases. President Barack Obama in September launched a campaign to end sexual violence on campuses.
An alleged gang rape at a fraternity at the University of Virginia was recently detailed in an article in Rolling Stone magazine, prompting the school last month to suspend all fraternity activities.
On Monday in Connecticut, officials at Wesleyan University banned the Psi Upsilon fraternity from holding social events for a year after two members were dismissed from school following sexual assaults in 2011 and 2013, the Washington Post reported.
Wesleyan did not immediately respond to a Reuters request for comment.
At Princeton University, an eating club recently removed two officers from their posts after they sent out emails mocking women, The New York Times reported. One email included a sexually explicit photograph of a sex act in the club, while another criticized the inclusion of women at the once all-male eating clubs, the report said.
Princeton spokesman Martin Mbugua said the school has made "significant progress" in its investigation, but declined to confirm details of the Times report.
In New York on Tuesday, Governor Andrew Cuomo said the State University of New York adopted a uniform sexual assault response policy for all 463,000 students on its campuses.
It includes a definition of "affirmative consent" and creates a "Bill of Rights" that allows victims to decide whether to report an assault to police "free from outside pressures from college officials." (Editing by Barbara Goldberg and Leslie Adler)

Related
Popular in the Community