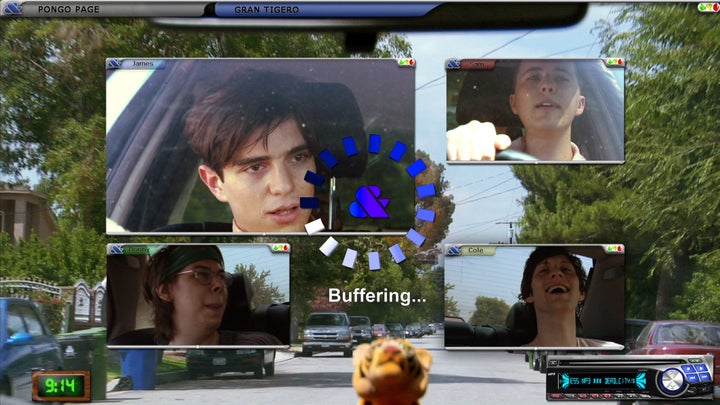 If you are reading this, then you are as dependent on the internet and your computer as we all are. It's become the vessel for our daily experience, a language we use to express... everything. Now that our identities are no longer these ethereal concepts of self, but more a jumble of Facebook-Tumblr-Twitter-Youtube accounts, maybe it's time to change the way we see movies, too.
0s & 1s, a new film by Eugene Kotlyarenko, which is premiering in New York this weekend, is a film about the internet using the tools, sounds and images that makes the internet so great, or awful (I'm looking at you, invasive pop-ups!).
The film looks like a busy desktop from 2007, and has a compulsive ADD vibrancy to it, complete with virus warnings, sticky notes, multiple windows/browsers, spastic video games, webcams, kittens and text messages. The film tells the story of a guy who loses his computer and the manic search to get it back. One scene is even told primarily through an IM. It's a completely inventive narrative technique, but while highly conceptual, it still makes sense on a gut level. Check out the trailer here:
0s And 1s is running from March 18 to March 24 at the reRun Gastropub Theater in DUMBO. To order tickets, click here.
Kotlyarenko was kind enough to sit down (well, sign on) for an IM interview (an IMterview, if you will) with HuffPost to discuss his project.
genieinabottle

hey

HuffPostIM
hey!
I'm sorry for the mixup, i swear your email must have gone into the spam folder

genieinabottle
you wanna do this?
nah its cool
i often get mistaken for spam... on the streets

HuffPostIM
hear that

genieinabottle
i mean the movie has run into so many technical issues over its 3 year life span, that a lil email mishap is just a blip

HuffPostIM
have you done any IM interviews for your film yet? given its 'subject matter'

Eugene
this will be the first one. of course it very appropriate.
all the interviews should be IM interviews
or thru text message

HuffPostIM
agreed.

genieinabottle
however, i made this other movie, skydiver
and the whole movie is told thru webcams
and i have done pretty much all interviews for that thru webcams

HuffPostIM
you have a scene in the film thats all an IM, right? Or so Ive read
or did I make that up

genieinabottle
yeah theres a lot of IM style messaging throughout the movie
in particular i think you're referring to this big party scene that we have
its like a high school reunion party
so i figured the most appropriate throwback for this social setting would be AOL
so we constructed the part to be in this whack-AOL like environment we called USL (US Logged-On)
and all the convos are in like IM windows and theres a big group chat in the kitchen that is like a chatroom and all the text is written while theyre talking

HuffPostIM
that's our company you're talkin about

genieinabottle
haha, congratulations on the "merger"

HuffPostIM
thank you, thank you

genieinabottle
i mean, whack to me is great
the movie is like anthropological  in a sense
like OLD AOL
AOL 2.0 or 3.0
you CAN'T find much of that imagery ANYWHERE
very difficult

HuffPostIM
it definitely has a feel for the interweb of old
when pop ups and spammers dominated

genieinabottle
yes definitely

HuffPostIM
even more overwhelming, visually, than now

genieinabottle
theres a sentimentality for an older web in it
i agree, now the vogue is to be like a sleek minimalist in yr design and virtual lifestyle
but 0s & 1s is a maximalist treatise

HuffPostIM
big time
what was the breakdown for filming vs. post production

genieinabottle
umm we filmed for 25 days and then a week of reshoots...
and then we worked in post for about 2.75 years
haha
haha
it sounds crazy
i mean the movie in a way has become a period piece
and a lot of the reviews talk about how inundated we are with the line of observation going on in the movie, but honestly saying in the landscape of late 2007 when i was writing it, i think very few people were talking about it

HuffPostIM
and would you feel comfortable saying its the first movie about the web that uses the internet to tell the story? ie it really is on the 'screen'

genieinabottle
but yeah, its a TRUE independent film, not "indie" or some weird buzzword for things that hollywood might put out if there was more money involved, but a real against the grain project that is insane and was very cheaply financed. So there were a lot of very talented VFX artists who donated and dedicated their time over the course of that post period, to make all of scenes look and feel incredible, full of the little details that define computer life.
ok that's a fucking mouthful

genieinabottle
i think there have definitely been acknowledgements of the web and incorporations of it and people saying oh know my cellphone is dead/has no service, but yes, we're really trying to use the visual language that governs over everyone's day to day (i.e. this convo) to tell a story
and in another way, i've always liked movies that used multiple screens (Greenaway, De Palma), but it always felt like a bit unjustified to me, so finally i was like "HAHA, there will finally be a movie that will be conceptually justified in using multiple screens."

HuffPostIM
youve said that its time to acknowledge that this is how we talk, for better or worse, that this is our new language
and it's clear we're beyond the point of dependence, or whatever it is. do you struggle with this?
ie yearn to be back in 'nature' away from these glowing screens

genieinabottle
i struggle with the power of the web, yes.
but i gotta say my relationship to internet and fbook and gchat is mixed -- sumtimes i love it, but sumtimes it makes me get REALLY DARK...its so easy to get dark thru the social web

HuffPostIM
when people leave your film, are they left with any overarching sentiment one way or another?
(when i walked out of Super Size Me, which was a mcdonald's orgy)

genieinabottle
well i dont want to impose interpretation...

HuffPostIM
(I craved eating McDonald's, actually, which seemed incorrect somehow)

genieinabottle
but i do think there is a nihilistic streak throughout the movie
i think most of the reviews so far have been quick to say that it is a flat out critique, and to me its really more of just a this is the way things are and i'm going to try and satirize them

HuffPostIM
and the visual effects are absurd, in a way, but also completely understandable

genieinabottle
i mean if people check their emails on their smartphones when the movie finishes, then i've done my job
haha psych
people do that after every movie

HuffPostIM
but for yours, it'll mean something

genieinabottle
thanks yeah, i think the movie is really easy to watch, relative to how different it is from the normal viewing experience

HuffPostIM
[yeah, i can bold stuff in gchat]

genieinabottle
damn, you talented

HuffPostIM
no big deal

genieinabottle
umm i think as long as people don't check their phones during the movie, then the movie is a success
OR if they throw their phones at the screen in anger, then the movie is also a success
Calling all HuffPost superfans!
Sign up for membership to become a founding member and help shape HuffPost's next chapter