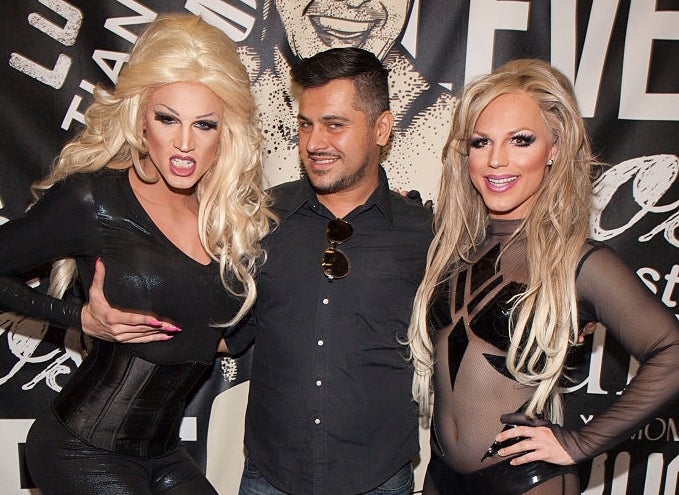 When it comes to Britney Spears, attention to detail is everything for Derrick Barry. From costumes to hand gestures, the impersonator has memorized Britney's every rhinestone, hair flip and "yeah-yeah-yeah." Details of the former RuPaul's Drag Race contestant's personal life even read like lyrics ripped from the mega-star's hit single "3."
For nearly five years, Barry has been one-third of a romantic triad. In partners Nick San Pedro, an acclaimed visual artist, and Mackenzie Claude, male model and fellow drag performer Nebraska Thunderfuck, Barry has found both love and creative inspiration, calling it "the perfect marriage."
"We get to join each other on gigs, travel together, go on vacations together and not work that typical 9-to-5 that doesn't allow us to go places together," she told Party Foul Radio with Pollo & Pearl.
Joined by her partners on Podomatic's No. 1 LGBT podcast, Barry told of meeting San Pedro in Vegas, long before either knew Claude. Barry says she, fellow Drag Race alum Shannel and the cast of Frank Marino's Divas showed up at a Pamela Anderson and Heatherette fashion show with VIP laminates expecting to be ushered inside – only to be shocked by what they found.
"We walked up to the party, and the line was all the way out the door of the nightclub, down the hall and through the casino – and all these people had these VIP laminates," Barry recalled. "I was like, 'Oh, God, no! I'm not waiting in this line as Britney Spears! It's embarrassing!'"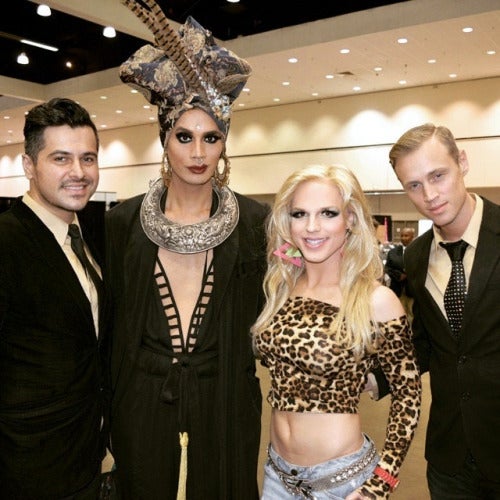 Fortunately for the collection of beauties, San Pedro was there and had pull. His ability to get the ladies inside piqued Barry's interest. Over the coming years, their friendship blossomed into romance. But even early on, Barry says, her partner's professional skills proved invaluable to her craft.
"When I first met Nick, I knew about his artwork, but I had no idea he does so much more," she gushed. "He really helped me cultivate my brand…I'm so lucky he had his background in so many kinds of art."
San Pedro credits Barry for pushing him as well in those early days. Soon, the pair were as entwined professionally as they were romantically.
"Derrick has also helped me by setting me up with my agent and we get to perform together," he stated on-air, "So everything we do ends up being inter-dependently."
Years later, one of Barry's exes introduced Claude – who the Drag Racer jokingly says became the couple's "five-year anniversary present" to one-another. Though an attraction was immediate for all involved, Barry admitted: "We had never even really discussed the idea of being in a relationship with a third person."
Also a creative personality, San Pedro and Barry were instantly drawn to the handsome, 6'4" Vegas newcomer later introduced to the world on Drag Race when Season 5 favorite Alaska Thunderfuck turned him into her "sister" Nebraska during a makeover challenge. A sexual connection turned into a friendship, the pair say, which eventually led to the trio's lasting relationship.
"It was never anything behind anyone's back, and I think that's what made it so successful from the beginning," Barry stated. "We were both attracted to Mack, and Mack was attracted to both of us. It didn't feel like anyone was doing anything wrong.
"It felt organic, and happened so naturally," she continued. "Within a couple months, we were hanging out every day."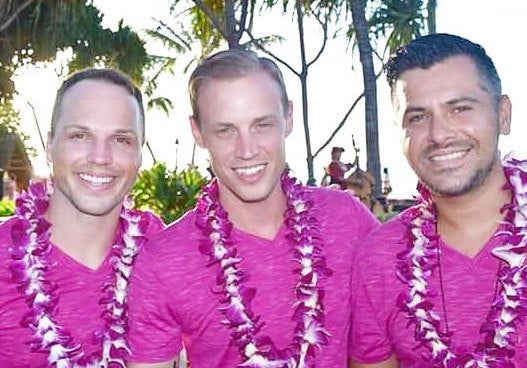 According to Claude, he had not previously entertained the idea of a romantic triad – until meeting Barry and San Pedro.
"I never thought I would be in a triple or a trinogamous relationship. I didn't even think a situation like that could be successful," he told cohost Pearl Teese and me, "But life is full of surprises, and you just have to be along for the ride. As long as you're staying true to yourself, and not hurting anyone, that's all that matters."
After joining the relationship, Claude wanted to join Barry and San Pedro on the road. Though he initially asked to sell Barry's merchandise, the drag star encouraged him to begin performing under the persona born on national television. Now they often tour together, and in doing so, encounter many misunderstandings about the dynamics of their relationship – and no shortage of opinions either.
The "biggest misconception," they acknowledge, is a common belief it involves a revolving door of others. All-too-frequently, they admit, strangers offer -- jokingly or otherwise -- to join.
"I'm always surprised, because for five years almost, we've done a pretty good job to make it clear we're in a relationship together," Barry stated. "Maybe not every post makes it clear, 'Hi, this is our closed three-way relationship'…"
"Exclusive," Claude stated firmly, terming it "trinogomous." ("I think we made that up," Barry interjected, "It's not in the dictionary!")
LISTEN: Derrick Barry Feat. Grammy-Nominated Thunderpuss Producer Chris Cox "Boom Boom"
"People see there are three of us in a relationship, and some say, 'Oh, that's not a real relationship' or 'They have an open relationship,' and that's just not the case," Claude told listeners. "It's a normal relationship."
"That's not true!" Barry cut in immediately, "There's nothing 'normal' about this!"
Though laughingly agreeing perhaps it's not "normal," their collective concept of "trinogomay" is based on boundaries and understandings similar to any other relationship, Claude explained. What is important, they all stress, is it works for everyone involved.
"I think monogamy is good for people who want that, and that creates a lot of successful relationships, but I think trinogamy works as well," Claude said. "People who have open relationships, if that works for them, then so be it.
"We're all different people, and we all have different needs," he concluded, "So we have to find what works for us."
LISTEN: Derrick Barry, Nebraska Thunderfuck & Nick San Pedro join Party Foul Radio. Also included: Drag Race star Venus D'Lite!
Calling all HuffPost superfans!
Sign up for membership to become a founding member and help shape HuffPost's next chapter