LOUIN, Miss. (AP) — Multiple tornadoes swept through Mississippi overnight, killing one and injuring nearly two dozen, officials said Monday.
State emergency workers were still working with counties to assess the damage from storms in which high temperatures and hail in some areas accompanied tornadoes. The death and injuries were reported by officials in eastern Mississippi's Jasper County.
The small, rural town of Louin bore the brunt of the damage. Drone footage and photos showed wide expanses of debris-covered terrain, decimated homes and mangled trees. At least one person was lifted from the wreckage in a stretcher.
Standing in front of his damaged home on Monday, Lester Campbell told The Associated Press that his cousin, 67-year-old George Jean Hayes, is the person who died. Reached by phone Monday, Jones County Coroner Don Sumrall said Hayes was pronounced dead at 2:18 a.m. from "multisystem trauma."
Campbell fell asleep in his recliner Sunday evening. He was awakened around midnight after the lights went out. After he walked to the kitchen to grab something from the refrigerator, the tornado struck.
"It happened so fast," Campbell said. "It was like a train sound, a 'roar, roar, roar.'"
He dropped to the floor and crawled to his bedroom closet, where his wife had already taken shelter. By the time he reached the closet, the tornado had passed.
Campbell said he heard calls for help across the street, where Hayes lived in a trailer home. He emerged from his home to find emergency workers carrying his cousin, with a bloodied forehead and leg, into an ambulance. She was conscious and talking when he saw her but died before reaching the hospital, he said.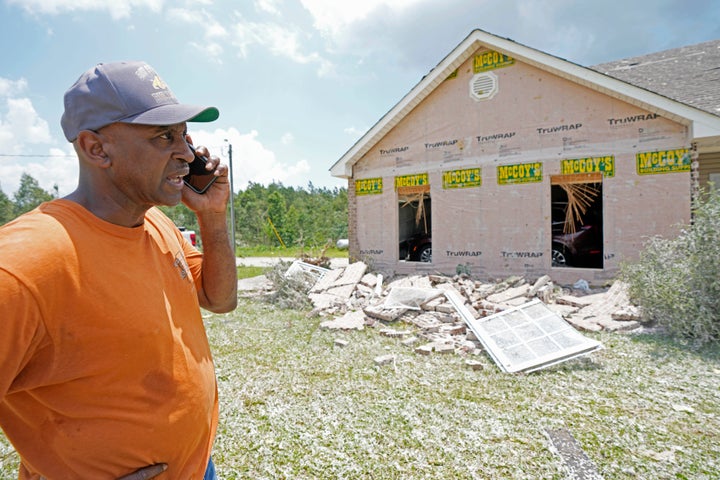 Most of the people injured in Jasper County, including Hayes, were transported to the South Central Regional Medical Center in Laurel between 2 and 3 a.m., said Becky Collins, a spokesperson for the facility. About 20 people had bruises and cuts. Most were in stable condition Monday morning.
Eric Carpenter, a meteorologist with the National Weather Service in Jackson, said an unseasonably strong jet stream blew through the area. A tornado emerged near Louin before traveling at least 7 miles (11 kilometers) south to Bay Springs.
Tornadoes typically hit Mississippi in early to mid-spring. Carpenter called the timing of the tornadoes, along with persistent thunder and hail as well as high temperatures, "a very unusual situation."
"This is a whole different game here," Carpenter said. "What we would typically see in March and April, we're seeing in June."
On March 24, a vicious tornado carved a path of destruction through parts of western and northern Mississippi, killing at least 26 and damaging thousands of homes. Some towns in the rural, poverty-stricken Mississippi Delta face a daunting task to rebuild.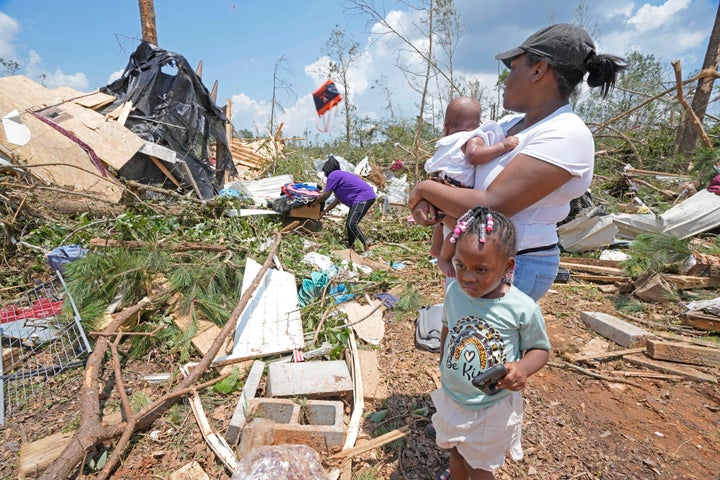 Mississippi Gov. Tate Reeves said Monday's tornadoes also struck Rankin County, which borders the capital city of Jackson. Emergency crews were doing search and rescue missions and damage assessments, deploying drones in some areas because they were impossible to reach by vehicle due to downed power lines.
On Monday afternoon, another possible tornado struck the south Mississippi town of Moss Point. Photos showed homes with obliterated roofs and tilted power lines. As high winds and heavy rain blanketed Jackson County, WLOX-TV reported that eight people were trapped inside a bank in downtown Moss Point. They were later rescued uninjured. The county remained under a flash flood warning Monday.
In a Monday news release, the Mississippi Emergency Management Agency said more than 49,000 homes in central Mississippi were without power. Tens of thousands of people in Hinds County, the most populous area of the state, were still without power Monday morning after high winds pummeled the state early Friday.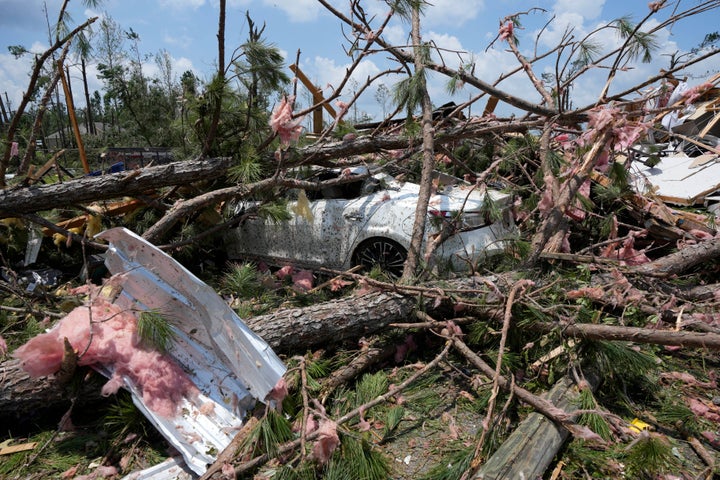 Reeves said the state is opening command centers and shelters for those displaced by the severe weather.
After fleeing his home Monday morning, Campbell returned to survey the damage. He arrived to find that half of the roof was gone, the garage destroyed and the windows shattered. He felt lucky compared to his neighbors.
"Most of the houses are gone. They are demolished. They're done," Campbell said.
Goldberg is a corps member for the Associated Press/Report for America Statehouse News Initiative. Report for America is a nonprofit national service program that places journalists in local newsrooms to report on undercovered issues. Follow him on Twitter at twitter.com/mikergoldberg.
Support HuffPost
The Stakes Have Never Been Higher
Related
Popular in the Community