Soccer has an amazing power to unite people, to strengthen individuals, and to teach important life lessons. Growing up in Argentina, I played soccer almost every day. It was more than a game. It was how I built friendships, learned life lessons and discovered the importance of teamwork. When I moved from Argentina to the U.S. to attend college, my soccer ball was this amazing tool that allowed me to connect with new people and build lifelong friendships. With about 4 percent of the world's population playing soccer, more than any other sport, it is truly a universal language.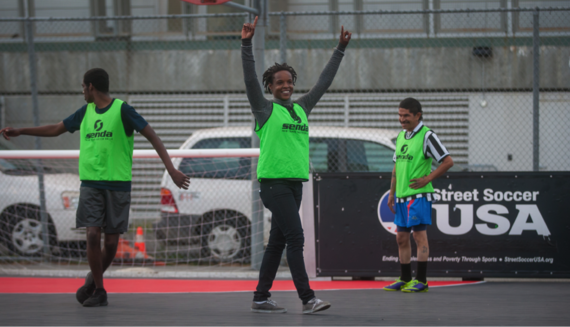 Participants of Street Soccer USA in San Francisco build community, and a path to housing, through soccer.
Photo by Maciek Gudrymowicz
But the soccer industry, and the sports industry in general, has moved away from promoting the unifying power of sports in favor of messages of individualism and domination, with calls to action like "Prepare for Combat," "Prepare to Dominate," and "Boss everyone."
Along with this emphasis on the individualistic aspect of soccer and sports, the industry has also been funneling billions of dollars towards a smaller number of wealthy teams and a few globally famous athletes, while simultaneously putting pressure on manufacturers of sports equipment to cut costs. The result of this dynamic is increasingly lower wages and poorer working conditions for soccer ball makers, as well as producers making soccer shoes and apparel. These trends, combined with the recent FIFA corruption scandal, showcase the need for a paradigm shift in the soccer industry. The beautiful game needs to regain its true essence -- universal, inclusive, authentic, equalizing -- and reclaim its position as a catalyzer for positive social change. This urgent need for change in the sport I love, and the mantra "Be the change you want to see in the world," drove me to start Senda Athletics 5 years ago.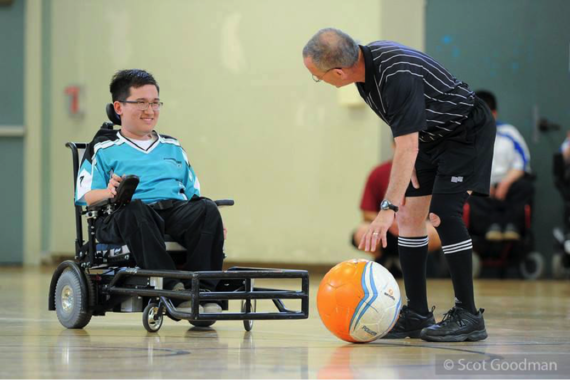 The BORP Power Soccer program in Berkeley provides players the opportunity to enjoy a fast, and competitive game with rules similar to outdoor soccer.
Photo by Scot Goodman
Senda, which means "path" in Spanish, is a California based social enterprise that manufactures premium quality Fair Trade Certified soccer balls. As a B Corporation, we aim to play a small but important role in introducing a new path for the soccer industry. Rather than bidding for multi-million dollar sponsorships, our company brings back soccer ball craftsmanship by funneling those resources into higher wages for ball makers and higher standards for the manufacturing processes. Rather than sponsoring a few superstar players, we choose to support the "unsung heroes" of soccer. Since our inception five years ago, we have supported the efforts of leading nonprofit organizations that are making a difference through the beautiful game.
Senda provides soccer balls, training bibs, and other equipment to leading nonprofit organizations like Street Soccer USA, which builds safe, healthy urban communities , Soccer Without Borders, which helps young refugees find community and support, and BORP power soccer, which provides people with disabilities the opportunity to enjoy the benefits of sports. After five years of learning from our partnerships with these leading soccer nonprofits, we feel it is time to formalize the relationship and the resources we allocate for them, and set an example for the rest of industry. This is where our new 1% For the Game initiative comes in.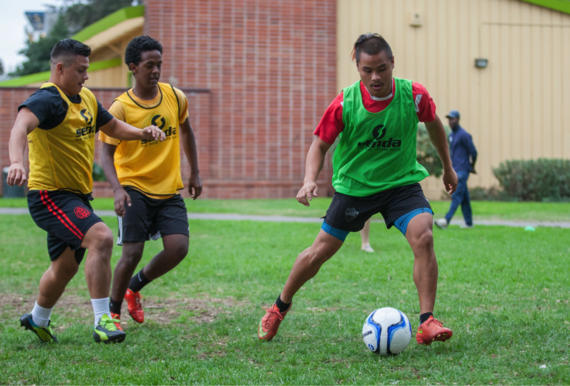 Soccer Without Borders provides at-risk youth the opportunity to be part of a soccer team, as well as support finish high school, and attend college.
Photo by Maciek Gudrymowicz
Starting January 2016, Senda formalized its commitment to "the other soccer heroes," by pledging 1 percent of our annual sales to provide much needed equipment to nonprofit organizations that are making a difference through the beautiful game. Our inspiration for this initiative comes from the 1% for the Planet organization, which brings together corporations that commit 1 percent of their annual sales to environmental conservation efforts. With the 1% For the Game initiative, we aim to galvanize a similar movement in the soccer industry. With the support of our growing customer base, we will honor this commitment to grassroots soccer, and lead the industry towards a more just and equitable future. This is not a purely philanthropic commitment, but also an investment in growing the reach of the beautiful game.
With the recent growth of organizations like streetfootballworld, which 14 years ago started to assemble a global network of soccer community organizations, the timing for 1% For The Game could not be better! Streetfootballworld recently started operations in the U.S. and their trailblazing work will help guide our efforts to find the most efficient and innovative nonprofits harnessing the power of soccer to build safer, healthier, happier communities.
Soccer is more than a game and Senda is more than a business. We are part of a movement to transform the soccer industry. With the 1% For the Game initiative, we aim to set an example for the entire soccer industry and create a team of businesses financially committed to creating a better world through the unifying, strengthening, and teaching power of soccer. We hope that other brands will join us in committing 1 percent of their revenue to support vulnerable communities through soccer.
Calling all HuffPost superfans!
Sign up for membership to become a founding member and help shape HuffPost's next chapter