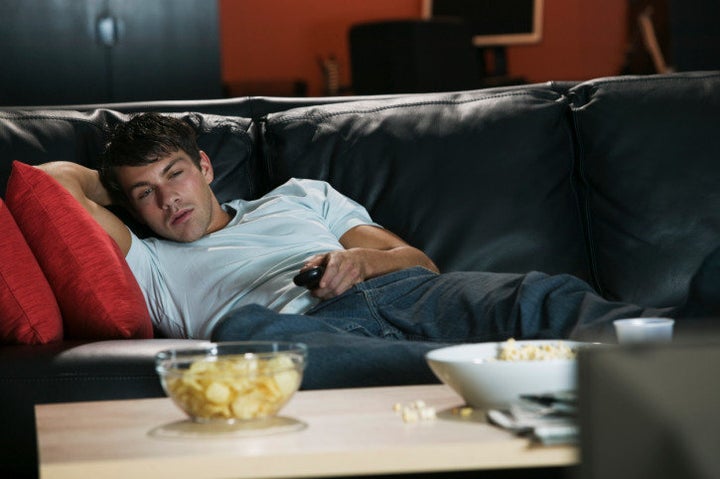 Would you just stand up already?
In the latest study to show that sitting is bad for you, British researchers found that for every hour you sit in front of the TV, you cut your life expectancy down by nearly 22 minutes -- the same effect as smoking two cigarettes.
The average American age 15 and older spends about 2.7 hours a day watching TV, according to 2010 data from the U.S. Bureau of Labor Statistics. However, in 2009, the ratings company Nielsen released figures that showed that Americans spend an average of 4 hours and 49 minutes watching TV a day.
TV-watching is considered sedentary behavior, known to increase the risk of death from heart attack or stroke. The Australian researchers found that engaging in sedentary behavior by watching a lot of TV could have as big of an impact on health as smoking and not exercising.
To come to this conclusion, researchers analyzed the TV-watching habits and risk factors for chronic diseases of 11,000 people ages 25 and older who participated in the Australian Diabetes, Obesity and Lifestyle Study. Then, they compared that data with the 2008 estimate that Australians 25 and older spend an estimated 9.8 billion hours watching TV, which is linked with 286,000 fewer years of life. The study was published in the British Journal of Sports Medicine.
"While smoking rates are declining, watching TV is not, which has implications at a population level," study researcher Dr. Lennert Veerman told The Guardian.
Past research also shows that watching too much TV can kill you. A Harvard review published earlier in the year in the Journal of the American Medical Association showed that watching two hours of TV a day can bump up the risk of Type 2 diabetes by 20 percent, the risk of heart disease by 15 percent and the risk of early death by 13 percent.