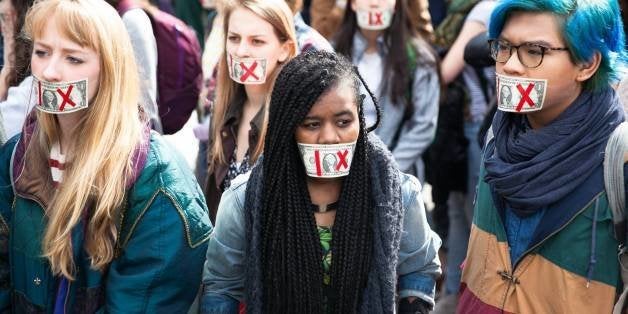 Nearly one in five college women were victims of rape or attempted rape during their freshmen year, with the most falling prey during their first three months on campus, according to a new study.
The study, published online Wednesday in the Journal of Adolescent Health, surveyed 480 female freshmen at a university in upstate New York in 2010. The results confirm other research that has found about 20 percent of women are victimized by sexual assault in college. A Centers for Disease Control report last year showed 19.3 percent of women are victims of rape or attempted rape during their lifetimes.
An accompanying editorial in the journal says the research shows "rape is a common experience among college-aged women." The researcher, Kate Carey, professor of behavioral and social sciences in the Brown University School of Public Health, wrote that if a similar number of young people were breaking their legs in their first year of school, "we would expect that the community would do something to enhance the safety of the environment."
Lisa Maatz, vice president of government relations at American Association of University Women, said Carey's study shows the problem of sexual violence among young women is "probably even worse than we thought."
"My mind boggles a bit at the statistic that they found," Maatz said, adding that Carey's data "is critical" to efforts to address campus rape.
The study found sexual violence widespread. Among those surveyed, 37 percent said they were either raped or attacked by someone who attempted to rape them at least once from age 14 through the end of their freshman year.
Students were most vulnerable during fall semester of their freshmen year -- a period often called the "red zone" between the start of classes and Thanksgiving break.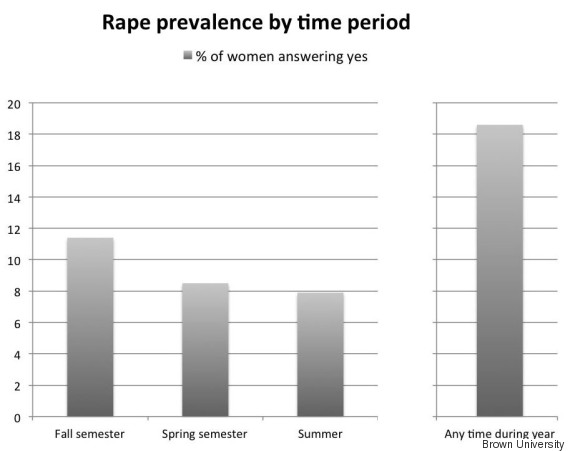 Figures include rape by incapacitation or force, both attempted or completed. Incidents of verbal abuse or unwanted touching are not included. Chart via Brown University.
"The challenge we have is the research varies a lot in terms of who is being focused on, and how the target behaviors are defined," Carey said. "It has been exceedingly difficult to get a hard number because of all this variation in the literature."
Colleges and universities have moved in recent years to gauge the prevalence of sexual violence on campuses. The survey results show variation, depending on how the questions are posed.
"As a general rule it probably is a good idea and a responsible thing for a campus to do, even if they find out information that surprises them like my data surprised me," Carey said. "Certainly it has to be done in a sensitive way."
Popular in the Community