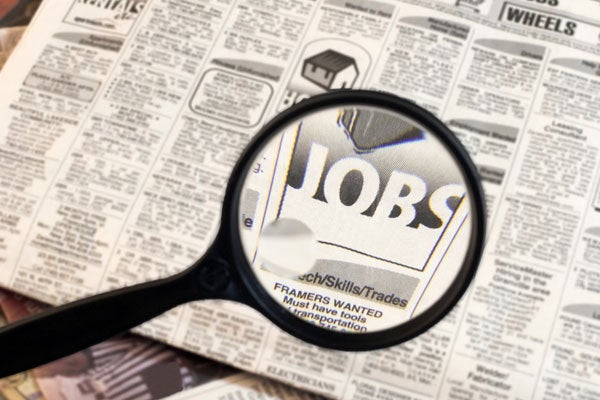 One in five working-age American men does not have a job, according to the latest federal employment numbers, an all-time high that illustrates the extraordinary toll this recession has taken on male-dominated professions in particular.
Men are more likely to work in sectors like manufacturing and construction that are more sensitive to economic downturns. But this downturn has been particularly brutal on those industries, leading some observers to call it a "mancession."
Only 80.3 percent of men age 25-54 had jobs in December -- the lowest since the Bureau of Labor Statistics started collecting that data in 1948 -- at which point the figure was 94.4 percent. When the recession began in December 2007, less than 13 percent of men in this age bracket were out of work.
The numbers are derived from what the BLS calls its employment-to-population ratio. While the non-working number in this case includes men who have voluntarily chosen to stay out of the workforce, such as students and stay-at-home dads, in many ways it provides a clearer picture of the depth of the nation's unemployment situation.
The percentage of women age 25-54 who have work is also down, but not as dramatically. Some 69.1 percent of those women are employed, about the same as in 1998. Women dominate the fields such as education, health services and government. The health industry and government payrolls are booming, and are expected to continue growing, thanks to an aging population and recently-enacted stimulus programs to boost the economy, respectively.
Overall, the percentage of Americans over age 16 that holds a job continues to slide, reaching 58.2 percent. That's a 25-year-low.
"It is striking that we have managed to reverse more than 26 years of increasing labor force participation in this downturn," said Dean Baker, co-director of the Washington, D.C.-based Center for Economic and Policy Research. "It will take a long time for workers to get over the effects of this recession."
The official unemployment rate, which doesn't include people who are underemployed or who have given up looking for work, remained at 10 percent.
According to the BLS, employers nationwide shed an additional 85,000 jobs in December. Analysts had predicted a decline of just 10,000 jobs.
The extent of the job losses indicates that the optimism generated by last month's slight dip in the unemployment rate (from 10.2 to 10 percent) may have been unfounded. Revised figures released today show an actual increase of 4,000 jobs in November - but that's now been offset 20 times over in December.
More than 6.3 million people are looking for jobs, according to the new figures, a 14 percent increase from December 2008.
Lawrence Mishel, president of the Economic Policy Institute, points out that 1.9 million workers have left the labor force since May. These are people who are either seeking work or working. More than 660,000 workers left the labor force between November and December alone.

"Absent this flight from the labor market the unemployment rate would have risen substantially in December, up 0.4 percent, rather than hold steady," he said in an e-mail.

Mishel also notes that the population has grown, which should have led to a rise in the labor force. Instead, just the opposite has happened. He writes:

Over the last year, the working age population grew by 0.8 percent, so we would have expected a growth in the labor force, those working or seeking work, by 1.2 million people. Instead, the labor force fell 1.5 million, indicating that the labor force is missing 2.7 million people, more than half of whom abandoned the labor force. The erosion of the labor force started occurring after May, with 271,000 withdrawing each month for the last seven months. Two-thirds of those fleeing the labor market since May have been adult men.

Visit this link for a deeper dive into the numbers.
Popular in the Community