Though school is now out for the summer, it won't be too long before long carefree days give way to the pressed uniform, polished shoes and bulging pencil case that marks the start of term. In US schools in particular, children would once arrive with gift of an apple for their teacher on their first day back. Whether this practice originated because apples are biblical symbols of knowledge, or because poor farming families once paid for their education with farm produce, is lost in the mists of time. Whichever the true story is, this old practice tells of the regard with which teachers were once held.

These days, the only apple most students will carry in their satchel will be an iPhone. Isn't it time that we found new ways of expressing our appreciation for teachers? At the Varkey GEMS Foundation we have long felt instinctively that teachers were not as respected as they should be -- in and out of the classroom. In the media they are often presented negatively- striking to protect their pensions or failing to uphold academic standards.
To see if our hunch was backed by data, we commissioned the 2013 Global Teacher Status Index, the first large-scale international comparison of the status of teachers across 21 countries. We found that in most countries, people compared the status of teachers to that of social workers or librarians rather than, for instance, doctors or lawyers. China, which tops the PISA educational rankings, was the only country where people thought of teachers in an equivalent bracket to doctors. More worryingly in many European countries, less than a quarter of people thought that pupils respected teachers, and only a quarter of parents would encourage their child to become a teacher.
This is serious, given that so many more good teachers -- 1.6 million by 2015 -- are needed. The low status of teachers means that we are missing out on thousands of the most talented graduates who won't join a profession that does not command respect. Of course pay and conditions are important, but just as important is status. That is why we must find ways of publicly acknowledging the work of teachers -- the modern-day equivalent of the apple on the first day of term.
We decided to set up the Global Teacher Prize to give the profession the kind of praise and publicity usually reserved for celebrities. We will find an exceptional teacher from around the world that has made an outstanding contribution to the profession. The winner will be given $1 million and a platform to share their expertise with others around the world.
Launched by Sunny Varkey, the Founder of the Varkey GEMS Foundation, and with the support of our honorary President, Bill Clinton, the prize is open to teachers across the globe. The winner will be selected from a shortlist by the Global Teacher Prize Academy, a group of well-known teaching advocates, including entrepreneur Martha Lane Fox, actor Kevin Spacey and jazz musician Esperanza Spalding -- and will be announced next year at the Global Education and Skills Forum in Dubai.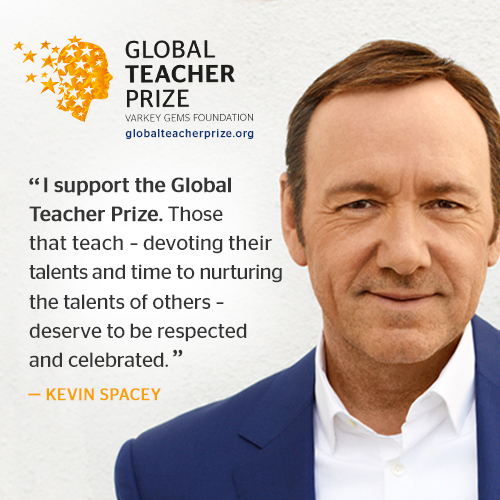 We are looking for someone who sparks learning, prepares their students to be good global citizens and is a role model in the classroom and the community. They will be creative in the classroom, encourage others to join the profession and have shown a commitment to raising the status of the teaching profession.
If you know an inspirational teacher who has made a difference to you and your community, nominate them today and let them (and us) know what they mean to you. Nominations and applications close 5th October 2014 -- World Teacher Day.
Related
Popular in the Community