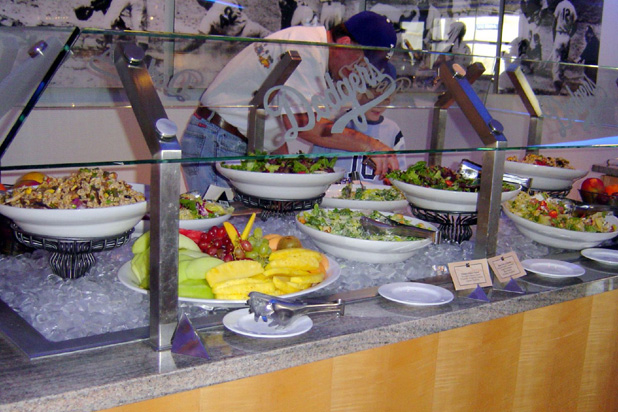 New state-of-the-art stadiums and sports arenas have popped up all over the country in the past few years; along with updated standards in guest amenities, these venues have gone above and beyond to provide gastronomic pleasures that exceed the expected burgers and fries by a long shot. In many stadiums, regional foods are proudly featured and fresh ingredients are emphasized. And luxury suite fare is more varied than ever, with menu packages from sushi bars to Mediterranean food for the true gourmet. Even stadium classics are often given a fresh twist -- like Safeco Field's Ivar Dog, which is actually fried cod (Photo credit: Flickr/Malingering).
Click here to see What the 1 Percent Eats at the Ballpark
In sporting cities around the country, from Los Angeles to Philadelphia, restaurant-quality food lives up to the impressive view of the game -- NBA suites in LA feature local artisan cheeses, you can eat sliced mushroom strudel with feta and red pepper coulis while watching Major League Baseball in Seattle and in Dallas, home of all-American fare, comfort food gets an upgrade when items like truffled mac and cheese make the menu.
But these arenas haven't forgotten the favorites that the fans have come to love over the years. Still available are the classic foods that people associate with their live sports experiences; from suites to the bleachers, fans clamor for Gilroy Garlic Fries at AT&T Park and for Dodger Dogs in Los Angeles.
The bottom line is that it's all about choices now -- to go with your peanuts and Cracker Jacks, naturally.
-- Molly Aronica, The Daily Meal
More from The Daily Meal:
America's 28 Most Expensive Restaurants
The Best (and Worst) Hot Dogs to Buy
Food Products inspired by Movies
What the Stars Eat between Takes
101 Best Restaurants in America
PHOTO GALLERY
What the 1 Percent Eats at the Ballpark
REAL LIFE. REAL NEWS. REAL VOICES.
Help us tell more of the stories that matter from voices that too often remain unheard.