With a security detail of just two unarmed men and a ship laden with tons of highly flammable palm oil, Somali pirates boarded the ship and took command. If the palm oil had been ignited, the explosion would have acted more like a napalm bomb in cooking the sea than the ingredient found in supermarket products, from cereals and baked goods to soaps and cosmetics.
For Carl "Rocky" Mason, one of the two security guards tasked with protecting the tanker and crew and author of the mini book Pirate Hunter, he had seen that action before. And it often began with violence. Some crew member would be stabbed or shot with the pirates setting the tone by instilling terror. So as Mason fast-forwarded the outcome of the attack in his mind -- being squeezed by teenage Somali pirates armed with AK-47 assault rifles and RPG launchers -- he knew he had to abandon ship to survive.
It was either that or as Mason writes, "There was no way I wanted to come quietly, to spend the next few months being tortured in some Somalia hellhole."
With a rescue helicopter running out of fuel, a skiff full of pirates he and his security guard partner had "pissed off," it was wiser to live and fight another day. After failing to defend the ship with a makeshift flare gun, a water canon and an ear-splitting sonic device that didn't work as designed on open water, while fighting the Pirates "down to our last flare for over an hour" the battle was lost.
"We had no choice but to abandon ship hoping the Indian crew would be safe. As a western security team, we would have been prized hostages. So we took our chances with the sharks," he said. Unfortunately for the crew, maritime law didn't allow guards to carry lethal weapons at the time.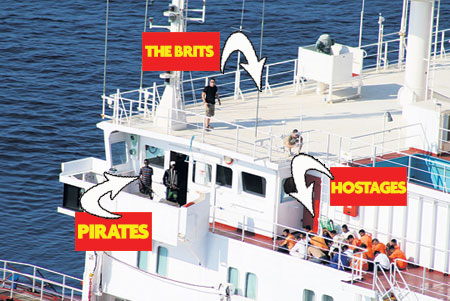 [Photo of the 2008 MV Biscaglia Hijacking with Rocky Mason and second guard on upper deck labeled "Brits," Credit: Rocky Mason
The Art of Retaking a Pirated Ship
As a 17-year-old boy he became a British Royal Marine in its elite commando unit. In 1991, after serving for 10 years in the Royal Marines, Maersk Shipping line hired Rocky Mason as a maritime military advisor during the first Gulf War. His job was to defend ships and chase criminals that attacked them off the coast of Africa and in the South China Sea. And in one daring case retake a hijacked ship off Singapore, where he boarded the ship in a suit and tie with a bag full of money.
Backed by an assault team of four ex-military men, Rocky Mason sat down to negotiate the release of the hostages. With pirates thinking the young, clean-cut Mason worked for the marine insurance giant Lloyd's of London, they were distracted by all that cash. On a "go" signal, the backup team charged in and tossed Rocky Mason a baseball bat.
In recounting the story, Rocky Mason told the UK Daily Mail in an interview, Pirate Hunter: How British Ex-Marine and Bodyguard to the Stars Escape Death.
The bridge was like a scene from the Burt Lancaster blockbuster Crimson Pirate as we fought, bats versus swords. I jumped on the pirate leader, hammering him into the deck with my fists. Soon the bruised and bloodied villains were trussed up. It was 1998 and, as it turned out, just the start of my adventures with pirates.
Then and as in the 2008 Somali hijacking, Rocky Mason was unarmed.
After reading Pirate Hunter, it becomes clear that Captain Phillips and the 2009 hijacking of the Maersk Alabama could have used Mason's expertise in security, close-quarter combat, and defending his tanker against Somali pirates.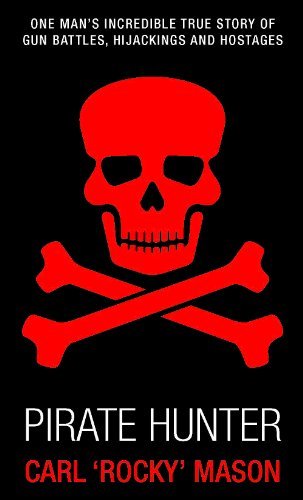 [Book Jacket, Credit: Rocky Mason]
One Percent Somali Pirate, 99 Percent Somali People
What works well in Pirate Hunter, besides the riveting action told in first person by Mason, is his deft telling the backstory of the Somali pirates origins.
How did poor, ordinary fishermen become extraordinary pirates? How did the wealth of the world in the 20,000 ships that pass through the Gulf of Aden annually play a role in that evolution?
Like U.S. advertising on TV, with the images of money and success slammed in the face of Americans everyday, each ship became a billboard of the one percent of the world's wealthy nations versus the 99 percent of the poor people of Somalia. With the country ravaged by drought, civil war and lawlessness for decades, it didn't take long for Somali fishermen to feel their resources were being plundered.
From Pirate Hunter, Rocky Mason writes:
It was thought that piracy had started as a result of illegal overfishing by trawlers from Taiwan, China, Japan, South Korea and Spain (under flags of convenience), which had decimated local stocks and had driven local fishing villages out of business. Handfuls of fishermen started to 'tax' and sometimes attack these foreign vessels, driving them away. They then realized that Cargo ships were unprotected and were easy to board using small skiffs. All the pirates needed were ladders, a couple of AK47s and a rocket launcher. Poorly paid crews kept bad watch, allowing the pirates to board before anyone knew. The ship owners usually paid ransoms quickly and in US dollars, turning the fishermen into the wealthiest men in Somalia.
Another fact that Mason uncovers was the impact of the 2004 Indian Ocean tsunami had on the story of the Somali fishermen.
The author writes with precision:
And, just when you thought it couldn't get any worse, all along the shoreline lay thousands upon thousands of barrels of radioactive waste. Investigations by the United Nations Environment Program (UNEP) found that, starting from the early 1980s, substances including uranium, lead, cadmium, mercury, industrial, hospital, chemical, leather treatment and other toxic waste had been illegally dumped on beaches in containers and leaking barrels.

It costs as little as $2.50 per ton to dump hazardous waste in Somalia as opposed to $250 per ton in Europe. Besides, nobody in Somalia knew. People were just too busy trying to survive in the midst of drought, poverty and war.

The tsunami stirred up the waste all along the coastline, contaminating groundwater. People developed acute respiratory infections, abdominal hemorrhages, and died suddenly. It also coincided with the peak of the fishing season. Most fishing boats were destroyed and grain stores were washed away.
Pirate Hunter and Second Book to Come
Since the apex of Somali hijackings in 2012, piracy activity had increased 50 percent each year from 2005, with more than 3,470 crewmembers falling victim to the pirates, nearly 100 of them dying, and more than $300 million in ransoms paid, according to the Daily Mail article.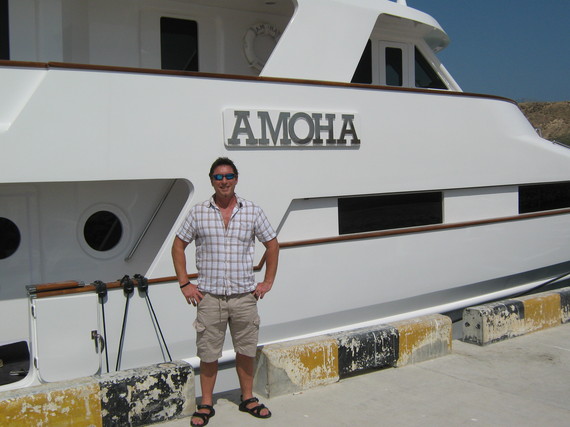 [Photo: Rocky Mason standing in front of next assignment: Protecting Yacht traveling through Gulf of Aden unarmed, again. Credit: Rocky Mason]
In reaching out to Rocky Mason on his next book, he replied via email:
The second book is about an operation prior to the Somali pirate explosion, in which I was to lead a team of former Royal Marines to retake a bulk carrier that had been hijacked by nine African pirates off the coast of Singapore. It's a slightly different story from the norm, as the Africans had done a deal with the captain to take them to Canada. But when he reneged on the trip, they decided to take the ship while killing the first officer. My job initially was to fly out and start negotiations with the now pirates and find out there demands.
Rocky Mason said he "plans to release another mini book in the coming months and then maybe a hard copy with photos by the end of the year."
For those who want to learn about and be entertained by the arc of the Somali pirates, Pirate Hunter is a great place to start.