While traveling is ultimately about getting from point A to point B, there's no harm in wanting to have an enjoyable experience along the way. Airports around the world are making the journey more fun with upscale restaurants, entertaining activities and a whole host of unique amenities. From yoga rooms and golf courses to breweries and rooftop pools, airports are becoming attractions in their own right. So whether you've encountered a travel setback or you have some time to kill before your flight, U.S. News Travel's list of airports with awesome amenities will help keep you occupied in transit. After reading this roundup, you'll be begging for a longer layover.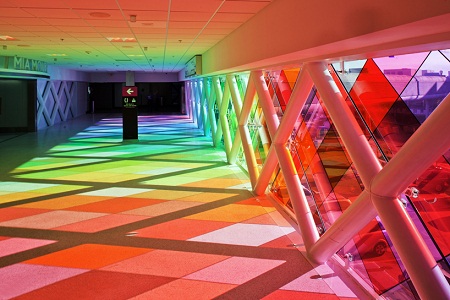 Courtesy Miami-Dade Aviation Department
Miami International Airport
Miami
Miami has a reputation for being a colorful, vibrant city -- and its travel hub is no different. Miami International Airport is part of the city's Art in Public Places program, which focuses on taking local artists' work out of museums or galleries and placing installations and exhibitions where more residents and visitors can view them. Travelers with layovers at Miami International Airport should take some time to peruse and admire the unique pieces in the airport's South, Central and North Terminals. A few eye-popping displays include detailed murals, travel-themed light panels, and walkways and walls that incorporate seashells, coral and other marine wildlife seen around town. A visitor favorite is Christopher Janney's "Harmonic Convergence:" As sunlight floods through the collection of colored windows, the pedestrian walkway is illuminated in a strikingly kaleidoscopic rainbow and enhanced with sounds of the ocean and the Everglades. (LED lights help achieve the same effect at nighttime.) For busy travelers who just need to relax, the airport's Jetsetter Spa (South Terminal H, second level) and 10 Minute Manicure (South Terminal J, second level) both offer manicures, pedicures and massages. But possibly the most soothing (and adorable) thing about Miami International Airport is Casey, Miami airport's therapy dog that roams the terminals wearing a "Pet Me" vest. Casey and her owner, airport volunteer Liz Miller, walk around the airport two days a week to ease travelers' worries with some puppy love.
Hong Kong International Airport
Hong Kong
When you think of airport amenities, well-manicured greens and sand traps may not be the first things that come to mind. But at Hong Kong International Airport you can break up a long layover with a unique offering -- a round of golf. The SkyCity Nine Eagles Golf Course is a nine-hole course just outside the airport's Terminal 2, and it offers equipment rental and even luggage storage. Since it caters to more than 56 million passengers a year, Hong Kong's airport has to keep all types of travelers busy. Shoppers can peruse the sprawling SkyMart and SkyPlaza areas, home to 280 stores and kiosks. Kids can enjoy the Dream Come True Education Park (where children can explore careers through facilities and activities that mimic real-world work) or the IMAX Theatre, which can seat around 350 people. Visitors who are looking to learn a little more about the mechanics of flight should stop by the Aviation Discovery Centre, which is full of interactive exhibits and visual and audio displays. Meanwhile, starving travelers can satiate those hunger pains at any of the airport's bakeries, dessert shops or highly praised sit-down restaurants, including the Michelin-starred Hung's Delicacies. If you're only looking to rest your eyes or freshen up, head to one of the lounges. There is an entrance fee, but you'll be rewarded with comfy chairs and couches, food and beverages, massages, showers and more.
Amsterdam Airport Schiphol
Amsterdam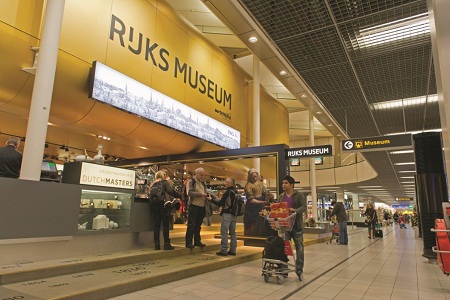 Courtesy Amsterdam Airport Schiphol
If you're heading to Schiphol, we hope you're hungry. Amsterdam's airport is full of restaurants -- both before and after the security checkpoint -- that offer a sampling of cuisines from around the world. DUTCH & delicious is stocked with authentically Dutch meals, breads, snacks and soups. At the cozy Café Rembrandt you can enjoy a beverage while chatting up fellow flyers or head to Balcony Bar, which overlooks the departure area -- perfect for enjoying a cocktail and a sandwich while you people watch. EAST Bar & Bites' menu includes sushi and other Asian-influenced eats; Café Comunal's Mediterranean-style cuisine consists of Spanish tapas and boccadillos; and Bubbles Seafood & Wine Bar dishes out fresh catches like shrimp and oysters, paired with lip-smacking wines. Apart from the abundance of food, travelers can also spend time at the casino or at one of the many airline lounges. Meanwhile, art buffs will appreciate the Rijksmuseum Amsterdam Schiphol -- the free museum is open from 7 a.m. to 8 p.m. daily and houses a vast collection of Dutch-focused exhibits and paintings. If eating your way around the airport and admiring art makes you sleepy, post up at the airport's Yotel. The affordable, mini-accommodations are bookable for short periods of time (minimum four hours) and come equipped with a shower and a bed -- perfect for a quick power nap before your next flight. Finally, if you have time, stop by the Panorama Terrace (or Panoramaterras) observation deck. This large rooftop viewing area provides travelers and day visitors alike a unique vantage point of the airport.
Vancouver International Airport
Vancouver
Vancouver's airport was built with its Canadian environment in mind, incorporating the city's wilderness into its decor and amenities. Let's start with the massive, self-sustaining Green Wall: This structure stands around 55 feet tall and features 27,000 individual plants organized in a pixilated pattern reminiscent of the majestic Coastal Mountains. If you're searching for sea life, check out the 30 gallon aquarium that's home to more than 5,000 ocean creatures like wolf eels, starfish, sea urchins and 10 species of rockfish. With plenty of seating in the area, you can admire the animals along with the greenery and nearby creek that runs through the terminal. If you have a longer layover, consider a stroll around Chester Johnson Park (situated just outside international arrivals). A nature path leads you through the verdant forest, past a waterfall and pond to the towering red cedar K'san Totem Poles. The pieces all represent different aspects of the spiritual and supernatural world, with detailed carvings depicting various stories. In fact, you'll see the Native American culture's artistic influence in a number of sculptures around the airport. The jade green patina "Spirit of Haida Gwaii: The Jade Canoe" -- a popular photo op -- features 13 characters in a canoe, while a colorful carved thunderbird greets passengers arriving to Vancouver from the United States. To work your way around the hub, airport officials offer sample self-guided tours you can download off the Vancouver International Airport website.
San Francisco International Airport
San Francisco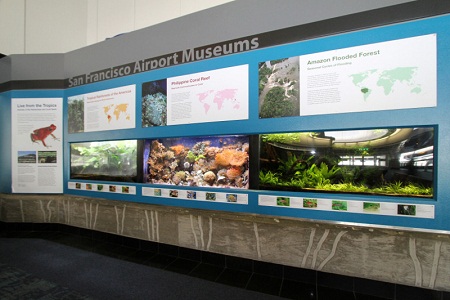 Courtesy San Francisco International Airport
San Francisco's airport is the second busiest in California, helping more than 40 million passengers reach their destinations annually. And with so many travelers to take care of, San Fran rolls out the relaxation red carpet. A 24-hour, complimentary yoga room, a reflection room dedicated to meditation and a reading room all encourage travelers to de-stress before, after or between flights. Meanwhile, the XpresSpa's facial, manicure, pedicure and massage services are available in Terminals 2, 3 and the International Boarding Area G to relax even the most anxious traveler. If you're more interested in a little retail therapy, San Francisco International Airport's more than 80 stores will keep you busy. Flyers can browse sports shops, tech stores and even high-end boutiques like Burberry, Hermès, Coach and Gucci. While offering plenty of amenities to keep adults content, the airport doesn't forget about its young jet-setters, either. Children can visit the fish at the aquarium or get their parents to accompany them on a scavenger hunt-like tour around the terminals, weaving through the airport learning about aviation along the way. You should budget about an hour if you want to follow the tour, and don't forget to pick up the prize at the end (available at the Information Desk from 8 a.m. to 8 p.m.). More educational opportunities are available at the free-of-charge Aviation Museum and Library, which is modeled after the airport's lobby in the 1930s. Here, visitors can learn about the impact of air travel and the development of commercial aviation on the West Coast.
London Heathrow Airport
London
If you're connecting through London's Heathrow Airport and you like to shop, schedule a longer layover. You'll want enough time to browse Terminal 5 without having to dash around like a "Shop 'Til You Drop" contestant. With nearly 100 stores running the gamut from souvenir shops to the crème de la crème, it's no wonder Heathrow was named the World's Best Airport for Shopping in Skytrax's 2013 World Airport Awards. You can search for Big Ben trinkets, double-decker bus magnets or Union Jack mementos at the duty free shops or splurge on luxury watches, jewelry, bags and clothing. Cartier, Chanel, Dior, Dolce & Gabanna, Prada and Tiffany & Co. are a few of the big-name boutiques. Heathrow doesn't skimp on dining either. Its terminals are peppered with cafes, Italian bistros, grab-and-go eateries and sit-down restaurants like Gordon Ramsay Plane Food, Caviar House & Prunier Seafood Bar, and Huxleys Restaurant & Bar. Flyers looking to be pampered before take-off should visit No. 1 Traveller Lounge & Spa or Be Relax Spa; or stop by World Duty Free to take advantage of complimentary beauty services like makeup touch-ups, mini facials and massages.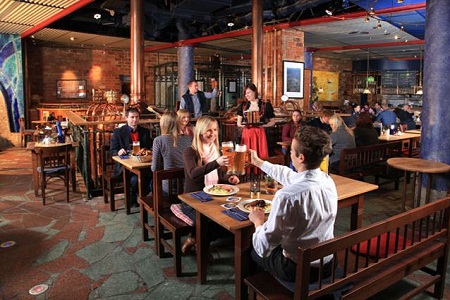 Courtesy Airbräu
Taking a cue from the Munich's famous Oktoberfest celebration, the city's airport offers Bavarian treats, a brewery and a beer garden for travelers to enjoy year-round. Airbräu serves up tasty eats like schnitzel, soft pretzels and suckling pig with a side of live music and cabaret shows. If you're more interested in drinking, try the lagers and pilsners brewed in-house or take a tour of the brewery (for a small fee) and ask the "brewmaster" any questions you may have. Airbräu is open daily from 8 a.m. to 1 a.m. Munich Airport also holds a number of other restaurants that serve authentic Bavarian meals, along with dozens of other lauded eateries. (Munich Airport was named the World's Best Airport for Dining by Skytrax in the 2013 World Airport Awards.) Come wintertime, the travel hub transforms into the Munich Airport Winter Market, complete with hundreds of decorated Christmas trees, vendors selling local crafts and goods, and even a large outdoor ice rink. If the children don't get a kick out of ice skating in an airport, take them to the playground at Visitors Park or one of the Kiddieland Kid's Corners areas (all open year-round) that feature trampolines, climbing towers and jumbo Lego blocks. Then, the entire traveling clan can enjoy a round of mini-golf between flights or scope out the runways from the Visitors Terrace.
Chicago O'Hare International Airport
Chicago
You may recognize Chicago's airport from the movies ("Home Alone," "Home Alone 2: Lost in New York" and "Meet the Parents" to name a few), but that's not its only claim to fame. Chicago O'Hare International Airport is also home to one of the largest dinosaur skeletons in the world. The Brachiosaurus, which is on vacation itself from Chicago's Field Museum of National History, stands four stories high, measures 72 feet long and hangs out right in Terminal 1. Craving more history? Make your way to Terminal 2 for the Butch O'Hare F4F-3 Wildcat Aircraft Exhibit. A replica of the F4F-3 fighter plane flown by the airport's namesake is on display, along with a history of O'Hare's role in World War II. While the travel hub preserves its legacy with these artifacts, it's also made strides in innovation and creativity with its art installations, play areas and indoor garden. The "Sky's the Limit" kinetic neon light and sound ceiling exhibit is one that entertains travelers as they walk along the pedestrian tunnel between Concourses B and C in Terminal 1. What's more, the Kids on the Fly interactive playground features an airplane, helicopter and control tower so children can organize and man their own "flights." If you only have time for a bite, you should try some true Chicago fare. Chicago O'Hare International Airport's dining scene spotlights cuisine you'll find throughout the Windy City, like chili cheese hot dogs, Italian beef sandwiches and gooey, deep dish pizza.
Denver International Airport
Denver
With massive white peaks that resemble the snow-topped Rocky Mountains rising from the roof, Denver International Airport is an architectural spectacle in its own right. And the exterior is not the only eye candy visitors will enjoy. Denver's airport is decorated with colorful murals, thought-provoking sculptures, mosaic tiled floors and a pair of bronze gargoyles watching over the baggage claim area. Another favorite (especially among travelers with children) is the underground train that shuttles passengers between terminals. The tunnel walls are filled with unique light and motion art installations, so be sure to snag a window seat and watch the show as you whiz by. If the underground train doesn't do the trick, airport scavenger hunts are another way to keep the kids entertained; there's a specific trail for each of Denver's terminals. Food-wise, you'll find eateries of all types: from Ben & Jerry's Ice Cream and candy shops to Mexican cantinas and Denver-themed sports bars. Finally, make sure to stop by the 365-foot-long glass-enclosed pedestrian walkway that connects Jeppesen Terminal and Concourse A. You'll not only be able to watch planes arrive and depart, but the glass floor also allows you to view the active airfield as planes taxi beneath your feet.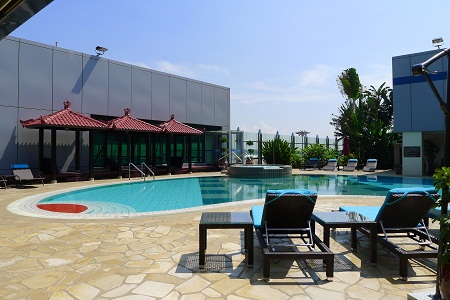 Courtesy Changi Airport
Singapore's Changi Airport is the epitome of an extravagant travel hub -- if it were a sundae, it'd be the Guinness World Record-breaking one with all the fixins'. Apart from your run-of-the-mill shopping venues and restaurants, Changi Airport boasts indoor nature trails to explore, a butterfly garden to admire and three separate lounges that offer gym, shower and spa services (for a fee). If you're looking to really unwind, head to the rooftop pool and Jacuzzi in Terminal 1. It costs a fee (around $10 USD), but you'll get a complimentary non-alcoholic drink, access to the refreshing waters and use of shower facilities. Parents traveling with children can take the tots to one of the indoor playgrounds or join them on the world's tallest airport slide (it stands about 40 feet high and there are some age and height requirements). Meanwhile, travelers of all ages can enjoy the movie theaters that offer free screenings in a variety of languages. As you wander through the airport, take time to admire its decor as well. The Social Tree interactive installation is about 30 feet tall and comprises 64 screens that display photos and videos visitors can take on the kiosks that surround the massive "tree." The Changi Aviation Gallery is another interactive attraction, showcasing hands-on exhibits about the airport's history and planes throughout the years. But perhaps the most unique offering of Changi Airport is its city tours. If you have a longer layover (at least five hours to spare before your next flight), you can get a free, two-hour guided bus and walking tour of Singapore. Merlion Park, the Singapore Flyer and Marina Bay are just a few of the cosmopolitan city's sights you'll spot along the way.