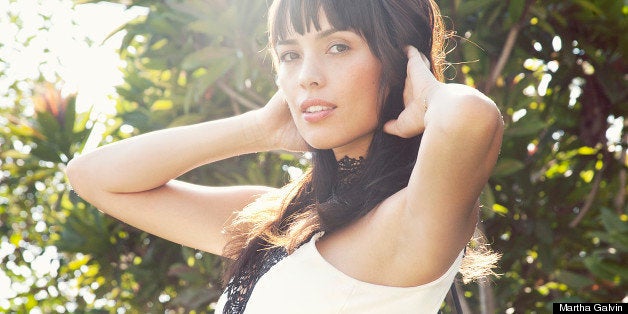 Since my beautiful son Hank was brought into the world, some of our best moments each day have revolved around music. Whether it's through the creative spiritual words of Walt Whitman, dancing around together to the grooves of Buena Vista Social Club, playing air guitar to Led Zeppelin or listening to Stevie Wonder on vinyl while we do yoga together in the morning, I've always felt it was important to celebrate my favorite music with my son. Here are some of classics that we both love. I'd encourage any parent to share these with their child.
Walt Whitman's "Leaves of Grass" -- Read By Ed Hedgley
I am a believer that the mind will find ways to grasp things that may be initially beyond comprehension, especially when the listener is exposed to something by the one they love. How many times does one grow up and say, 'My parents listened to...'? It brings back memories. I would play this one while driving through the country.
Martha Bass - "Martha Sings Malaya"
This album makes me dance and gives me the shivers. It gets Hank, my 2-year-old, absolutely twirling in his socks.
Bob Dylan - "The Freewheelin' Bob Dylan"
The great poet! You can't go wrong.
Bob Marley - "Legend: The Best Of Bob Marley And The Wailers"
Bob Marley is the perfect music to diffuse a tantrum. Pro tip: It's hard to stay mad when there's reggae on.
"Morning And Evening Meditations" By Louis Hay
What greater tools can we give our children than to teach them how to be their greatest self through perspective and understanding of the possibilities that lie waiting in their world and in themselves?
Led Zeppelin - "Early Days and Latter Days"

It's very important to rock out. Robert Plant may very well be the Father of the Air Guitar.
"50 Best Classical Composers" By Virgin Classics
Brain food. Brain candy. A break for mom and dad from Fresh Beat Band.
This is world music that no one can argue with -- close your eyes and shake your hips music. It's also a wonderful soundtrack for a cooking lesson with your kiddo!
The Black Keys - "El Camino"

You child likely knows this album. After all, The Black Keys have already won a Kids' Choice Award.
The Beatles - "White Album"
Need I say more? Catchy, colorful storytelling filled with brave imagination and curiosity, The White Album is a celebration of humanity. It has been the backdrop to our lives, woven into all of our stories in some way. May the tradition continue on for the newest generation!