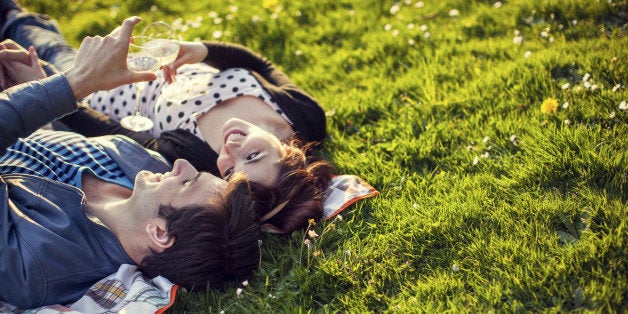 With summer upon us, it's the perfect time to forgo dinner and a movie and opt to head outdoors for some dating fun.
Shaun-Marie Robbins of New Jersey remembers how she and her now-fiancé Jon spent their first date outside and have no regrets. "We went to a petting zoo, played mini golf, had ice cream and ended the date by taking our dogs for a walk at a local park," she recalls. "It was the best date. Eight years later, we're still together!"
Recognizing that outdoor activities help many couples bond, Intimacy Expert and Coach Allana Pratt offers these 10 suggestions for amazing outdoor dates that you'll definitely want to experience with someone special.
Forget dinner by candlelight. Grab a picnic basket and head to the beach with your date and enjoy a romantic dinner as the sun sets. "There's something about the beach and the sand between your toes that helps you let down your defenses so you connect authentically with each other," says Pratt.
2. Paddle Boarding in the Marina
Paddleboarding is a fun activity the two of you can do together. "Finding that sweet spot to balance on the board and let go to the waves makes you really sense how you and your date will navigate life's mystery," says Pratt.
Although they can be pricey, hot air balloon rides offer an unforgettable dating experience. "Lift above the earth with your date in a hot air balloon ride and see how they embrace adventure while being humbled by Earth's grandeur," recommends Pratt.
4. Look Out with Take Out
It's not always easy to get to know someone or to express yourself when you're out on the town with crowds of people, so it's important to plan a few low-key dates in intimate settings that allow for time to appreciate the simple pleasures in life -- not to mention each other.
According to Pratt, women can grow bored being taken to impressive restaurants and would prefer a "down home guy with simple wholesome values." So grab some take out and "back your pickup truck into a romantic look out spot at sunset with your food and some beers."
A low-key date can even take place in your own backyard. "Once you've had a few dates out on the town and get invited to their home -- or you invite them to your home -- bust out the grill, marinate some killer swordfish and crank up the tunes," suggests Pratt. As you sit on your back porch at sunset, you'll begin to "see if this connection is ready for the next step."
While they may get a bad rap, "sometimes going on a crazy sunset booze cruise can be hysterically fun," says Pratt. For example, "I remember a pirate ship in Puerto Vallarta that let out this canon ball blast amidst rave music."
If you decide to give it a try, bring along a few other couples to liven things up. Then "let yourself authentically come undone with your date," encourages Pratt. "You'll soon know if your wild sides collide."
7. Hike in the Park or Forest
Local parks and forests offer a private, secluded setting where you can hike along nature trails while getting to know your date. "How people navigate challenges tells you a lot about how your date will navigate conflict," explains Pratt.
Not to mention, many parks and forests are actually quite beautiful and can help ignite the embers of love. For example, "there's this canyon in Pasadena called Eaton Canyon where you have to cross a river at least 20 times before you get to the end where there's this gorgeous waterfall and pond you can dip into."
Although many couples have found horseback riding on the beach to be especially romantic, you don't have to travel to Aruba or Malibu for the experience. "There are tons of places you can hit the trail at sunset on a date," says Pratt. If you're not sure where to go, ask your local equestrian center or nearby farm for ideas.
If getting out on the water during the summer months is more your style, try river kayaking with your date. Tandem kayaks accommodate two people and offer an exciting adventure as you both paddle down the river. "This will quickly show you how you can savor pleasures while working as a team and enjoy nourishing beauty," says Pratt.
Busy schedules often make it difficult to set aside time for dating, especially for parents. "Sometimes you're dating a single mom or dad and they can't get away, but don't let that stop you," advises Pratt. Instead, "offer to have a driveway picnic and bring food, your DVD player to watch a movie and make it work for their circumstances."
Calling all HuffPost superfans!
Sign up for membership to become a founding member and help shape HuffPost's next chapter