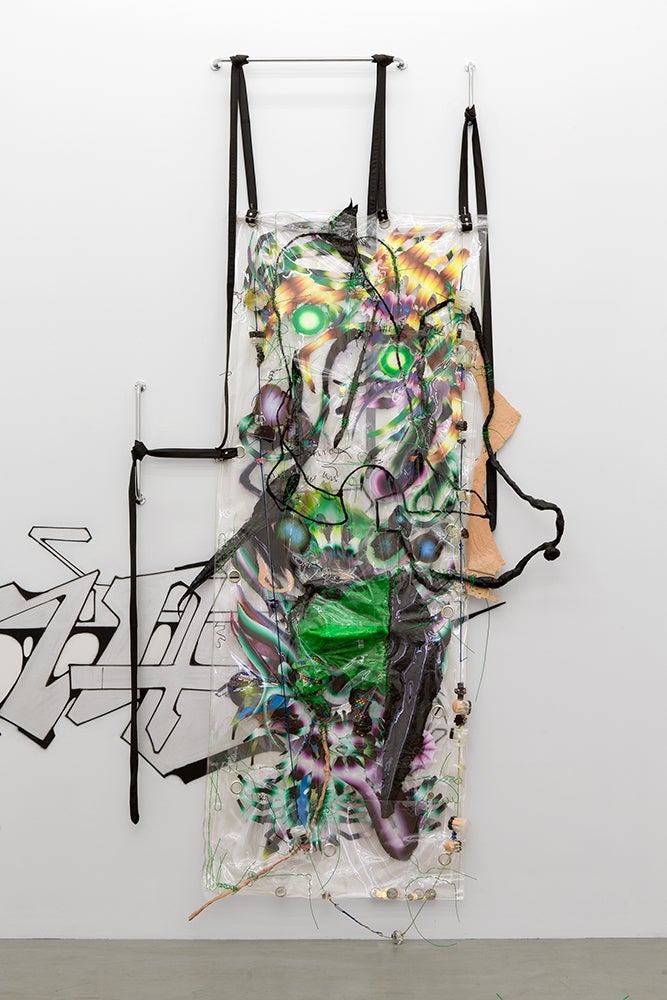 The curators of the 2017 Whitney Biennial, the Whitney's Nancy and Fred Poses Associate Curator Christopher Y. Lew and independent curator Mia Locks, have spent the run-up to the U.S. art scene's celebrated biannual checkup visiting artists' studios from coast to coast. What they've brought back shows a diverse and engaged art community in this country, pushing the limits of medium and subject. The Biennial offers opportunities to reassess the works of older artists and how they continue to contribute to the conversation—some of the venerable established artists represented this year include Jo Baer, Larry Bell, and John Divola. But it's that glimpse and glimmer of what is up and coming, fresh, and new in contemporary art that draws us in, and keeps the debate lively, year after year. Below we've picked 10 young artists to keep an eye out for at this year's Whitney Biennial, with works fresh from the studio, in painting, sculpture, installation, and video.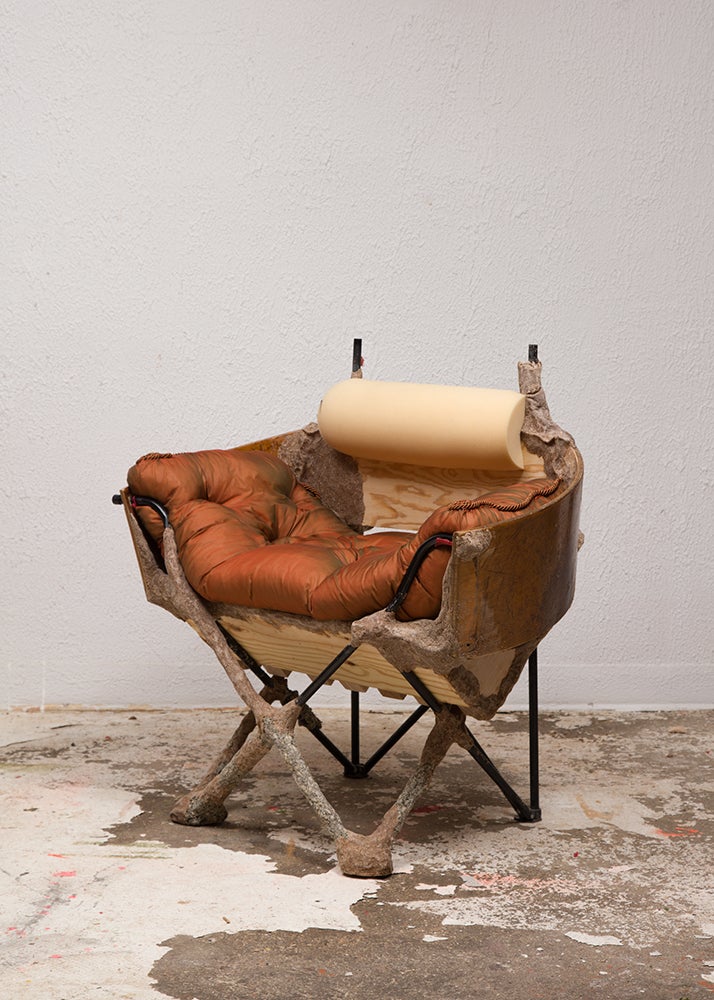 Jessi Reaves, Born 1986 in Portland, OR Lives in Brooklyn, NY
It's impossible to miss Jessi Reaves' contribution to the Biennial this year. Her lumpen, misshapen, and inviting sculptures can be found throughout the museum, not only for visitors' viewing pleasure, but for lounging as well. But don't confuse them with mere functional objects—this is art, not design. "I actually find design pretty limiting," the artist recently said in an interview.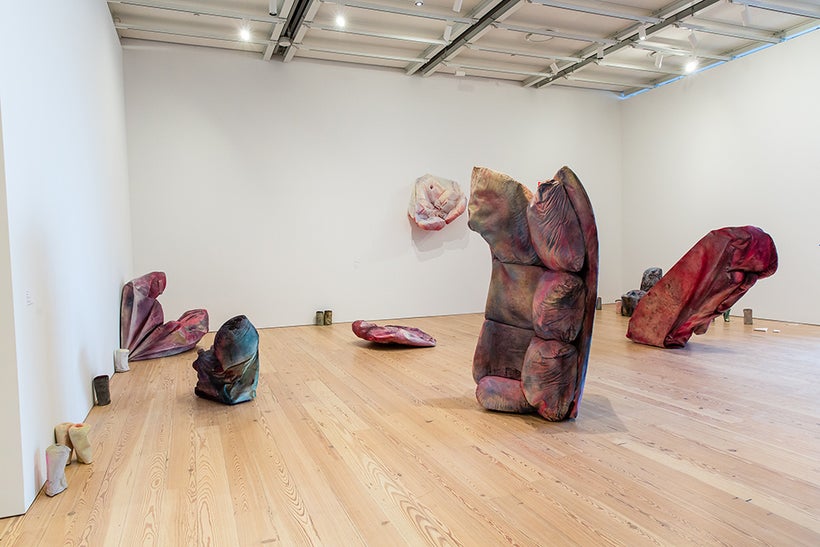 Kaari Upson, Born 1972 in San Bernardino, CA, Lives in Los Angeles, CA
Kaari Upson's sculptures, made of urethane and aluminum, and coated with pigment, look like a cross between upended furniture and gigantic pupae. Organic, eroded, collapsing, the forms seem to lurch and stagger around the gallery space on the 6th floor.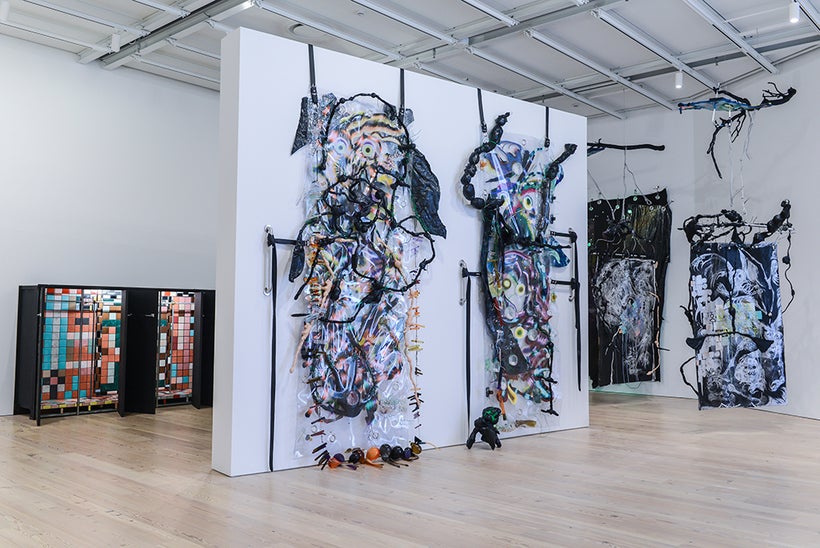 The collaborative duo of painter Kerstin Brätsch and sculptor Debo Eilers, both New York-based, and who both maintain separate practices, work at the intersection of painting and sculpture, to riotous effect. Their oversized, grotesque wall hangings densely crowded in the 6th-floor gallery, are made of mixed materials, like resin, epoxy, plastic tiles, urethane, mylar, and gold leaf.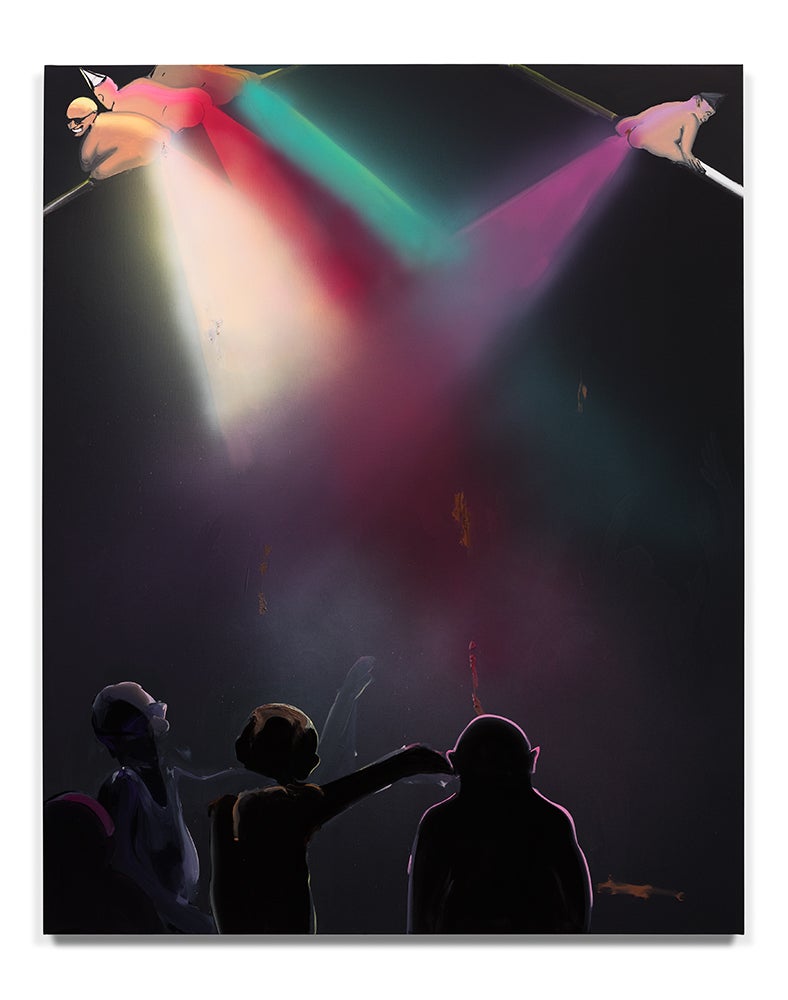 Tala Madani, Born 1981 in Tehran, Iran, Lives in Los Angeles, CA
From afar, Tala Madani's paintings appear almost abstract, with deep black backgrounds pierced with luminescent colors and sprays of light. The closer you get, the more absurd her vision becomes, with bodily orifices projecting lights over disco dancers, while, in an accompanying digital video, God gives a lesson in sex ed.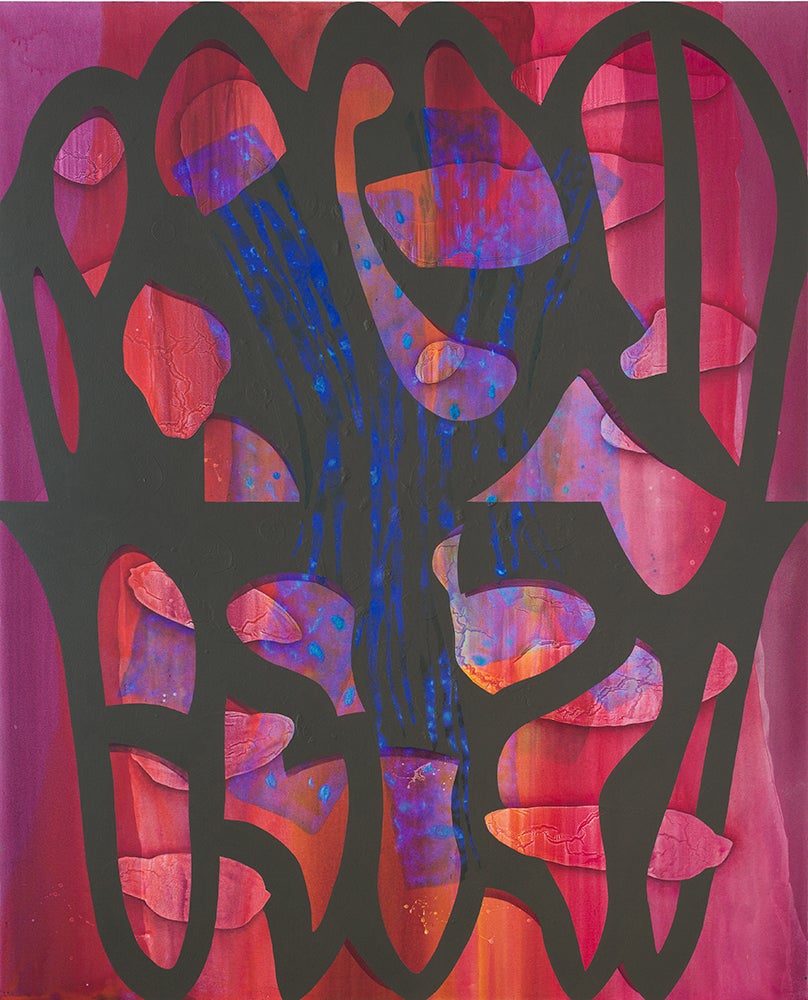 Carrie Moyer, Born 1960 in Detroit, MI, Lives in New York, NY
Carrie Moyer's large-scale abstract acrylic paintings dazzle with vibrant colors, architectural forms, and even a splash of glitter here and there. As the artist explains, "I'm interested in abstract painting that is experienced both visually and physically. The forms are constantly shifting from the familiar to the strange in a way that seems to escape words."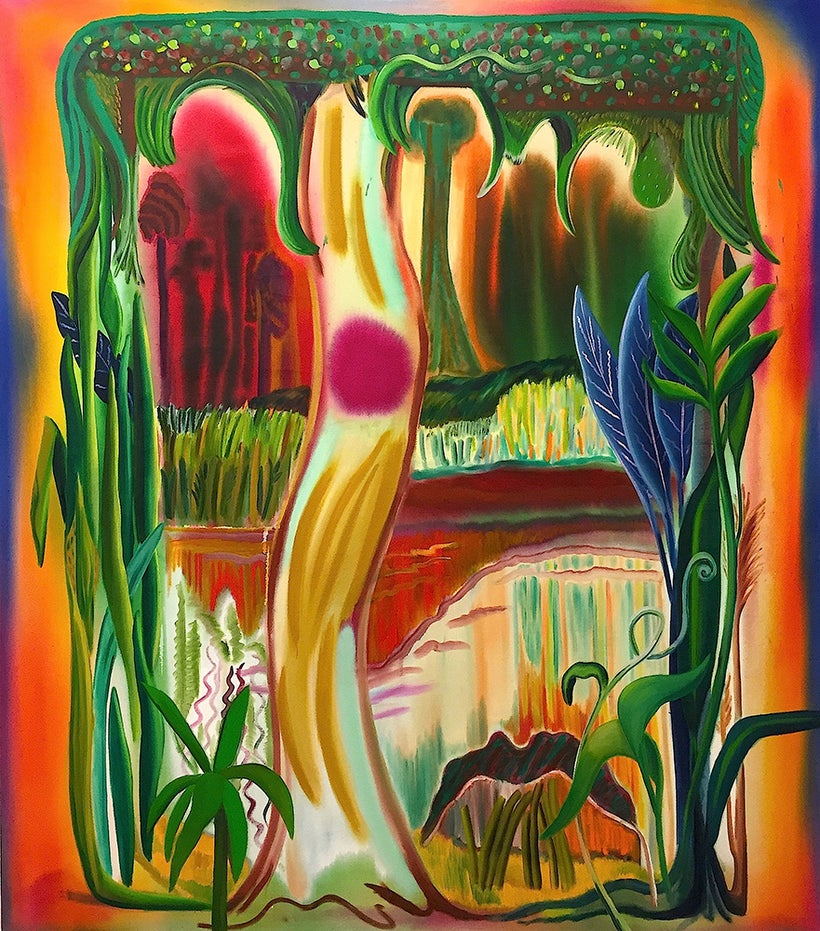 Shara Hughes, Born 1981 in Atlanta, GA, Lives in Brooklyn, NY
It's easy to get lost in Shara Hughes' dreamy, otherworldly landscapes. Her large-scale canvases are presented in portrait orientation, as though peering through a window frame at a conjured scene of vivid foliage, evocative natural features, and abstract elements.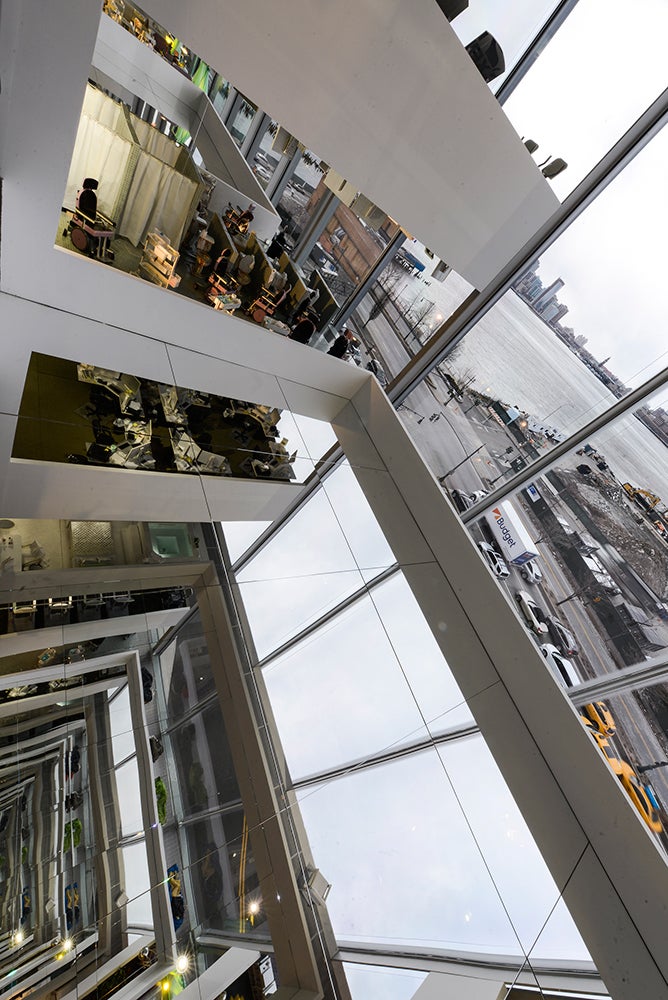 Samara Golden, Born 1973 in Ann Arbor, MI, Lives in Los Angeles, CA
Samara Golden's dizzying installation, located on the 5th floor, interacts directly with the new Whitney building, utilizing the expansive windows and the stunning view of the Hudson River to create a captivating vortex of reflective surfaces and built interiors.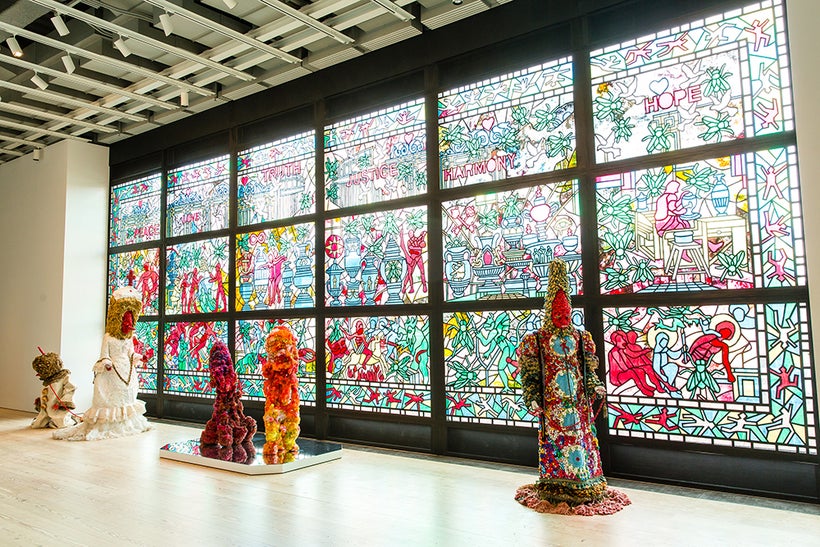 In Raúl de Nieves's hands, modest materials like paper, wood, and glue become resplendent and transcendent. His installation of "stained glass windows" made of paper, acetate, wood, tape, and beads, casting subtle hues over meticulously crafted sculptures, is one of the most striking in the Biennial.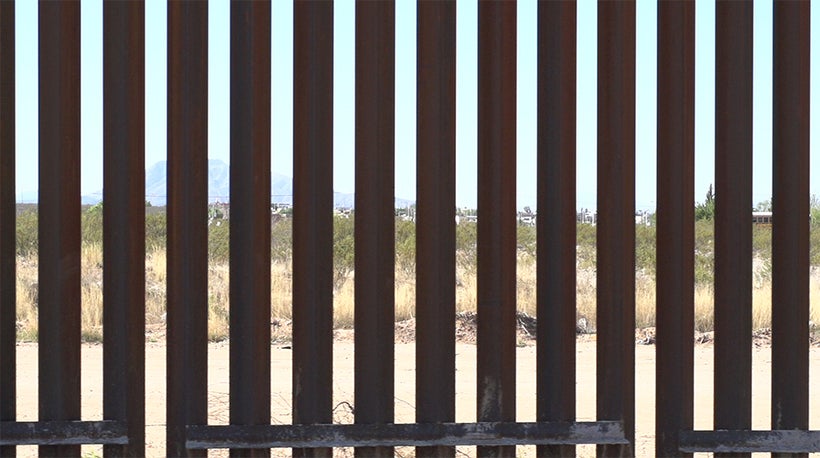 Postcommodity (Raven Chacon, Cristóbal Martínez, Kade L. Twist), Founded 2007
Postcommodity's jarring and hypnotic video installation, A Very Long Line (2016) constitutes one of the most politically relevant and visually succinct works in the Biennial. For the piece, the indigenous artist collective, who live between Albuquerque, Santa Fe, and Phoenix, traveled along the U.S.-Mexico border, recording the border fence from the window of a moving car.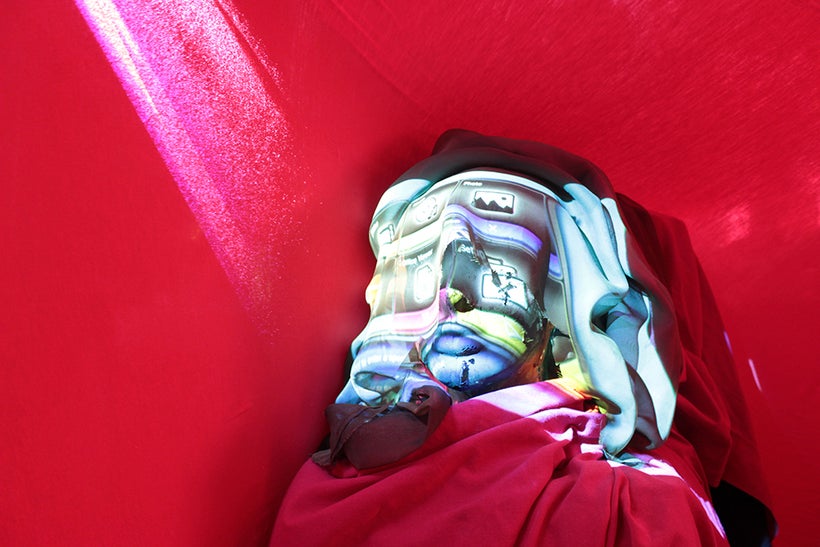 For Tommy Hartung, the expressive potential of digital video is limitless. His 2015 ultra-high-definition video The Lesser Key of Solomon involves stop-motion animation and appropriated video, addressing themes of occultism and the income gap, to spellbinding effect.
The Whitney Biennial opens to the public on March 17 and runs until June 11, 2017.
Calling all HuffPost superfans!
Sign up for membership to become a founding member and help shape HuffPost's next chapter
This post was published on the now-closed HuffPost Contributor platform. Contributors control their own work and posted freely to our site. If you need to flag this entry as abusive,
send us an email
.