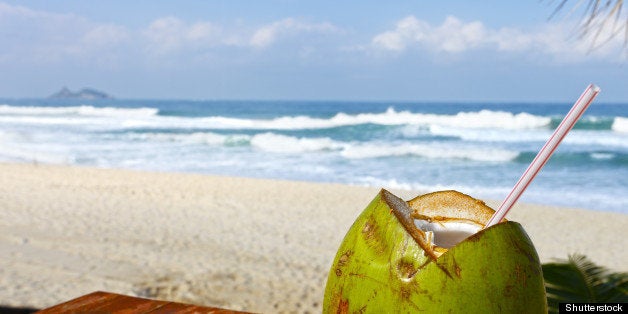 What's better than the beach? Lounging on that beach with a frosty beverage in hand. Raise your glass and check out 10 beautiful beach bars worth the trip!
Caddy's on the Beach, Sunset Beach, Florida
Sometimes going to the beach can be a hassle. Who wants to lug bulky chairs across the hot sand? That's not a problem at Caddy's, where patrons have free lounge chairs delivered to them on the beach by a cabana boy. This beach bar has live entertainment seven days a week, so you can alternate between lounging and dancing in the sand.
Soggy Dollar Bar, White Bay, British Virgin Islands
Until recently, the only way to get to the Soggy Dollar was to anchor your boat and swim to the bar. But the Soggy Dollar is now accessible by land, so you can keep your bills (and your credit cards) dry if you want. Even if you have to swim for it, the Soggy Dollar is worth a visit, as it is the birthplace of the famous Caribbean cocktail known as the Painkiller. Order the Original Painkiller -- made with dark rum, cream of coconut, pineapple juice, and orange juice, then topped with fresh Grenadian nutmeg -- and enjoy it in a hammock on the sand.
Baba Nest, Phuket, Thailand
Sip a signature cocktail concocted from fresh local ingredients (like the Mai Thai Lady, made with rum, Curacao, and almond syrup, along with fresh pineapple, mint, lychee, and lime) as you survey panoramic views of Phuket from this rooftop. Grab a beanbag pillow and settle in to watch the sunset reflect off the 360-degree infinity pool that surrounds Baba Nest.
La Buena Vida, North Akumal, Mexico
It might feel like the room is swaying after a few margaritas at La Buena Vida -- or you might just be sitting in one of the bar's many swings. For the best views of Half Moon Bay, scale one of the miradors or "crow's nests," private tree houses perched high above the trees. (Best attempted before you have too many of those margaritas.)
The William Thornton, Norman Island, British Virgin Islands
Like your beach bars a bit rowdier? Party like a pirate aboard The Willy T, a floating bar anchored off the coast of Norman Island. Boaters come here to drink cocktails made with Willy T's own brand of gold rum, take shots out of the "shot ski," and dive 15 feet off the ship's top deck.
Theros Wave Bar, Santorini, Greece
Theros Wave Bar sits on the volcanic white rocks of Vlychada and offers amazing ocean views. Order a drink from the bar (constructed out of the same volcanic rock) and relax on a sun bed. Or, come for one of the bar's famous full-moon parties!
Overwater Bar, Gili Lankanfushi, Maldives
Built on stilts over a turquoise-blue lagoon, the Overwater Bar offers panoramic views of the Indian Ocean. Sip champagne while listening to the lapping waves, and definitely order seafood when you're ready to eat -- you know it's going to be fresh!
Sunset Beach Bar & Grill, St. Maarten
This bar is either awesome or terrifying, depending on how you feel about low-flying planes. Since Sunset Beach Bar & Grill is located just steps from the end of the runway at Princess Juliana International Airport, you can walk straight off the plane and into the bar on Maho Beach. Listen to the background chatter of air-traffic controllers (broadcast into the bar) as you sip a Runway Rum Punch and watch jumbo jets come in for a landing.
The Dune Preserve, Anguilla
Opened by famous reggae singer Bankie Banx, The Dune Preserve has all the ingredients to make a perfect beach bar: great music, a beautiful beach and delicious drinks. The bar itself is made from a combination of driftwood, seashells, and other materials sourced from the beach, and its bartenders have served drinks to everyone from locals to former President Bill Clinton!
Located just steps from the water, the open-air Rojo Beach Bar is kept cool by ocean breezes -- but if you get too hot, a refreshing infinity pool awaits. The icy cocktails and frosty beers will keep you cool as well, of course. Sit at the bar or stake out one of the hammocks, and make friends with the local patrons and dogs that hang around.
You Might Also Like: