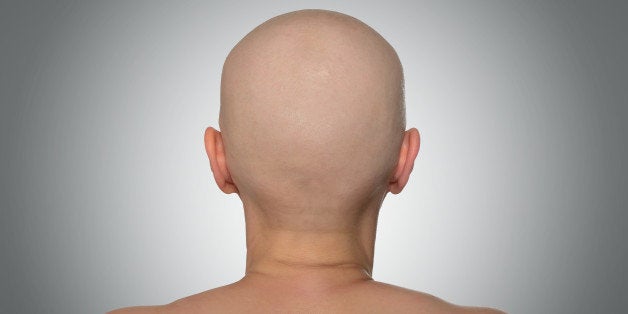 Lets face it, when it comes to medical hair loss there are a lot of negatives. An individual's hair is a focal point for society, and is often one of their most beloved physical traits. Losing that familiar identity can be a rough transition, especially when it's forced upon you by an illness you never asked for. I recently found myself bald while receiving chemotherapy for an autoimmune disease called Systemic Sclerosis. (Yes, chemotherapy is used in other illness besides cancer, read about it here!) Once a woman who spent hours primping her features to perfection, I now found myself with a very conspicuous, very shiny bald head. I have decided however, that there are actually some pretty awesome perks to rocking the bald look!
1. Inclement weather doesn't bother me in the least!
Pouring rains, heavy winds? Bring it on! I no longer have to hide a perfectly executed Pinterest inspired hair-do under an umbrella or hood. No longer do I worry about the wind tangling my curly locks in my favorite statement necklace. My bald head fears no act of mother nature -- well besides snow, that can get pretty cold!
2. I can try on as many shirts at Target as I want!
Worried about messing up that perfect top knot? Not me! I can pull as many t-shirts, dresses, and sweaters over my slick head as I please -- with no consequences. I don't worry about catching my hair in that adorably buttoned top, or ruining my pony tail on a built in necklace collar. Target has an unlimited dressing room item amount, and I am about to go for the record!
3. I can sleep in another half hour every morning!
I used to take about half hour every morning to play with my hair. Maybe try a new style from my favorite magazine, or push in a few bobby pins. I would straighten my bangs, curl the rest, or add in a cute headband for the day. Creating a flawless look to match my style was something I truly enjoyed -- but you know what I enjoy even more? SLEEP! No hair means no prep. I hit that snooze button with gusto every morning! Take that chemo!
4. Fancy events are so much less of a hassle!
Worried about how to achieve that detailed 50's hairstyle with your new tea length party dress? Nope! I just slap on my fancy outfit and make sure my red lipstick and cat eye liner are on point! I don't have to deal with the tricky correlation of hair and outfits any longer. Saving time, money, and possibly the outfit, if I forgot to put it on after I started in on my luscious locks. Don't you just hate when you have to wiggle your cute top over your already done up 'do' just to get make-up and hair product all over it!?
5. My sink drains have never run smoother!
This should probably be number one. (I am sure my landlords like me a lot more as a bald woman than they did when I had hair!) No more snaking out the tub drain before every shower, and no more sinks backing up when I try to wash my face at night. Drano is no longer on my shopping list!
6. I save tons of money on hair care products!
Shampoo, conditioner, gel, hairspray? No thanks! Not to mention the hairdryers, hair straighteners, curling irons, etc! I cannot even begin to tell you how much money I have spent on those babies, too much if you ask me. Not to mention all the money I save on salon hair cuts!
7. I never have bad hair days!
Please -- I woke up like this!
8. My showers last about two minutes!
Body washed? Done. Need I say more?
9. I never have to worry about bad hair cuts!
Remember leaving the salon in tears over those bangs that were too short, or the pixie that was suppose to be below your ears, not above them? Yes, we all do. (I am sure each of you reading cringed at your computer remembering your last botched hair style.) Yikes. No longer am I susceptible to a stylist who: "does this kind of cut all the time honey!"
10. I still look flawless when I work out!
Okay, lets be honest, I don't work out! (I mean who has energy for that on chemo!?) However, if I did hit the gym I wouldn't ever have to worry about that cute guy on the treadmill seeing me sweating like a pig. I don't shed a moment of worry over dripping, wet hair from perspiration. My bald head looks even better when it's glistening from physical exertion!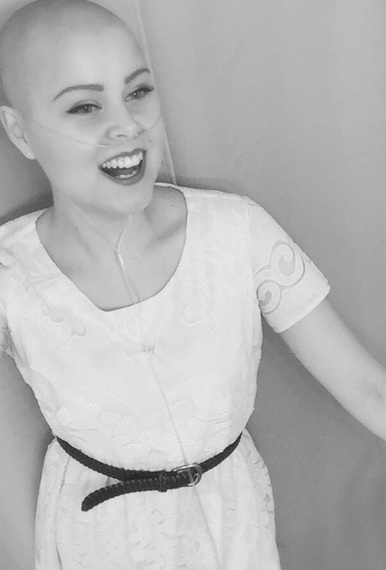 Photographed: The author, Chanel White, rocking her bald head!