I appreciate all the comments from my article last month,10 Bands That Shook The World. The passion and knowledge of music fans never cease to amaze me. There rightly were some observations that the list did not include any bands from the last twenty years. In my view this is not because all the great bands preceded Nirvana but rather that we need time to evaluate a particular band's influence and their place in history. Does their music stand up to the scrutiny of year after year and how does it measure up to the great ones that came before?
With this in mind, I wanted to look at the post-Nirvana era and focus on 10 bands that have made memorable music. Bands that have strong melodies, distinctive vocals, thought-provoking lyrics, have reached enough people through sales or airplay, and can play live. Artists who have made multiple records worthy of your attention. I'd like to include REM, Metallica, and the Chili Peppers but they all had a long and rich musical history prior to Nirvana and that's my starting point for this article. A final word...I'm not playing the "popularity is bad" game. If they're on my list they deserve to be. Here they are in alphabetical order:
Arcade Fire: This Montreal band has succeeded entirely on their own terms without the machinery of a major label. Their passionate fans have spread the word worldwide, resulting in Arcade Fire now being one of the biggest live bands on the planet. Their records are great but experiencing Arcade Fire's jubilant, cirque-styled performances with an incredible array of instruments is not to be missed...anything can happen.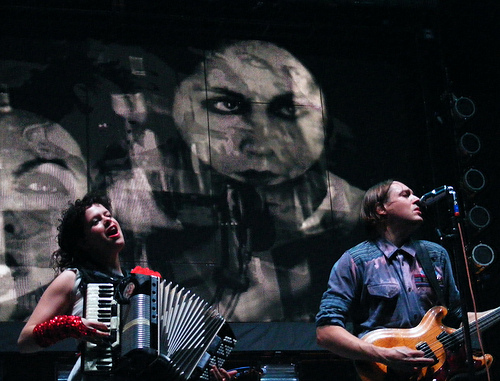 Arcade Fire, Photo Credit: Man Alive!
Coldplay: One of the best bands to emerge from the UK in the past decade, Coldplay has grown into one of the world's top bands. Consistently strong melodies, quality lyrics, memorable songs and a charismatic vocalist, the group's early promise has been realized with their most recent and best album to date Viva La Vida...The band puts on strong live performances that generate sold out shows worldwide.
Dave Matthews Band: This Virginia based band made it the hard way...endlessly playing all over the country to emerge as one of America's top live bands. Their lengthy shows and amazing musicianship continue the legacy of the Grateful Dead, with the Dave Matthews Band inheriting the mantle of the best jam band around. Like the Dead, the band is more of a live experience, not needing hit songs (though they've have a few of those as well) to play stadiums. They rock!
Death Cab For Cutie: This excellent band from Seattle consistently make exceptional records and back it up with a compelling and exciting live show. Their songs often demonstrate a very interesting structure as evidenced by the sublime "I Will Possess Your Heart". Distinctive music and unmistakable vocals make Death Cab an influence on many of the indie rock bands we're listening to today.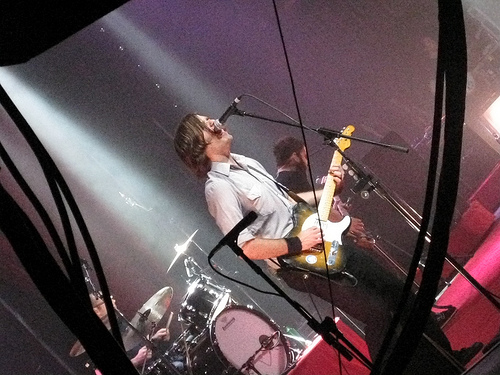 Death Cab For Cutie, Photo Credit: AlamosBasement
Green Day: A band that keeps getting better, Green Day delivered arguably the best album of the decade with American Idiot. Their growth as a band is not only measured by well-written music but in their excellent lyrics. 21st Century Breakdown was also very good. Green Day are one of the tightest bands touring today which is why seeing them live is always so satisfying. Their Broadway show of American Idiot was well reviewed and cemented the band's reputation as one of the best bands anywhere.
Linkin Park: The successful marriage of rock and hip-hop came together dramatically in their debut album Hybrid Theory. Linkin Park has attracted a huge fan base worldwide not only by consistently delivering compelling songs but by musically adventuresome collaborations with Jay Z. The band is exciting live and continues to evolve their sound, allowing them to succeed where many of their rap-rock contemporaries have failed.
Muse: A band that broke in Europe first, finally reaching major status in the States on their last tour. The songs are well written, passionate, and memorable. It's no surprise Stephenie Meyer listened to Muse while writing the Twilight series...the music is mesmerizing. Muse is also an exceptional live band, which is how they grew their fan base, and is now filling arenas. This trio will be around for a long time.
Pearl Jam: As a contemporary of Nirvana in the early days of the Seattle grunge scene, the band grew in the 90's into one of the consistently top bands around the globe. Known from the beginning as a great live band, they have grown a passionate fan base by adhering to their own rules...unapologetic, touring the way they want, putting out albums without concerning themselves if they had a hit track for radio play. A real original.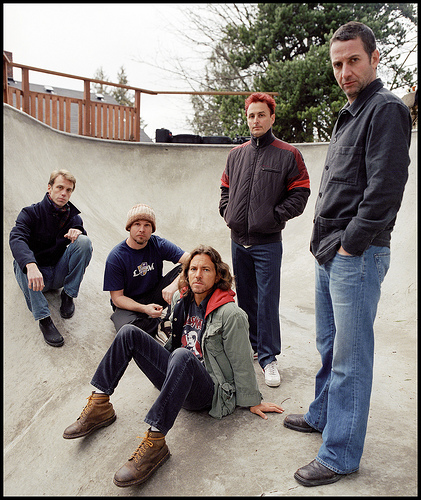 Pearl Jam, Photo Credit: Pearl Jam Official
Radiohead: An astounding band live or on record, Radiohead is one of the most influential bands since Nirvana. The ground breaking OK Computer was that rare and happy confluence of art meeting wide success. Their innovative relationship with fans continued with the release of In Rainbows at a price determined by what the individual fan chose to pay. A commitment to creativity and experimentation are why Radiohead continues to be one of the great bands.
White Stripes: Though their amicable breakup was announced earlier this year (the main reason cited being "to preserve what is beautiful and special about the band"), the Whites Stripes displayed an authentic style that was always a surprise. Between Jack White's originality, great guitar playing and musical curiosity (as manifested by his several side projects), the duo created a distinctive sound all their own. The breakthrough classic "Seven Nation Army" rightly gained them hordes of new fans. Like many of the bands on this list, The White Stripes seemed to do what they want without trying to please anyone but themselves.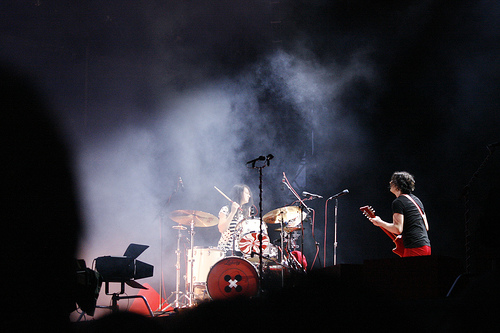 The White Stripes, Photo Credit: Fabbio Venni
And I just have to include 5 bands that show the promise of establishing a lasting legacy in the future:
Band of Horses
Bright Eyes
Fleet Foxes
Kings of Leon
Mumford & Sons
Ok, that's my list...let me know yours.

Popular in the Community