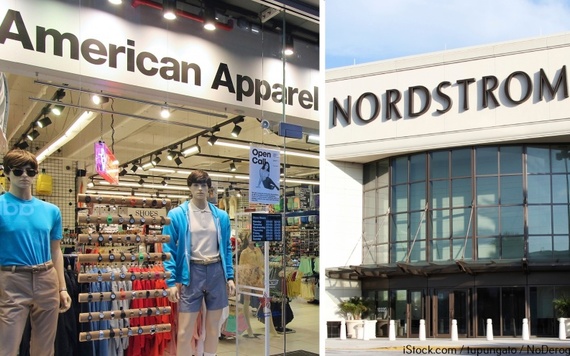 By Morgan Quinn, Contributor
From disappointing earnings reports and bad boy CEOs to the rise of fast fashion and the decline of luxury brands, 2015 was a wild ride for the retail industry. Based on stock prices, sales figures, customer sentiment, retail trends and news reports, here are the 10 best and the 10 worst retailers of the year. Click through to see if your favorite retailer made the best -- or worst -- list.
10 Best Retailers of the Year
The 10 best retailers of the year delivered a winning combination of value, superior customer service and solid quarterly earnings reports. From a home improvement powerhouse to a online retailer, see who outpaced their competition in 2015 and will probably continue to succeed in 2016.
1. Amazon
Despite accusations of unfair working conditions, consumers are still having a love affair with retail giant, Amazon. In 2015, the Seattle-based company scored the No. 1 spot on YouGov BrandIndex's Mid-Year Rankings, proving that brands that consistently offer money-saving deals are favored in the U.S. Amazon came in at No. 9 on the National Retail Federation's "Top 100 Retailers 2015" list behind Lowe's and CVS.
Amazon hasn't released its 2015 annual report yet, but the company did release its third-quarter results. According to the report, Amazon's net sales increased 23 percent to $25.4 billion in the third quarter, compared with $20.6 billion in the third quarter of 2014. The online retailer also dominated Black Friday sales, capturing a whopping 35.7 percent in e-commerce spending on Nov. 27, reports Tech Crunch.
2. Costco
In 2015, both consumers and investors couldn't get enough of Costco. In March, CNN Money reported shares of company stock rose as high as 2.5 percent, up 10 percent for the year and more than 30 percent over the past 12 months. And, the year-to-date return for Costco stock (NASDAQ: COST) is currently 14.6 percent as of Dec. 10.
Sales at Costco store fell flat in November, but they were better than what analysts had predicted, reports MarketWatch. But as long as the company continues to deliver superior value, customer service and membership perks, consumers and investors should be smiling well into 2016 and beyond.
3. Nordstrom
Although the company stated in its 2015 third-quarter earnings report that its performance was below company expectations, Nordstrom still reported a total sales growth of 6.6 percent in the quarter. And, the company made an appearance on the NRF's retailers of 2015 list.
Part of the reason the retailer has been able to survive a rocky retail industry is its reputation for best-in-class service and well-run stores. Nordstrom also invests in technology, which accounts for a strong e-commerce and social media presence. This retailer has perfected the art of providing a luxury shopping experience both online and in-stores.
4. The Home Depot
The Home Depot currently holds the No. 4 spot on the NRF's list of Top 100 Retailers 2015.The company's same-store sales in the U.S. jumped 7.3 percent in the third quarter, and net sales for the company also rose 6.4 percent to $21.8 billion. Based on these results and more, Home Depot said it expects fiscal 2015 sales to increase about 5.7 percent.
CNN Money speculates Home Depot's stellar year is related to the strong housing market. Americans are reportedly spending more on fixing up newly purchased homes or properties about to hit the market. Spending increased on appliances, tools, plumbing, décor, lighting, kitchen and bath hardware, and flooring.
5. Madewell
As J. Crew struggled all year, its sister brand, Madewell, soared. In 2014, the retailer experienced a 35 percent profit increase of $245.3 million, reports Digiday. And according to its 2015 third-quarter earnings report, the retailer's sales increased 14 percent to $78.7 million.
The brand is well-known for its quality merchandise and effortless, "cool" look that perfectly captures current trends. Robert Burke, retail and branding expert, told Business Insider that Madewell "has been very focused on who the consumer is, and it's been strategic in how they expanded their business and the product categories."
It also helps to have a celebrity cult following that includes Sarah Jessica Parker, Amy Adams and Emma Stone.
6. Kohl's
Like other retailers on this list, Kohl's made it onto the NRF's "Top 100 Retailers 2015" list. The company also beat department store giant Macy's in the third quarter of 2015. Bloomberg reports Kohl's sales increased 1.2 percent to $4.43 billion, largely due to the back-to-school season. Its year-to-date sales also saw a 1 percent change from $12.7 billion in 2014 to $12.8 billion in 2015.
Kohl's great customer service most likely contributed to the retailer's success in 2015. "Kohl's is certainly a pack leader when it comes to the consumer experience," said Kerry Sherin, savings expert at Offers.com. "Not only does Kohl's provide excellent customer savings through their rewards program, Kohl's Cash, in-store discounts and additional coupons, but you can tell they really care about customers by offering no-haggle returns. It is certainly no wonder why customers continue to flock to this store."
7. Walmart
Giant retailer Walmart, which is the NRF's No. 1 retailer of 2015, had a positive third quarter in 2015. Walmart U.S. store experienced a 1.5 percent growth, and traffic increased 1.7 percent.
"Strong traffic and our fifth consecutive quarter of positive comps in Walmart U.S. stores show we are taking the right steps to win with customers," said Walmart president and CEO Doug McMillon in the company's latest earnings report.
To keep growing over the next three years and approximately add $45 billion to $60 billion in new sales, Walmart plans to create a seamless shopping experience for customers, improve its apps, integrate digital technology to enhance store experience and more.
8. Foot Locker
Foot Locker made a smart move in 2015, focusing on the athleisure trend and other high-end athletic wear. The Motley Fool reports the company has a 45 percent share of the market for basketball shoes. Foot Locker stores also added niche sections like House of Hoops, Puma Labs and Adidas Collector Shops, which make the locations more of a shopping destination for consumers.
These strategic moves paid off in 2015. In its third-quarter earnings report, comparable-store sales increased 8.7 percent, beating nearly every other retailer, according to the Fool. And over the last five years, company stock has more than tripled, beating major competitors like Dick's Sporting Goods.
"This quarter, in fact this entire year, has offered a perfect illustration of how building diversity into our business has helped us sustain record-setting growth over multiple quarters and years," said Richard Johnson, president and CEO. According to its earnings report, Foot Locker's net income for the first nine months of 2015 increased to $383 million, or $2.71 per share. Foot Locker stock's (NYSE: FL) year-to-date return is 19.97 percent as of Dec. 10.
9. Sephora
LVMH Moet Hennessy Louis Vuitton owns Sephora, and according to the conglomerate, the makeup store continued to gain market share in all of its markets and had strong comparable store revenue growth in the first nine months of 2015. Also, an increase in online sales is proving that Sephora is a leader in the digital and mobile space.
Stephanie Wissink, a senior research analyst at Piper Jaffray & Co., told The Washington Post that Sephora has "tapped into every little girl's dream of being able to open up their mom's makeup bag and just play" by providing a shopping experience where customers can test and try on trendy makeup from upscale brands.
10. Zara
Zara's parent company, Inditex, reported a 28 percent rise in net profit in the first quarter of 2015, reports BBC. And, Inditex's third-quarter results showed that net profit during the time period increased 20 percent. Zara made it onto Forbes' "World's Most Valuable Brands" list at No. 58 and is reportedly worth a staggering $9.4 billion.
The secret to the retailer's success is its skill in providing current trends, getting them out the door at lightning speed and delivering the right price point, reports Forbes. Customers flock to Zara for the latest trends, and they know the selection is limited.
10 Worst Retailers of the Year
The retail industry was rocky for many players in 2015. CEOs made headlines, luxury goods took a hit, and the decline of some major brands proved that customer loyalty is hard to earn and easy to lose. See which retailers made GOBankingRates' list of the 10 worst retailers of 2015.
1. American Apparel
American Apparel had a bad 2015. The company ousted its CEO and chairman, Dov Charney, in 2014 after allegations of misconduct and mismanagement of company funds. After a summer filled with torrid details of Charney's business practices -- like explicit text messages to employees and other crass antics, according to the Huffington Post -- the retailer filed for Chapter 11 bankruptcy in October.
But, American Apparel's new CEO is working on rebuilding the brand. In a recent interview with Forbes, CEO Paula Schneider said, "Part of the challenge with American Apparel is that it hasn't evolved. Over the last five years, it's lost money because it hasn't evolved to talk to its core customers." According to her, the retailer is creating a marketing strategy and conducting a brand audit.
2. Best Buy
Best Buy saw a "relatively slow start to the year with flat overall and comparable-store sales and a major drop in earnings," reports the NRF. Under new leadership from CEO Hubert Joly, CNBC reports the retailer began to close the gap between its rival, Amazon. But, stock is still down nearly 22 percent year-to-date as of Dec. 10. Third-quarter sales were also weak due to lower demand for mobile phones and tablets, and there was less revenue from repairs, extended warranties and other services.
The company also seems to be struggling with its image and long-standing customer service issues over. Kyle James, founder of Rather-Be-Shopping.comsaid, "Best Buy doesn't have the best prices, they have bad selection, and their customer service is lacking real expertise on the products they sell." He added, "The only way a sane person would shop at Best Buy is if they are simply price matching Amazon and getting the products immediately without having to wait for delivery."
3. Macy's
Most of 2015 was rocky for Macy's, but the very end of the year was brutal. In November, The Wall Street Journal reported the retailer's stock was down as much as 15 percent, its worst intraday decline since 2009. And as of Dec. 10, Macy's stock (NYSE: M) is down more than 42 percent year-to-date. Also, the company missed its third-quarter expectations.
"We are disappointed that the pace of sales did not improve in the third quarter, as we had expected," said Terry J. Lundgren, chairman and chief executive officer of Macy's, Inc. in the company's third-quarter earnings report. "We have begun testing and learning from new sales growth initiatives that we believe will begin yielding incremental results in the quarters and years ahead."
4. Abercrombie & Fitch
Abercrombie & Fitch arguably fell out of fashion in 2015. The company started out the year reeling from an onslaught of bad press, and its target demographic seemed to just stop wearing the brand altogether.
CNBC reported in April the company showed "terrible" numbers, and "management declined to provide forward same-store sales or earnings guidance." This could be a red flag, as it might indicate management doesn't know what the retailer's future looks like. Abercrombie & Fitch stock (NYSE: ANF) is down more than 9 percent year-to-date.
But, things might be looking up for Abercrombie & Fitch. U.S. News reports the company had a strong third quarter in 2015. "We recognize that we still have much to achieve," said Arthur Martinez, the company's executive chairman, in its latest earnings report. "We remain intensely focused on our strategic initiatives and evolving our brands' positioning and assortments, as well as improving our customer's experience."
5. J. Crew
J. Crew also experienced a rough patch in 2015. Its third-quarter earnings report shows that the retailer experienced a 6 percent decline in total revenues and a 9 percent decline in sales. And for the first nine months this year, total revenues decreased 4 percent while sales decreased 8 percent.
A March Washington Post article accurately sums up why this iconic brand is suffering: "It filled its stores with clothes that women just really weren't into." The brand simply stopped connecting with customers.
"While fiscal 2015 has been challenging, we have seen an encouraging response to our recent product and merchandising strategies," said J. Crew CEO Millard Drexler in a statement. He also told the Washington Post that the retailer had a decline in mall traffic and intense competition.
6. RadioShack
RadioShack had a rollercoaster of a year. After a disastrous rebranding attempt a few years back -- remember "The Shack"? -- the store declared bankruptcy in February 2015 and swiftly closed thousands of its stores, reports CNN Money. Most of the remaining open locations now share space with Sprint, and for a while it seemed that the iconic electronics store was gone for good.
Then, in December 2015, the company announced it had hired celebrity Nick Cannon as its chief creative officer. This move is sure to raise some eyebrows, but only time will tell if his talent and personal brand is big enough to bring RadioShack back from the dead.
7. Gap
Like J. Crew, Gap struggled to keep its loyal fans in 2015. In the middle of 2015, Gap announced it was closing a quarter of its North American stores, laying off hundreds of workers. The retailer also let go of its creative director in January as sales kept falling, but has that moved helped the company? Net sales fell 9 percent in November, and third-quarter sales are down 2 percent.
"With a challenging third quarter behind us, we are sharply focused on holiday execution across all channels," said Gap CEO Art Peck in the latest earnings report. "We are driving forward on our key strategies designed to fuel future growth."
8. Sears
There seems to be no end in sight to Sears' falling sales. The company struggled all year to get customers in the door, even as it focused on driving loyalty with its Shop Your Way membership rewards, reports USA Today. The company faced increased competition from Walmart and Target and failed to revamp its blighted stores and stock shelves.
In December 2015, the company announced a loss of $454 million for 2015's third quarter. Sears CEO Edward S. Lampert said in a statement that the company made deliberate actions that "led to comparable store sales declines despite an increase in profitability." But, the retailer realizes a lot of work must be down to improve its sales numbers.
"As we head into the fourth quarter, we have intensified our focus on our product offerings and promotions in order to enhance member engagement and provide our members with the best experience possible throughout the holiday shopping season," said Lampert.
9. Coach
In its fiscal 2016 first-quarter results report for the period that ended Sept. 26, 2015, Coach announced net sales totaled $1.03 billion for the first fiscal quarter, compared with $1.04 billion reported in the same period of the prior year. Coach stock (NYSE: COH) is down about 17 percent year-to-date as of Dec. 10.
According to the Motley Fool, this news should only give investors "cautious optimism." Coach still suffered declining sales in North America. And, North American Coach brand sales fell 11 percent on a reported basis while direct sales dropped 12 percent on a dollar basis and 11 percent in constant currency. Also, comparable-store sales were down 9.5 percent.
10. Michael Kors
Once luxury good darling Michael Kors got a reputation as heavily discounted and easily accessible, it seems its core customers have thumbed their noses at the brand -- which has hurt the company's bottom line.
The Street reported in November that the retailer had a small increase of only 0.1 percent in retail sales from the previous month. Year-to-date, Michael Kors stock (NYSE: KORS) is down more than 40 percent.
But, 2016 might prove to be a better year for the retailer. The company released its fiscal 2016 second-quarter earnings report for the period ending on Sept. 26, 2015, and states that total revenue increased 6.9 percent to $1.13 billion, and retail net sales increased 7.5 percent to $532.8 million.
More from GOBankingRates:
REAL LIFE. REAL NEWS. REAL VOICES.
Help us tell more of the stories that matter from voices that too often remain unheard.