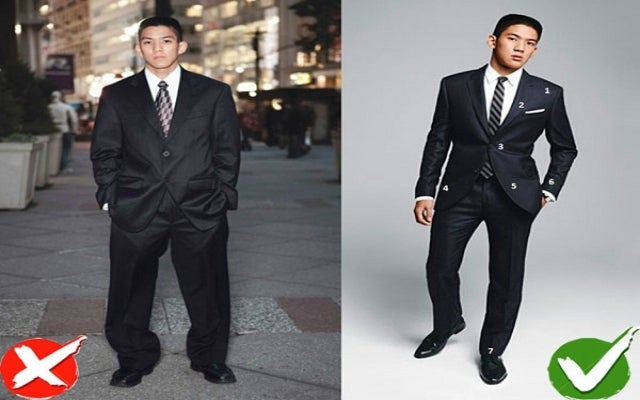 "Playing dress-up begins at age five and never truly ends." —Kate Spade
The famous quote by the great fashion designer is very accurate. No matter what your age is, with the changing trends, one always needs to be on his toes. Here we tell you the 10 best fashion tips for men that will help you look fab, no matter what the latest trend is.
1. Dress Your Footwear Up
It is often said that the sub-conscious mind of a person always takes the first glance at other person's shoes. Never neglect your shoes. Always maintain their first-day look. A fresh shine never fails to create a big difference. Take special care if you are wearing leather shoes. You must know all the tips regarding leather care. Knowing it will not only make you look better but will also increase the life of your expensive footwear.
2. Wear that fits
Most of the men commit a mistake in this part. They wear clothes that are over-sized. Probably they offer you more comfort, but then, you have to compromise with your looks. Make sure whatever you wear hugs your body shape. Take special care of the fit through your shoulders. Do not forget; the fit is the new king.
3. Loosen up
People tend to unbutton only their collar button when trying to loosen up. When you are not in some formal environment, you can go ahead and undo even the top two buttons of your shirt if that gives you more ease. There is no better charm to a man than him being in comfort. You might be thinking that how could this little thing affect your appearance but believe us, it does a lot.
4. The power of details
The thing you wear in the last, often makes the first impression on observer's mind. Details can comprise of a subtle pocket square, a scarf or the way you tie your tie knot. These details should complement your style. You can try different ways to tie your tie-knot according to the different occasions.
5. Disregard trends
Do not always go after the latest trend. Following the crowd might have you ending up with a lot of clothes in your wardrobe that are not of any use. Try to build a versatile and everlasting closet first. Then go on and introduce some twists with the ongoing fashion trend. If the latest trend doesn't suit you, do not go after it. Be charming in your classy and elegant look instead.
6. Ask for real feedback
It might happen, that your opinion does not go well with that of others. It is advisable to take the advice of your friends and family members to avoid any mess-up. You can ask for the reviews of some fashion enthusiasts. Remember that; you always have to ask for their views, no one will offer you a free advice if you are not doing well with your clothes.
7. Watch your beard
A man's beard can make all the difference. Having a beard makes a man appear more masculine. A majority of women find guys with a beard more attractive than a clean shave. Hold on! Always remember that the same beard can be an attraction assassin if it is shabby and unkempt. Brush your beard regularly to keep it clean. Having mentioned about how much effective a beard can be, you must also realize that you can not always rely on your beard to make you look good. In scenarios like big corporate meetings or an important job interview, being clean shaved or keeping a light beard is more efficient.
8. Do not dress like a teenager
"Casual look!" Many men take this term in the entirely different way. To them, dressing 'casual' sums up to dressing like college students. They aim to look young. There is a way to look casual without trying to make yourself young. Here is one simple tip, if you want to dress up casually just add an attractive jacket to the old T-shirt and jeans style and watch the cool change for yourself. Discard the idea of wearing funny cartoon tees or anything that belongs to your kid's apparel. You should also avoid wearing tees with slogans.
9. Layer your clothes
We would suggest you layer your clothes for a more interesting look. The addition of a layer can make all those dull looking outfits more appealing. Many men go for this trick. Ever noticed men wearing a plain white shirt under a gray or black sweater. Surely yes, you would have noticed. This tip would also let you wear all those old or out-fashioned garments which you find of no use anymore.
10. Rotate your belts
Many men don't go for this. Maybe laziness is the reason. Adding one or two belts to your collection can give you a better look at zero efforts.
So, these were some of the most effective tips that any man could apply in his day to day life for looking smarter and more appealing. We told you looking great is not that much difficult. You simply need to know a few hacks, and then, you are going to rock for sure.
Popular in the Community