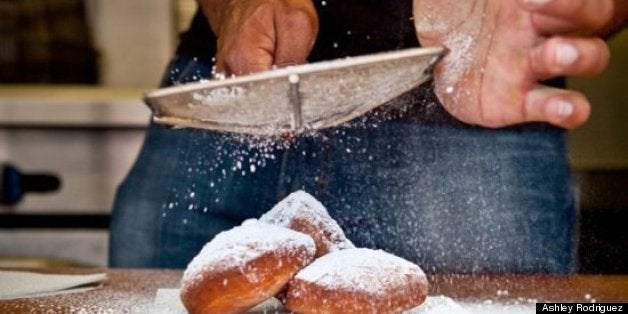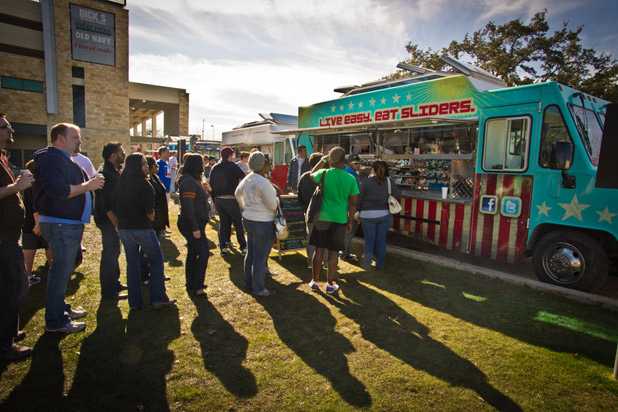 In gas station lots, at midtown curbs, and by parks blocks from your office, idling food trucks serve tacos, lobster rolls, burgers, burritos, grilled cheese, pizza, sous-vide dishes, and high-end French food you'll pay $10 or less for. Food trucks leverage lower overhead, brave (mostly) outdated municipal restrictions, random (and targeted) police ticketing, and misdirected ire of insecure brick-and-mortar restaurants who often stir up trouble. Food trucks are far from the latest food trend, but when it comes to great food made quickly (and by the "little guy"), they're one of the best things. That's right, food trucks are cool (still, though they face a backlash) and whether food is the point of your travel, or what you're grabbing to take back to your desk, there are food trucks in American cities that you should seek out: the best food trucks in America now (Credit: Easy Slider).
Last year, The Daily Meal launched its first list of America's best food trucks -- examining some 300 vendors across this great country. The list was done because as much as food trucks have entered the cultural lexicon, as much as they've been written about, celebrated, and awarded by websites, newspapers, magazines, and local organizations, nobody reliably ranked all food trucks nationally.
There have been best-of lists, roundups highlighting trucks in individual cities, and a few nationally. These were launch points. They featured innovative cuisines and showmanship, but didn't tell the whole story, included carts, weren't geographically aware, and didn't indicate much methodology. Last year, The Daily Meal changed that with a definitive ranking system nobody else has.
The inaugural list of The Daily Meal's best food trucks canvassed more than 30 cities. Added to those were staff favorites, trucks praised by organizations, and national and local publications, both in print and online. Editors consulted popular review sites and critical appraisal. They analyzed trucks' number of Twitter followers and Facebook "likes." For originality, it examined menu innovation, concept, concept relative to inception -- to wit, Asian tacos are as original as truffle oil fries (i.e. not innovative) -- and how that all plays into geography.
That methodology applied in 2013, save some differences. When it comes to food trucks, the social factor is vital. So whereas in 2012, when Facebook was considered only where a Twitter presence didn't exist, in 2013, both Twitter and Facebook followings were factored into a carefully constructed mathematical equation. Secondly, this list benefited from comments and suggestions resulting from The Daily Meal's best food trucks in America for 2012. More food trucks, about 450, were considered in more than 40 cities.
A few notes. Only trucks were considered. Complain if you will, but if it was a trailer or a cart, if it needed something to pull, drag, push, or carry it, if it wasn't on four wheels and couldn't move on its own power from parking ticket to parking spot? Gone. Some cities (especially much-beloved Portland, Ore.) pained editors, but many of their food "trucks" didn't make the cut because they weren't well, trucks. Also, this is a list of food trucks. Food trucks that make just cupcakes or coffee are cupcake or coffee trucks, not food trucks. With the rare exception, it didn't seem fair to include trucks serving shaved ice or ice cream with those doing full menus. (America's best food cart and ice cream truck lists will follow.)
One last thing: The Daily Meal's list reads now a bit like a defense of food trucks. This isn't a business model that should need defending. Many problems food trucks face (including in D.C., Chicago, and even New York), aren't fair and should (at least) be cared about enough by office workers that they should be making noise on behalf of the hard-working folks who make them lunch. Running a food truck is a tough job, one where just being "cool" doesn't pay the bills. As The New York Times' magazine recently noted, some would say "The Food-Truck Business Stinks."
To restaurant owners who have had their ire raised by trucks: yes, there are offenders. But brick-and-mortar establishments who claim trucks feed off them should consider this:
1.Competition breeds better restaurants. Worried about trucks making better food than you? Cook better food! Provide better service. You have a roof, walk-in, and staff. You should be able to.
2.Make customers feel more valued or feel that they're getting more value.
3.Do you pay rent? Respect. That doesn't entitle you to business.
But enough with the rules! What were the results? How did they rank? You'll have to peruse the list, or watch the slideshow for specifics, but this year's list, while including some seven different cuisines or types of fare, was still dominated by Asian fusion, burgers, sandwiches, grilled cheese, and tacos. Pizza and lobster rolls were other predictable leaders, but there were some impressive chef-y menus, too.
Los Angeles (16 food trucks), San Francisco (11 food trucks), and New York City (10 food trucks) still lead all cities. But last year's biggest winners lost ground. Boston, Chicago, D.C., Los Angeles, New York, Philadelphia, San Francisco, and Seattle lost 11 total spots. Food trucks in cities like Cleveland, Dallas, Durham, Fresno, Oakland, Reno, San Antonio, San Diego, Santa Monica, and Wichita ranked, while Houston, Vegas, Miami, Nashville, Portland, and St. Louis gained spots. Why? Factoring in Facebook altered trucks' social factor (if you don't like the ranking, encourage your favorite food trucks to seek out more likes and followers!). But the biggest reason is that food trucks in more cities are just making better food. And that's a trend you can bet on continuing to see going forward.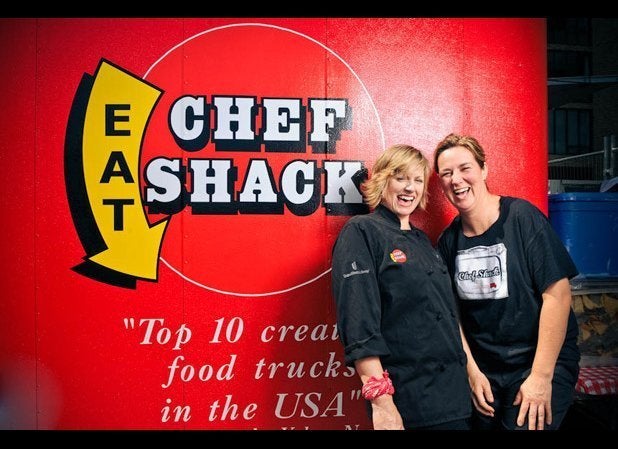 10 Best Food Trucks in America
Support HuffPost
A No-B.S. Guide To Life
Related
Popular in the Community