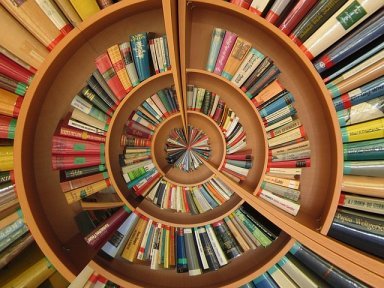 If you want to fix your business, I bet what you need to know is in a book. I have pulled together a list of the best marketing books on the market today. Some are classics others are noteworthy recent releases, but all of these business resources, are worth your time each book on this list has provides step-by-steps advice you can immediately put to use in your small business. If you are having a marketing challenge, the answer on this list of top 10 business marketing resources.
1. The 1-Page Marketing Plan: Get New Customers, Make More Money, And Stand Out From The Crowd
Having a marketing plan is essential for your business, but who has time to create a 20-page document? Allan Dib, author of this book, says you don't need more than a page. In the book, he shares his strategy for a one-page plan that will help you attract more customers and win out against the competition.
Why You Should Read It: Having a one-page marketing plan is better than having none, so if you're currently lacking a plan, you need this book.
2. Will It Fly?: How to Test Your Next Business Idea So You Don't Waste Your Time and Money
Before you can even start marketing your products, you need to do the research to know if you even have a viable idea. That's the premise of Pat Flynn's book. In it, he provides exercises to help you determine whether you have a great idea, and gives case study examples to guide you.

Why You Should Read It: Even if you know nothing about market research, this book will help you find out exactly what your audience wants.
3. The Handmade Entrepreneur--How to Sell on Etsy, or Anywhere Else (2016 Updated): Easy Steps for Building a Real Business Around Your Crafts
If you're interested in running an Etsy shop to sell your craft goods, this book, by Dani Marie, was written for you. The techniques in the book are geared specifically toward setting up a successful handmade business, including how to take great photos and price your items correctly.
Why You Should Read It: A general marketing book won't give you nearly the specifics that this one does with regards to selling on Etsy and similar channels.
4. Millionaire Marketing on a Shoestring Budget: How to Attract a Steady Stream of Happy Clients, Make More Money and Live Your Dream
Author Debra Jason understands that sometimes your best efforts to attract customers still don't net results. In her book, she teaches readers how to develop business-building strategies that will grow with time. She covers the gamut, from providing copywriting tips to offering cost-effective marketing strategies.
Why You Should Read It: Not only does Jason's book offer some useful marketing tips, but it's also the ideal book to get you in the right headspace for success. She talks about finding your path and embracing the change required to run the business of your dreams.
5. The New Rules of Marketing and PR: How to Use Social Media, Online Video, Mobile Applications, Blogs, News Releases, and Viral Marketing to Reach Buyers Directly
There's a reason David Meerman Scott's book has been updated five times: its information is so valuable. Scott covers a wide range of marketing tools in this book, from blogging to video and social media, and I love that he keeps updating the book to keep it relevant as technology changes.

Why You Should Read It: If you're looking for a high-level overview of some of the hardest hitting marketing strategies, while still getting some great hands-on tips, this book is ideal.
6. SEO for Growth: The Ultimate Guide for Marketers, Web Designers & Entrepreneurs
I don't care how "techie" you are or aren't, as a business owner, you must understand search engine optimization if you want to turn your website into a cash machine John Jantsch and his co-author has written a hugely valuable resource that will help you move up search engine results. His tips range from beginner to advanced, so it's a book to hang onto as your skills grow. No longer just another tactic, search engine optimization has become a full-blown channel on par with PR and advertising -- one you can't afford to ignore. All business owners can benefit from understanding and applying SEO best practices.
Why You Should Read It: Because the SEO landscape changes so frequently, it's nice that Jantsch organizes his book so that anyone can get better at SEO.
7. The Power of Broke: How Empty Pockets, a Tight Budget, and a Hunger for Success Can Become Your Greatest Competitive Advantage
Daymond John knows a thing or two about going from broke to success. This Shark shares lessons from his own rise to financial success, as well as case studies from Shark Tank. His is an inspiring tale that will help you define your own competitive advantage.
Why You Should Read It: Even if you never reach the level of fame and glory that John has achieved, it's good to see how someone so successful got there.
8. Predictable Prospecting: How to Radically Increase Your B2B Sales Pipeline
If your company's success is driven by B2B sales, you need to know how to market effectively to a B2B audience. You must be an expert prospector to successfully target, qualify, and close business opportunities. This book by Marylou Tyler and co-author have written a game-changing guide provides the immediately implementable strategies you need to build a solid, sustainable pipeline
Why You Should Read It: If you are marketing your business B2B, you need you have your marketing straight, you'll appreciate her honest answers and actionable advice. It's not fluff, and you can apply these principles to your own brand.
9. Launch: An Internet Millionaire's Secret Formula To Sell Almost Anything Online, Build A Business You Love, And Live The Life Of Your Dreams
I'm a sucker for "secret formulas," and Jeff Walker's book did not disappoint. Walker focuses on the idea of a launch, whether that's launching a new brand or a new product. He shares his own story so that he's credible (and believe me, he is), and then provides strategies you can apply to your own business.
Why You Should Read It: Walker is serious about helping you. He's even got special resources in addition to what he offers in the book available on his website for people who buy the book.
10. Platform: Get Noticed in a Noisy World
If you want to become a top blogger in your industry, you must read, Platform by Michael Hyatt. He provides down-to-earth guidance for building and expanding a powerful author platform. To be successful in the market today, you must possess two strategic assets: a compelling product and a meaningful platform. In this step-by-step guide, Michael Hyatt, former CEO and current Chairman of Thomas Nelson Publishers, takes readers behind the scenes, into the world of social media success. He shows you what best-selling authors, public speakers, entrepreneurs, musicians, and other creatives are doing differently to win customers in today's crowded marketplace.

Why You Should Read It: If you've ever dreamed of writing a book or becoming known in your industry as an expert, this is the best book to help you achieve those goals.
If you pick just three books on this list, read them, and start using the techniques, that will change your business. If you want to create more profit, and build a business that can really run without you, dig into this list and start reading.
Related
Popular in the Community