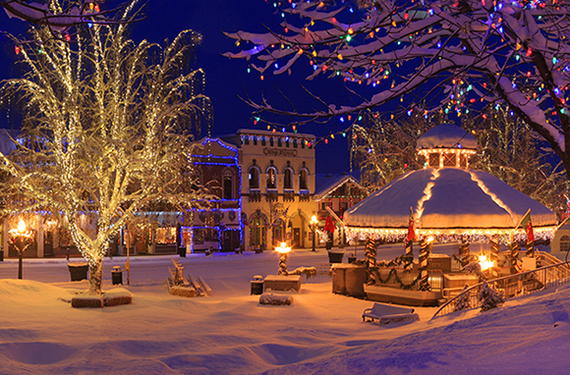 Town squares lit with strings of sparkling lights. Christmas carolers in bonnets and tails. Horse-drawn carriages and snowcapped roofs.
If you want a holiday experience straight out of It's a Wonderful Life, then you need to find a small-town celebration this year. From Alaska to Florida and nearly everywhere in between, these towns and villages are perfect for the holidays.
Nestled in the picturesque Finger Lakes is the town of Skaneateles, where every year, a Dickens festival lets visitors step way, way back in time. Guests can interact with a cast of 50 Dickensian characters, from Tiny Tim to the Ghost of Christmas Past, as they stroll through the village (and nibble on free roasted chestnuts). Horse-drawn-carriage rides, live caroling, and a bagpiper or two add to the cheery festivities. Didn't pack your own Victorian costume? Visitors are welcome to borrow some in town.
Yes, Virginia, there is a Santa Claus—in Indiana, that is. With a population of just about 2,500, the town of Santa Claus goes (understandably) all out for Christmas, with a three-weekend celebration. Guests can roast chestnuts on an open fire at Santa's Candy Castle, tuck into untold amounts of the namesake dessert at the International Fruitcake-Eating Competition, or embark on a drive through an LED-light adventure that tells the glittering story of Rudolph the Red-Nosed Reindeer. In this Christmas-crazy town, the options are endless.
In the heart of Pennsylvania Dutch Country, among Amish farms and snowy rolling hills, sits Lancaster, a festive town of 60,000 that flings open its doors for the holidays. Visitors come from all over for events through New Year's Day, such as breakfast with Santa, horse-drawn-carriage rides, and a unique tree-lighting ceremony with tuba accompaniment. Carolers accompany shoppers at Lancaster Central Market, the nation's oldest farmers' market. Best of all, most of these events are free or low-cost—yay for more Christmas spending money!
If all you want for Christmas is Denmark, then Solvang is your place in the sun. (Literally—this small town is in California.) The Danish village celebrates the holiday season in unique style. Some 150 boutiques, decked out in traditional Christmas decor, sell everything from Danish clogs to high-quality toys to porcelain and lace. Beyond its unique shopping opportunities, there is Solvang's Julefest (pronounced "Yule-fest"), which kicks off with a parade of dancers, vintage cars, and horse-drawn carriages, while a live nativity pageant brings to life the Christmas story. Oh, and there's a winery walk for grown-ups.
This small Vermont town, with its picturesque river and colonial New England architecture, is a great getaway year-round, but winter really makes Woodstock sing. In fact, singing is at the very heart of its holiday celebrations: During Wassail Weekend, visitors descend on the village for wagon and sleigh rides, a holiday craft fair, and performances by local theater and singing troupes as they parade through town. Find everything from a swinging gypsy-jazz concert to a stirring sing-along of Handel's Messiah. At night, the town's cozy Woodstock Inn & Resort and its lounge-side fireplace makes for a great home base.
This Fairbanks suburb takes the holiday season one step further by remaining decorated in its Christmas finery year-round. Drive through any time of year and you'll see candy-cane-striped signposts and boughs of holly dotting the town. A Santa Claus House, with its eponymous resident, welcomes visitors all year (with bonus live reindeer, of course). But residents say Christmas is the best time to visit, for the town's beautiful candle-lighting ceremony and a winter ice park with towering holiday-themed ice sculptures and ice slides.
You can traverse the cobblestoned streets and beautiful squares of the country's oldest city any time, but the holidays make this historical Florida spot glow. Its annual Nights of Lights festivities, which run well into the New Year, bring Christmas splendor to every inch of St. Augustine. Inspired by the Spanish tradition of lighting a single white candle in each home's window, the event sees the town's landmarks illuminated with countless lights and candles that make the nearby bay reflect spectacularly. Explore the sites on foot, on a bicycle, in a pedicab, or in the cheery Old Town Trolley.
Greenville, South Carolina
The foothills of the Blue Ridge Mountains are home to Greenville, a town with a thriving arts-and-music scene plus plenty of holiday spirit. See it all dolled up during holiday events with true small-town flair. The St. Francis Foundation's Festival of Trees presents a hundred sparkling Christmas trees to explore around town, while the Roper Mountain Holiday Lights drive offers some 72 glittering displays along its route. But our pick is an open-air ice-skating rink in Greenville's charming, Christmas-light-strewn downtown (which Forbes Magazine heralds as one of the nation's best).
McAdenville, North Carolina
The community that bills itself as "Christmas Town USA" certainly lives up to its name. McAdenville, with just 650-some permanent residents, welcomes thousands for its holiday revelry, a tradition since 1956, when a local club lit a few trees around town. These days, a Christmas Town 5K race kicks off a full season of events, including a festival, light displays, and the Yule Log Parade, during which children pull a sled bearing a Yule log through town. Once the log is lit, the whole town gathers round to sing Christmas carols into the night.
You'll be forgiven for believing you're deep in the heart of Bavaria when you visit this Washington town. Just on the edge of the Cascades, Leavenworth is a planned storybook village, its steep roofs and trees lit with a half-million Christmas lights and its air heavy with the scent of roasted nuts, hot cocoa, and sizzling bratwurst (it is German-themed, after all). Find live holiday music, shops and boutiques, and seasonal events around town while you sip traditional gluhwein (hot mulled wine that is sure to warm up even the most Grinch-like among us).
Popular in the Community