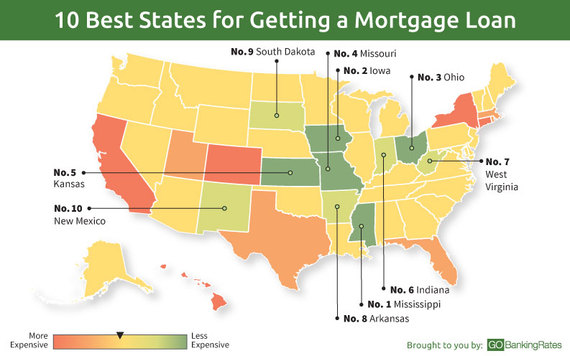 By Elyssa Kirkham, Editor
To help consumers get a better picture of where it's easiest and cheapest to get a mortgage, GOBankingRates ranked all 50 states based on the local rates offered on 15- and 30-year fixed-rate mortgages (FRMs) in the first quarter of 2015, weighted with the average home listing price in the state. Read on to see if your state ranks among the 10 states offering the best mortgage rates.
1. Mississippi
Mississippi offers low mortgage rates to its residents, with the second-best average 15-year FRM rate in the study at 3.024% APR during the first quarter of 2015. Its 30-year mortgage rate is also below the national average at 3.764% APR. The state's low home prices are also a big boon to buyers. Trulia reports an average listing price in Mississippi of $233,639.
2. Iowa
For the lowest 30-year mortgage rate, look to Iowa. The Midwest state's 3.748% average rate on 30-year FRMs is the best of any state, and its average 15-year FRM rate is 3.047%. The low average listing price of $200,665 means that mortgage payments will remain low. Des Moines, Iowa, was named one of the hottest housing markets in 2015 by Realtor.com, with the state's low home costs making homeownership accessible to millennials.
3. Ohio
Ohio came in at No. 3 thanks to favorable 15-year and 30-year mortgage rates. The average 3.757% 30-year mortgage rate in Ohio is the more competitive of the two, ranked sixth among all 50 states, but the Ohio 15-year FRM rate of 3.046% is still better than the median. Ohio also boasts the lowest average listing price in the nation at $191,283, according to Trulia.
4. Missouri
Continuing the trend among Midwestern states, Missouri also offers some of the best 30-year mortgage rates out there. Its average 30-year mortgage rate of 3.756% is the fourth-best rate in the nation. Its higher-than-average 15-year FRM rate of 3.052%, however, pushed Missouri down to the No. 4 spot on this list. The average home listing prices is also low, at $208,059.
5. Kansas
The mortgage rates in Kansas are fairly competitive, though the state's average 30-year FRM rate pulls ahead at 3.763%, which ties it with Georgia for the 14th-best mortgage rate. The better-than-average 30-year rate and middle-of-the-pack 15-year mortgage rate average (3.048%) provide a balance that kept Kansas near the top of this list, along with its low average listing price of $208,998.
6. Indiana
With low listing prices second only to Ohio, Indiana residents can still get a great deal on their mortgages, even though its average 15-year and 30-year FRM rates are both middling. The Indiana housing market is also hot right now because of limited inventory pushing up demand and prices, according to the Indiana Association of Realtors.
7. West Virginia
West Virginia's mortgage rates are better than most, with its average 30-year rate about on par with the national average balancing out its average 15-year rate being higher than the national average. Housing costs remain low in this state, however -- the median sales price is $199,461 -- and the mortgage rates can help ensure that home loans aren't too burdensome for borrowers.
8. Arkansas
The main factor that kept Arkansas in the top 10 of the best states to get a mortgage loan is its low 15-year mortgage rate average, which at 3.042% APR is less than the median for the nation. Low home prices also help Arkansas residents enjoy smaller mortgage payments and pay less interest. Home buyers interested in a 30-year mortgage should beware, however; the state's average 3.778% 30-year FRM rate is among the five worst in the country.
9. South Dakota
South Dakota's average 30-year mortgage rate works in favor of home buyers in the state. The 3.761% APR is among the 10 lowest in the country, and the state's 3.044% APR average 15-year mortgage rate is on par with the national average. Even with a higher average listing price of $265,203, South Dakota is a prime state to save on a mortgage.
10. New Mexico
New Mexico boasts the best average 15-year FRM rate of any state: 3.024% This rate is low enough to get the Western state in the top 10 best states to get a home loan, despite the state having an average 30-year mortgage rate that is among the 15 worst in the nation.
Methodology: This study ranked all 50 states according to average rates on 15- and 30-year fixed-rate mortgages and the state's average home listing price. Mortgage rates were sourced for the first four months of 2015 (January to April) from MortgageMarvel.com and averaged for each product and state. Average listing prices for all states were also sourced from Trulia for the week ending June 3, 2015. States were scored for each rate average on 15- and 30-year mortgage rates, and these two scores were averaged and weighted by the local listing price score to generate the final rankings.