Every year, the Friday before Memorial Day is National Sunscreen Day! With summer around the corner and the rising intensity of the sun, it's extremely important to use sunscreen daily to protect our skin from its dangerous ultraviolet rays. There are so many different types of sunscreens out there these days so which brands are best? After testing so many over the past six months, I found these to be my favorites in terms of protection and feel on the skin.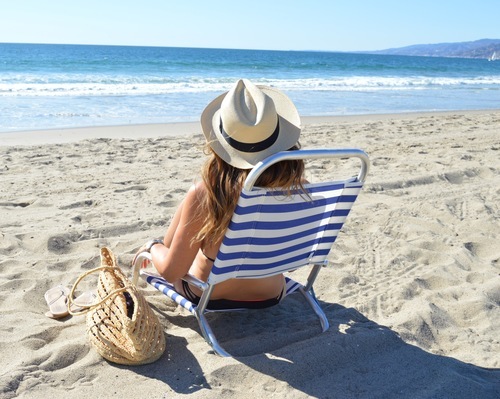 1. Beautycounter All Over Sunscreen
Beautycounter has created a formula safe for the entire family, rich in antioxidants and blood orange extracts. The lightweight formula easily rubs into your skin without leaving white streaks and is waterproof. This sunscreen received a 1 rating by the EWG's Skin Deep rating system so you know it's one of the safest and most effective sunscreens out there. Made from gentle mineral active zinc oxide which provides natural, safe protection.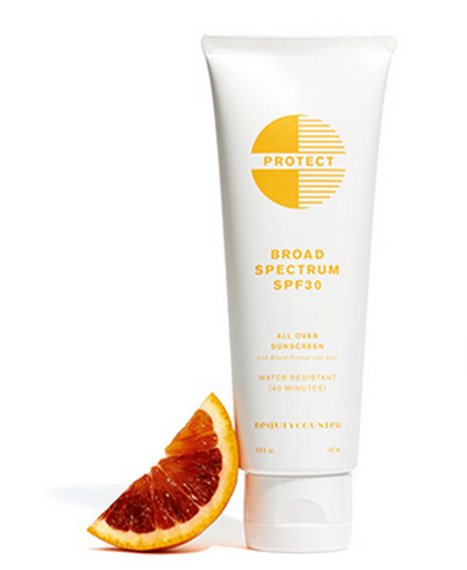 2. Sun Bum Premium Moisturizing Sunscreen Spray
This ultra sheer spray is perfect for an on-the-go spritz that dries almost immediately. Sun Bum's formula is rich in Vitamin E, an antioxidant that helps the skin protect itself against pre-mature aging. The Sun Bum brand is also recommended by the Skin Cancer Foundation and priced well. My family and I are all obsessed with the amazing coconut scent and the lightweight formula.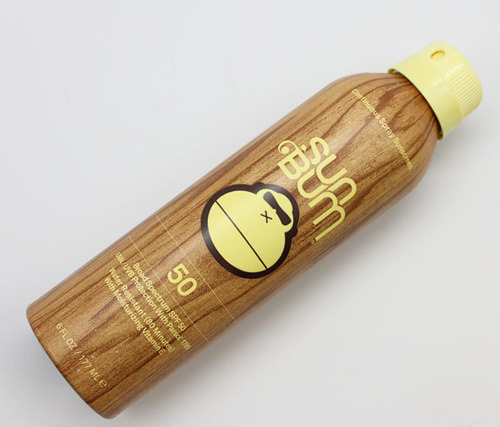 3. Coola Classic Face SPF 30 -- Cucumber
Coola Classic Face Sunscreen provides a fabulous eco-friendly formula for the face with a smooth texture. This ultra-sheer antioxidant rich sunscreen contains organic Acai oil rich in omegas 3/6/9 plus multiple vitamins for powerful anti-aging benefits. The evening primrose and linseed oils noticeably even skin tone and diminish the look of age spots and wrinkles. The formula is so rich in omegas and vitamins B1, 2, 3, C and E so it's the perfect primer to wear under makeup. I find the light cucumber scent extremely refreshing but if you are not a fan of fragrances, this formula is available fragrance-free as well. A great year round SPF that is 70% organic and ideal for all skin types.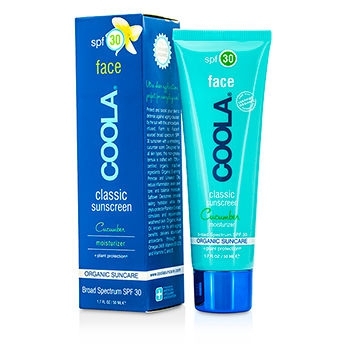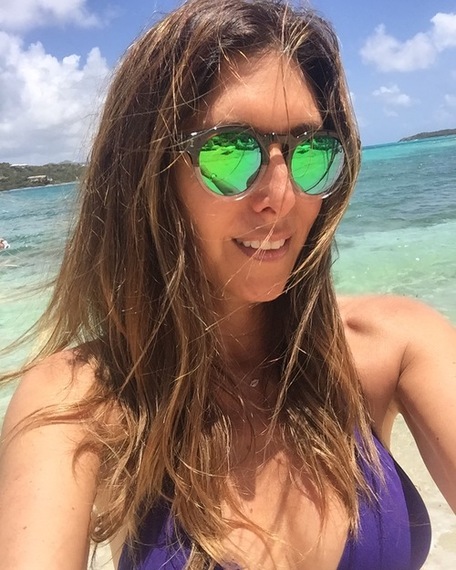 It's important to reapply your sunscreen every two hours when outside!
4. Trilipiderm Broad Spectrum SPF 30 Sunscreen with Vitamin D
The Trilipiderm skincare line has newly released a sunscreen with all the benefits of their beloved moisturizing lotions. This double duty product is enriched with Vitamin D, Omega-3 and Omega-6 essential fatty acids for a healthy skin metabolism. It repairs dry skin, hydrates skin cells and restores essential lipids, all while offering high intensity protection from the sun's harmful rays. The non-greasy formula absorbs quickly into the skin and is a phenomenal every-day moisturizer for dry skin.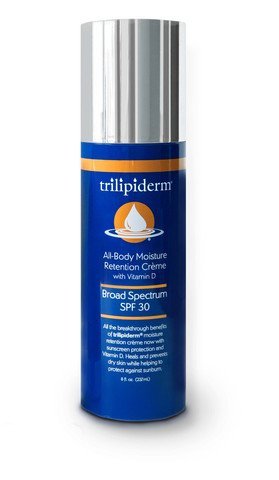 5. Alba BOTANICA Very Emollient Mineral Sunscreen
The new all-natural, broad-spectrum sunscreen by Alba BOTANICA has a "spray at any angle" applicator. This mineral based formula goes on clear and feels like a cool spray of water on your body when applied. The drug store formula is recommended by the Skin Cancer foundation, eco-friendly and aerosol free -- it's a great sunscreen option if you are looking for something that is 100% vegan and gluten-free with a friendly price tag.
6. La Roche-Posay Anthelios AOX Daily Antioxidant Serum SPF 50
La Roche-Posay Anthelios makes an incredible daily antioxidant serum and sunscreen that offers high level protection with preventative anti-aging benefits. This formula easily absorbs into the skin and decreases the appearance of fine lines, wrinkles, dark spots, and evens out your skin's texture. This light-weight serum combines a highly potent antioxidant complex with advanced UVA/UBB protection.
7. Vita Liberata Passionflower & Argan Dry Oil SPF 50
Fighting free radical damage and photo-aging, this unique dry oil sunscreen by Vita Liberata protects against UVA and UVB while still providing a conditioning skin treatment. Using innovative technology and its pure ingredients, this formula will improve the appearance of your skin while simultaneously protecting it from future sun damage. The non-greasy oil absorbs nicely and can be used as an overall moisturizer. I love the beautiful, dewey glow it leaves on the skin. You can also spray it on your scalp or in your hair as a conditioning treatment.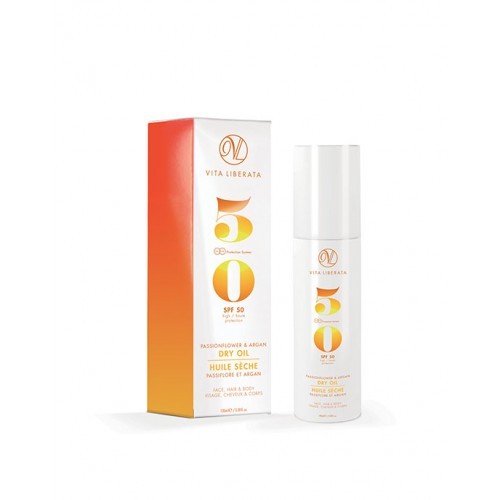 8. SkinCeuticals Sheer Physical UV Defense SPF 50
This paraben-free sunscreen product by the renown Skinceuticals skincare company is carried in numerous dermatologist and plastic surgeon offices for a reason! The sweat-proof formula boosts your skin's natural radiance and is Infused with color spheres -- it plays up your natural skin tone and leaves a sheer, matte finish. With the infusion of zinc oxide, Skinceuticals Sheer Physical UV Defense sunscreen is the holy grail of mattifying sunscreen. It will neutralize any skin redness and is great for sensitive skin types. Available in sheer and a variety of skin-toned shades.
9. Cover FX Clear Cover Invisible Sunscreen, SPF 30
Cover FX Clear Invisible Sunscreen is infused with UVA/UVB protection and potent antioxidants to help prevent the signs of sun damage including discoloration, redness, premature wrinkles, and dullness. Clear and invisible in the bottle and on your skin, Cover FX Clear Invisible Sunscreen provides a velvety finish that also acts as a great primer before applying your makeup. Ideal for all skin types and skin tones, this gel-like sunscreen goes on smoothly and is instantly absorbed into the skin with no white residue.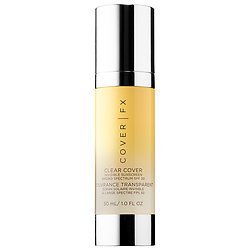 10. Supergoop Day to Day Value Set
Sold in an adorable Hello Sunshine! tote, this Supergoop Day to Day Value Set was created for travel and to incorporate sun protection into your daily routine. From lip balm to serums to hand cream, Supergoop! makes sure all parts of your body are protected and moisturized when on the go. The variety of trial-sized products included in this kit makes it easy to pack so you can be protected from the sun at any time. The prestige brand exclusively makes sun care products, and all of them contain antioxidants to help improve the overall health and appearance of the skin.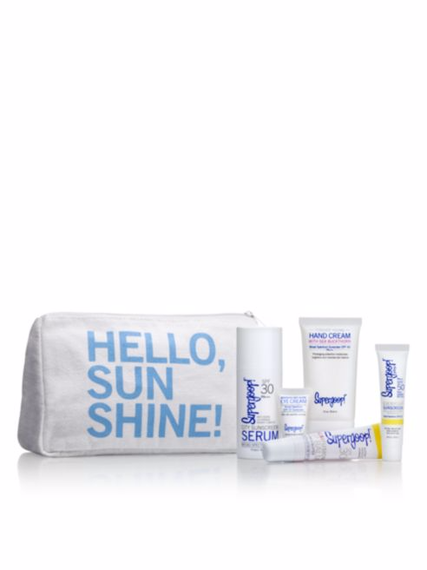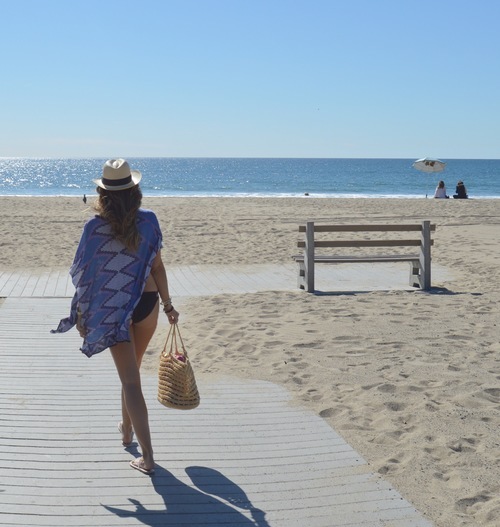 Wearing sunscreen should not be optional. Over the past three decades, more people have had skin cancer than all other cancers combined.* You can read about some interesting statistics and facts about tanning and skin cancer here. Now is a great time to stock up on sunscreen for the summer!
* Stern, RS. Prevalence of a history of skin cancer in 2007: results of an incidence-based model. Arch Dermatol 2010; 146(3):279-282.