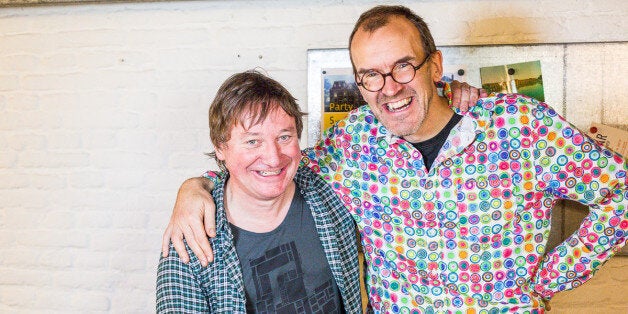 Seven years ago, few took seriously the need to get the complex business of development aid online. Aid programs large and small were clouded in mystery. People working down the aid chain in the poorest parts of the world had no voice online. It wasn't clear where money was spent, what worked and what didn't. Yet the acceptance that "aid is good" was vanishing - the industry needed to wake up and be more open.
Our journey at Akvo started when Thomas went to World Water Week 2006, in his home city of Stockholm. He was studying environmental science and was looking for a way to use his computing background to tackle problems related to water supply and quality. In a room packed with people debating water, sanitation and poverty, he stuck up his hand and asked if they'd tried thinking like open-source pioneers in the tech industry.
I didn't think anyone had listened. But right afterwards, a man called Jeroen van der Sommen walked up and said, "I am listening -- tell me more."
It turned out Jeroen was a hydrologist in some of the poorest parts of Western Africa in the 1980s. By 2006, he ran a network called the Netherlands Water Partnership. He explained his frustration that knowledge was there to provide access to clean water and sanitation to the world's poorest, but it was locked away, or ignored, with resources applied in the wrong ways. The work in his past -- boreholes drilled and communities surveyed in rural Burkina Faso, say -- had vanished in dusty files, lost forever.
A few weeks later, in fall 2006, I found myself in Jeroen's office in Delft, Holland. I started explaining how the open-source movement was creating a completely new culture so information, processes and tools could be built and shared for the public good. At the time, institutions were still competing, with rival information, mostly locked away. We started looking at knowledge on low-cost water and sanitation options for the poor that would help people quickly build basic infrastructure that would just work.
By summer 2007, we had a bunch of content in a Mediawiki system called Akvopedia.
Akvo means "water" in Esperanto, the international language. It felt like a good name. Seven of us started Akvo as a tech foundation that summer and returned to Stockholm World Water Week to tell the world we were something new -- an internet startup that could transform international development and help fix global poverty.
Here's what we've learned along the way:
1. Start with a partner base
Getting organizations to adopt new technology tools is ten times easier if you know those organisations right from the start. You need to build on the work and relationships of others, built over many years. Any startup trying to create its own partnership base from scratch faces a huge uphill task. In business-to-business fields like international development, rapid adoption of tools relies on bringing existing partnership networks online and then helping them be more agile. We had a big advantage as we built on an already well-established network -- the Netherlands Water Partnership. This was a network of networks, a profoundly useful starting point.
2. Data like never before
The Millennium Development Goals, targets to reduce global poverty by 2015, were put together in the late 1990s. But few imagined the mobile data monitoring and mashups that are now possible in 2014, with just one year left to run. World leaders are about to agree new targets for the coming fifteen years. Having a grasp of these goals, and the role that emerging data systems will play in evaluating and influencing them, is a make-or-break skill right now.
3. Know the business, but challenge business as usual
Akvo was established (and backed financially) to challenge business as usual. It's hard to challenge "usual" if you don't understand why it's like that. So it's really good to have one foot on the inside. You also find loads of great people stuck in business as usual who want to do things better. But Ben Ramalingam's useful new book "Aid on the Edge of Chaos" makes clear it's a mistake to do the "wrong things righter." You need to work out what the right things to do are, and make them happen, bringing with you the people who have been frustrated and caught in the wrong things, while engaging people on the outside.
4. Get partners networked together online
In development aid, most programs involve some sort of partnership between multiple organizations, and if they haven't up to now, they will do soon. You have to help explain who does what: Who is spending the money? Who is supervising the process? Who is monitoring and evaluating? Where does this feedback go?
Designing systems from the start to handle complex partnerships with multiple layers of roles and responsibilities, and making it easy to show collaboration from both the holistic and every partner's own perspective, is really important.
The key is to design systems that treat everyone in the network equally from the start.
5. Work out who has the money to pay
If you're going to secure major backers and partners, they need to be confident you have a sustainable business, be it for-profit or in our case "not-for-profit, not-for-loss." Building systems designed to help the poor involves knowing who has money but has the problem of getting it spent so it benefits the people who need it. Akvo has been able to build a business model around those who can pay for the systems on behalf of those who can't afford to directly, or can't organize themselves to decide to.
6. Map out the project base in a way that can scale -- who is doing what, where?
A key step to true end-to-end transparency is making it possible, attractive and easy for organizations to bring their entire project portfolio online. Once this happens, the culture in those organizations changes noticeably. Everyone is clearer on what the organization does -- both inside and outside it. People understand what else is going on, who is involved and where it's happening. It's a gigantic culture shift for many, especially once you've empowered people on the ground to post updates.
7. Replace some paper-processes directly with mobile digital ones
The easiest way to get people and organisations to adopt new tools is to directly replace an existing process that is still paper-driven. A good example is field-based monitoring and evaluation. In this case there is an established paper-based system, there is a clear requirement and there are established teams already in place working on it. Substantial budget is already allocated and there is an undisputed argument that replacing paper surveys with smartphone ones will make information flow faster, farther, and with greater accuracy and accountability.
8. Run on open source software, and run as a service
Open-source software makes its source code available to all and provides the rights to study, change and distribute the software for free to anyone and for any purpose. Open source collaboration saves money, there's no costly lock-in effect, partners can reuse the tools and everything built is shared back to the community, for the global public good. But hardly anyone in the international development world wants to run these things themselves, so we run it for them as a service. (We wrote a little a while ago about this here)
9. Bottom-up and collaborative
Everything is about helping the people working on the ground -- especially teams of people. They know better than anyone in head office what a situation looks like in reality, and all systems must be trusting and empowering those people more in a process of collaboration. If that highlights problems or failure, that's good news, not bad.
10. Don't get eaten alive
It's really easy to become another cog in the gigantic development aid machine. You have to remain independent, you have to keep asking every day, are we helping shape better ways of doing things or just protecting failing institutions?
If we created Akvo again right now, and were holding our hands up in 2014 for the first time, what would we say and do?
Akvo is now probably the world's leading internet and mobile tools provider focused on international development cooperation and poverty reduction. About €800 million (approximately $1.1 billion) worth of programs use our tools for project reporting from the field -- involving more than 1800 organizations. Teams are now monitoring whether water points are working across entire countries in Africa, such as Liberia and Ghana, using our Android smartphone tool, Akvo FLOW. For more information about Akvo and Akvo FLOW, visit http://akvo.org.
Cisco Community Partner Water For People is currently working with the Akvo Foundation. Cisco helped Water For People develop FLOW (now Akvo FLOW), which uses smart phone and web-based technology to monitor water investments and collect and analyze data, increasing the water sector's effectiveness, accountability, and transparency. For more information on Cisco Community Partners, visit: http://csr.cisco.com/pages/community-partners
Related