Apparently people like Hamilton the musical. Apparently they like it a lot. I'm fairly certain that Hamilton creator and star Lin-Manuel Miranda could run for president, right now, without having won a single primary or super delegate, and easily win the White House.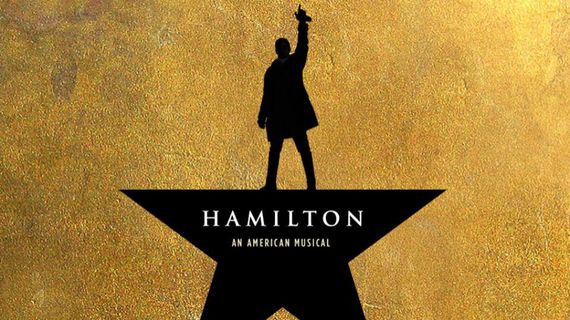 As if it wasn't already impossible to score tickets to the Broadway smash hit, something tells me that after the Tony Awards--Hamilton nabbed eleven Tonys, including Best Musical--the world will be even wilder for Hamilton, the Pulitzer-prize winning show chronicling the life of our nation's first Treasury Secretary.
Are you, like so many others, humming the thrilling tunes #NONSTOP and rapping along to the historically-laden lyrics? Perhaps you're hoping to some day get yours hands on a ticket--maybe even within the next decade?
For all you rabid HamilFANS out there who can't score HamilTIX, fear not! Here are 10 books that you simply must read. Call it an immediate and literary way to get your #HamilFIX:
1. The Traitor's Wife by Allison Pataki
A particularly fun nugget from the lyrics of Hamilton: "Martha Washington named her feral tomcat after him." Apparently Alexander Hamilton had success with the ladies. And you know one lady in particular who caught his eye? Peggy Shippen, the beautiful and beguiling young wife of patriot-turned-traitor Benedict Arnold. And so, from the very first pages of this novel about Benedict and Peggy Arnold and the plot to betray America, Alexander Hamilton emerges as the trusted right-hand man of George Washington and a central figure in the unraveling of the treasonous conspiracy.
Hamilton happened to be completely seduced by the charms of Peggy Shippen Arnold, never suspecting the Tory belle of her central role in her husband's plans to sell West Point to the British. The rumors and reports were that Hamilton, who was in Arnold's home the day the plot was thwarted, was so moved by chivalrous concern and empathy for the poor Peggy that he brought her flowers in bed.
2. America's First Daughter by Stephanie Dray and Laura Kamoie
Before the deadly duel and the infamous Aaron Burr bullet that ended his life, Alexander Hamilton had another longtime rival, and his name was Thomas Jefferson. And Thomas Jefferson had a daughter, Patsy, and her fascinating life is the subject of this must-read historical novel. 'America's First Daughter' sweeps readers from Monticello to Revolutionary France to the Jefferson White House and beyond. Compelling and richly researched--authors Dray and Kamoie drew from thousands of letters and original sources--this little-known story of Patsy Jefferson sheds new light on some of the most fascinating moments of our nation's founding.
And there's even more good news: power duo Kamoie and Dray are teaming up again. Their next subject? Elizabeth Schuyler, also known as Mrs. Alexander Hamilton! Sign me up for the pre-order on that one.
3. The Black Count: Glory, Revolution, Betrayal, and the Real Count of Monte Cristo by Tom Reiss
Miranda's lyrics "Everyone give it up for America's favorite fighting Frenchman!" refer to the Marquis de Lafayette, and Hamilton's Tony-winning version of the French aristocrat lays down his revolutionary raps so fast you won't need any guillotine to get your head spinning. I think the crowds actually levitate when Lafayette bursts onto the scene with the enthralling "Guns and Ships" number.
But guess what? There was another famous fighting Frenchman who won glory on the other side of the Atlantic, and his name was General Alexandre Dumas. If that name sounds slightly familiar, it's because he shares a name with his more famous son, the novelist who gave us such timeless tales as 'The Three Musketeers' and 'The Count of Monte Cristo.' Turns out Dumas's plot and action for 'The Count of Monte Cristo' came from his own father's life story and career fighting as an officer in the French Revolution. Dumas the Father's life was chock-full of dramatic and salacious--and historically accurate--moments like shipwrecks at sea, battles across Europe, alligator hunts and a very high-profile feud with Napoleon himself. His life, and Reiss's brilliant novel about it, presents a story that only history can inspire, because you truly could not make this stuff up.
4. Washington: A Life by Ron Chernow
Hamilton creator Lin-Manuel Miranda drew much of the inspiration for his musical from the Ron Chernow biography of Alexander Hamilton, which is flying off the shelf these days.
But Ron Chernow has written another brilliant biography about Alexander Hamilton's mentor and commander and first boss, George Washington. Believe me, America's most famous Founding Father was even cooler in real life than his namesake character on stage at the Richard Rodgers theater. Here comes the general!
5. Becoming Marie Antoinette by Juliet Grey
The American Revolution never would have succeeded without the financial support and naval power of the French, not to mention Lafayette's tactical brilliance on the battlefield. For that, we have King Louis XVI and his wife Marie Antoinette to thank.
So, take a break from the bloodstained battlefields of Brooklyn and Yorktown for a bit and visit Versailles, where, at the same moment in history, the halls tinkled with the sounds of violins and champagne. Grey shows readers a naïve young woman in her struggles to assume the role of queen within a shifty and dangerous court, at the helm of a collapsing empire.
6. New York by Edward Rutherfurd
Hamilton the musical tells us "In New York you can be a new man," and so much of the story's action unfolds against the backdrop of the earliest days of the Big Apple. If you want to dive even deeper into what New York City at that time looked like, read this brilliant and sweeping Rutherfurd novel that takes readers through the evolution of New York City, beginning in the years prior to the American Revolution and covering four centuries.
You'll be transported back to the New York City of Alexander Hamilton, Aaron Burr, Elizabeth Schuyler and the rest of the beloved Hamilton cast. "Look around, look around, the Revolution's happening in New York!"
Want to be in "the room where it happened"? Then read this book and you get a front row seat to all of the action that set the stage for the American Revolution in its critical first year.
This one is jam-packed with explosive detail and breathtaking drama that criss-crosses the Atlantic and follows the events of the Siege of Boston, the drafting of the Declaration of Independence, and the earliest battles that enabled the great fight for independence. McCullough doesn't disappoint, and neither does the history.
"How does a ragtag volunteer army in need of a shower somehow defeat a global superpower?" Kilmeade and Yaeger give us the answer in this account of America's first spies. Alexander Hamilton won glory and freedom for America on the battlefield, but the men and women of the Culper Spy Ring did work behind the scenes that was just as critical in securing our fragile and unlikely freedom from the world's dominant superpower.
Packed with historical detail, this one is nonfiction, but it reads like a thrilling spy page-turner.
9. Rules of Civility by Amor Towles
"Ladies and gentlemen! The moment you've been waiting for! The pride of Mount Vernon!" What an entrance. George Washington looms large over much of the musical Hamilton, and with good reason.
It turns out that George Washington once wrote his own life credo, a list of "Rules of Civility," a code by which he lived his life. The list includes everything from the first President's ideas on how to sit politely at the dinner table to how to develop one's integrity and character.
Those brilliant and thought-provoking sayings form the framework for this Towles novel set against a glittering backdrop of New York City in 1938. It's not entirely unlike the journey of the young Alexander Hamilton, in that it's a coming-of-age story of a young woman who finds herself in New York City, seeking answers about herself and her place in the world during a glamorous and gritty moment in history.
But when our union fell apart during the Civil War, one man emerged more than any other to save the United States and salvage the American dream. If you love learning about the critical figures of American freedom, then you must read about Abraham Lincoln as well. Doris Kearns Goodwin has earned the nickname "America's Historian In Chief" for a reason, and this one is considered by many to be her best work.
Allison Pataki is the New York Times Bestselling author of The Traitor's Wife, The Accidental Empress, and Sisi. Connect with her @AllisonPataki or at www.allisonpataki.com
Popular in the Community