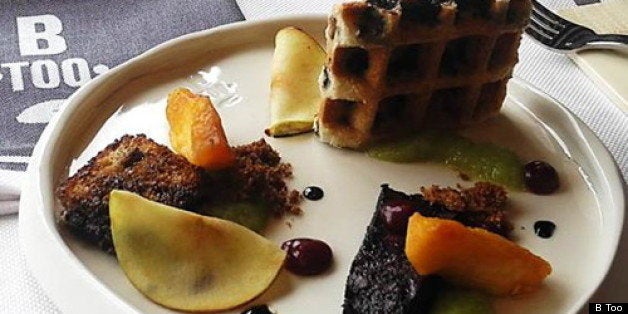 Having heard so much about glorious, virtually nonstop cruise-ship buffets, I dreamed of these things for years the way one dreams of Xanadu, Equestria and Never Never Land.
Determined to see this wonder of the world at long last, I booked a stateroom on the Celebrity Solstice. This luxurious 15-deck skyscraper-of-the-sea boasts a solarium, spa, grand theater, gym, two pools, double-decker multi-language library, balcony bathtubs and a vast manicured lawn made of real grass. It also has 10 restaurants, including its buffet: the Oceanview Café.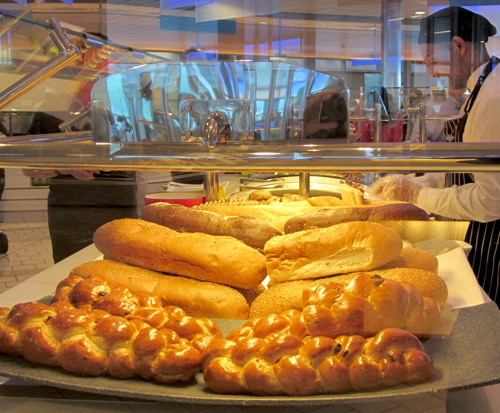 It was all I had hoped for, open continuously from 6 a.m. to 1 a.m., lavish and seriously international, including not only a taco bar but delicious curries, chutney, raita, Chinese jook, braided challah and right there, big as life, blood sausage: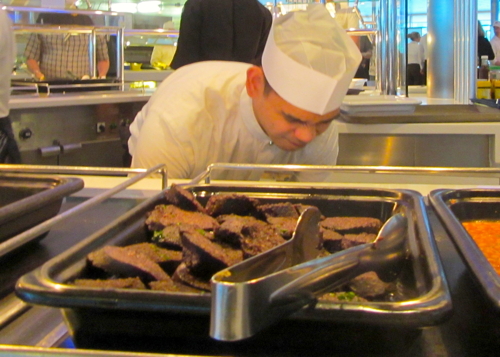 It was in the buffet's "English breakfast" section, positioned appropriately alongside baked beans. Passengers helped themselves eagerly to the dark slices -- dark because blood sausage is literally made from animal blood, and so dark that Brits call blood sausage "black pudding," just as they call a lot of things pudding that Americans would never consider pudding.
It got me pondering this love-it-or-hate-it meat product, which is loved (and hated) in many different forms all over the world, from the French boudin noir (celebrated annually by a prestigious BN cookoff in Normandy, hosted by La Confrerie des Chevaliers du Goute Boudin, a.k.a. the solemn Knights of the Black Pudding) to Korean soondae (sometimes spelled "sundae," with hilarious results) to Latin American morcilla and German blutwurst and beyond. In each variety, sausage casings are stuffed with blood and local additions -- such as oats in England, rice in Spain and cellophane noodles in Asia.
On the one hand, yuck. On the other, who could resist the magico-paleo-primality of devouring a fellow creature's life essence? If not to gulp it raw, then to civilize this orgiastic estasy ever so slightly by encasing the blood and boiling it?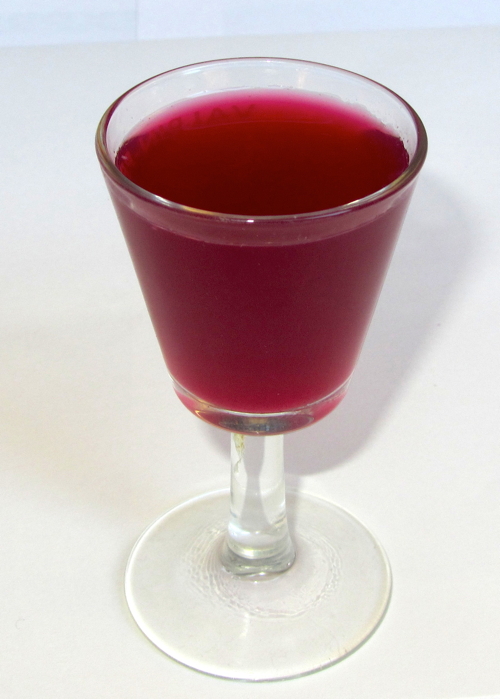 And if you're committed to using the whole animal, you'd be a total hypocrite if you threw away protein- and mineral-rich gallons of hemoglobin just because it's scary and streams out of wounds and signifies injury and death and looks like something in an accident or horror film. I mean, if you're already into liver. And trotters. And ears. Why not go hemo?
Mariam Bulin-Diarra, a marketing executive at San Francisco's Chez Papa and Chez Maman restaurants, told me she grew up in Paris eating boudin noir in the French-Antillean style -- pigs' blood augmented with bread, thyme and allspice -- that was treasured by her parents and grandparents who came from Guadeloupe.
"I like the taste, that special spiciness," Bulin-Diarra said. "I like the mixture of bread and blood. It's delicious.
"I'm not scared of the idea that it's made of blood. Having grown up with it, I never thought anything was strange about it -- just as, for French people who grow up eating snails, eating snails seems normal."
Antillean boudin noir is unique in that "while you can slice Belgian and French boudin noir, which is drier, our kind you cannot cut. You cannot chew the casing," so it is slit, then the filling is sucked out.
"It's completely different from anything you'd find on the Continent. I really miss it," she sighed.
Full disclosure: I was served fresh blood sausage one day by a very kindly family in Belgium. Slicing it neatly and chewing it, I felt that I was eating scabs. I spent the next 12 years as a vegetarian.
A truly ancient dish, blood sausage is mentioned in The Odyssey: A troubled and sleepless Odysseus "lay tossing this way and that ... as when a man beside a great fire has filled a sausage with fat and blood and turns it this way and that and is very eager to get it quickly roasted." A recipe in the ancient Roman cookbook known as Apicius calls for hard-boiled egg yolks, pine kernels, onion, leek, wine, fermented fish sauce, pepper and blood to be placed in a pig's intestine and boiled. The consumption of all blood is prohibited in Leviticus 17:10, in which God warns that He will "set my face against that soul that eateth blood, and will cut him off from among his people."
These days we are seeing a blood-sausage renaissance as this dividend of the whole-animal trend is showing up on chic restaurant menus and being embraced by a new generation of offal eaters. Here are some fascinating examples:
1. Bloedworst Wafel met Appeltjes -- Belgian waffle stuffed with blood sausage, served with caramelized apple, green apple sauce, vincotto cream and additional blood sausage on the side, created by Chef Bart Vandaele and offered at B Too in Washington DC: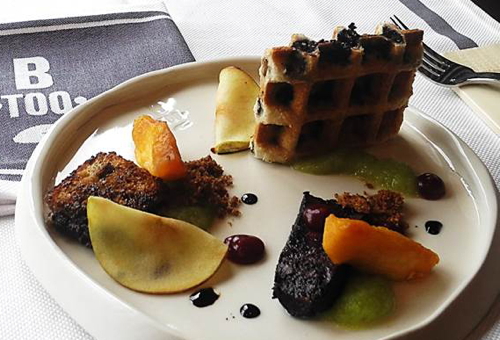 2. House-made blood sausage served with fertile egg, Brie and jalapeño salsa on a crostini by Chef Ricardo Zarate at Mo-Chica, a Peruvian comfort-food haven in Los Angeles.
3. Black pudding with kumquat, parsley root, tangerine and sea scallops -- created by James Beard Award-nominated Chef Andrew Zimmerman and served at Sepia in Chicago.
"I like working with blood because it offers a distinct minerality and earthy depth that is unique," Zimmerman explains. "There is the added bonus of taking an ingredient that people often recoil from, if not at least shy away from, and turning it into something delicious.

"As far as the scallop and blood pudding dish goes: The generously spiced and earthy blood pudding offers a dark, rich counterpoint to the sweetness of the seared scallop."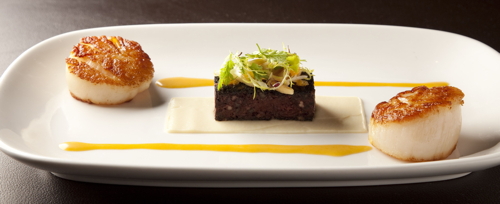 5. Grilled house-made morcilla, salsa maro, pea-pod purée and fried potato -- created by Chef Jeremy Fox and served at Rustic Canyon in Santa Monica, CA.
6. Boudin noir served with mashed potatoes, spinach, Port-wine sauce and caramelized apples -- also created by Chef Bart Vandaele and served at Belga Café in Washington DC.
7. Soondae dduk bok gi -- Korean-style blood sausage with chewy rice cakes in gravy, served at Seoul Soondae in Artesia, CA.
8. Black pudding served as part of a full Irish breakfast with eggs, rashers, mushrooms, tomatoes and pan-fried potato bread at Fado Irish Pub in Atlanta.
9. Morcilla -- offered as a four-ounce side dish and included on the Asado Mixto (mixed meat) platter along with chorizo, flap loin, short rib, potatoes, and shishito peppers at Lolinda, an Argentine-style steakhouse in San Francisco.
10. Polish-style blood sausage, grilled and served with sautéed cabbage and onions at Karczma in Brooklyn.
But what to drink with these unkosher, coagulated creations? In the French Antilles, boudin noir is traditionally served with ti' punch, a cocktail comprising rhum agricole, cane syrup and limes. I asked Shawn Vergara, proprietor of San Francisco's Blackbird Bar, for more ideas. A big blood-sausage fan, he suggested pairing it with a cocktail called the Blood and Sand, which comprises Scotch, Rosso Vermouth, Cherry Heering and orange juice.
"The base spirit would be Balvenie Double Wood 12-Year-Old Whiskey. I would describe it as such: vanilla, sherry and maple with hints of peat and dried stone fruit," Vergara explained. "The fruitiness in the Cherry Heering and the citrus in the orange juice would help to cleanse the palate without the cocktail being lost to the richness of the sausage.
"The smokiness of the peat in the Scotch would pair up really well with the flavors of the grilled meat. They are both very big in flavor and would hold up to each bite and sip."
That could be a bloody good match.
Buffet blood sausage and challah photographs by Anneli Rufus. Red cocktail photograph by Kristan Lawson. Scallops and blood sausage photograph courtesy of Sepia. Bloedworst Wafel photograph courtesy of B Too. All images used with permission.
Related