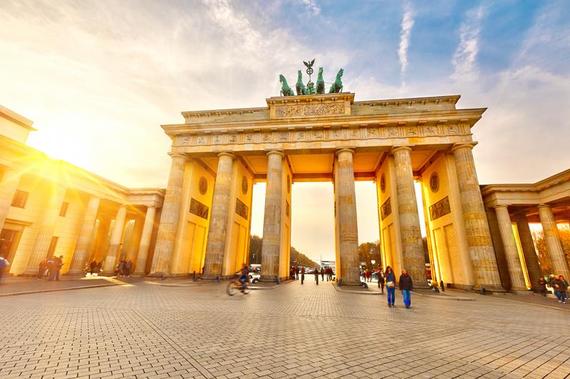 It's no wonder that European cities like Vienna, Milan and Stockholm are such popular tourist destinations, delighting hundred of thousands of American visitors every year with their medieval­-era squares, church spires and cobblestone streets.
Crossing the Atlantic can be pretty steep, though, so to help you figure out the best gateways to the Old World, Hopper's done the math for you, gathering billions of bits of flight-price data and coming up with a list of the 10 cheapest airports to fly to in Europe. Better yet, all prices mentioned reflect the average fare for round trips, which means your actual flight price could be much cheaper, depending on your departure airport. Not too shabby.
10. London Gatwick Airport, England

London's Gatwick Airport is currently the second-­largest and second-­busiest in the United Kingdom, right behind Heathrow. Its two terminals saw over 38 million passengers last year, and that number is only going to grow with proposed plans to add a second runway to the airport. Gatwick's dominant airlines are British Airways and EasyJet, but more than 40 other carriers operate there, and that means tons of affordable flights to and from many destinations all over the world. The average flight price is a commendable $934, which means Gatwick is generally a good option when planning a trip to England.
9. Vienna International Airport, Austria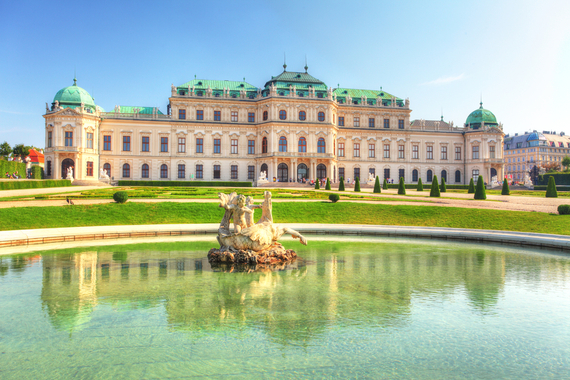 Vienna International Airport handled over 22 million passengers and 230,000 aircraft movements last year, serving a dense network of destinations across Europe as well as major cities in Asia, North America, and Africa. The average price tag for flights there comes in at $925, making it a good choice for Washington D.C., New York, Miami and Chicago residents looking for a cheap gateway to Vienna's welcoming coffeehouses, bustling markets and historic city center.
8. Berlin Tegel Airport, Germany

If it's Germany's old-­world charm, war­-related monuments and museums, and delicious bratwurst and sauerkraut that tempt you, then you won't find a cheaper way in than Berlin Tegel Airport. Serving as a base for Germanwings and a hub for Air Berlin, this airport offers intercontinental routes to and from major American cities such as Chicago, Miami and New York. Air Berlin's flights to Miami are scheduled to end in May 2015, though, so Floridians should take advantage of the airport's $919 average flight price while they still can!
7. Warsaw Chopin Airport, Poland

Poland's busiest airport handles a respectable 300 flights every day, covering a variety of domestic destinations as well as international ones. It's a hub for LOT Polish Airlines, who offers flights to Chicago's O'Hare as well as New York City's JFK. If you're eager to discover Warsaw's cobblestone streets and baroque palaces or venture out to the medieval marketplace of Cracow or to Gdańsk's outstanding museums, look no further than this airport, whose average flights from the US are just $885.
6. Milano Linate Airport, Italy

If you're planning to visit buzzing, sophisticated Milan, you'll want to save as much as possible on airfare to spend in the upscale boutiques of the Fashion Quadrangles or in the art stores and cafes of the trendy Brera district. Milano Linate Airport, which served 9 million passengers in 2014, is mostly used for domestic and short-haul flights to European destinations, but connecting flights from the US come in at an average of $879, making it a great option for those who don't mind a slightly longer travel time.
5. Dublin Airport, Ireland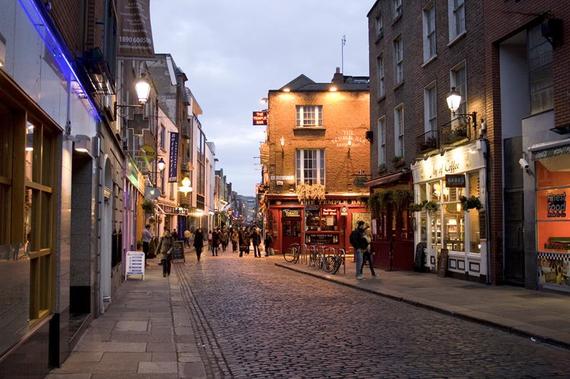 Looking for cheap flights to Europe? Download the Hopper app and set up fare alerts!
Dublin's airport has seen an increase in traffic over the past few years and is in the middle of an ambitious plan to expand its network of long­-haul routes, which is good news for American fliers from several cities! They can enjoy flights to Dublin for an average of $820. Currently, United Airway and Ireland's own Aer Lingus operate direct flights to Boston, Washington­-Dulles, Orlando, San Francisco, and New York's JFK and Newark, while Atlanta and Chicago residents can enjoy direct service in summer months with American and Delta Air Lines.
4. Copenhagen Airport, Denmark

Copenhagen's international airport is the next entry on our list, offering average flight prices of just $792. This makes it possible for US travelers to explore Denmark's white cliffs, forests, deserted dunes, and picturesque historical and cultural attractions without breaking the bank. The airport is also a great gateway to the rest of the Nordic countries, as it serves as an operating base for Thomas Cook Airlines Scandinavia and Norwegian Air Shuttle, in addition to being the main hub for Scandinavian Airlines.
3. Milan Malpensa Airport, Italy

Malpensa Airport is the largest airport serving the Milan Metropolitan area. It handled 18 million passengers in 2012 (twice as much as Linate) and is a focus city for a handful of airlines, including EasyJet and Alitalia. Flights to and from the US, at an average round-trip cost of $781, include direct service to New York and Miami as well as seasonal service to Hartsfield-Jackson Atlanta International Airport. All in all, Milan Malpensa is a better option than Linate for fliers eager to reach Milan without layovers.
2. Keflavik International Airport, Iceland

Who could resist the appeal of Iceland's unique volcanic landscape and surprisingly trendy capital? Keflavik International Airport, which serves as a hub for both Icelandair and WOW Air, makes it easy to cross this awesome destination off your bucket list by offering scheduled flights to and from a whopping 10 locations in the United States: Anchorage, Baltimore, Boston, Denver, Minneapolis, Newark, New York City, Orlando, Portland, Seattle, and Washington. And with an average flight price of just $775!
1. Stockholm Arlanda Airport, Sweden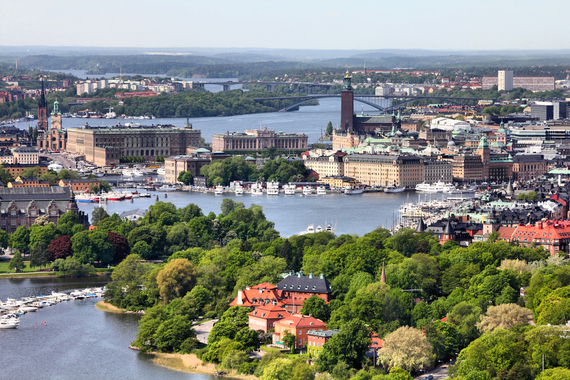 A round trip to Europe for $755 (or much less)? This budget­-minded traveler's dream is well within reach if you make Stockholm your next destination. Arlanda Airport has seen an amazing 30% passenger growth over the past five years, becoming a major gateway for international travel to destinations all over the world. New Yorkers can fly there with Scandinavian Airlines, United, Delta or Norwegian Air Shuttle, the last of which also offers service to Oakland and Los Angeles. The Swedish capital can be a bit spendy, so why not save on your airfare there?
Liked this article? Check out:
Related