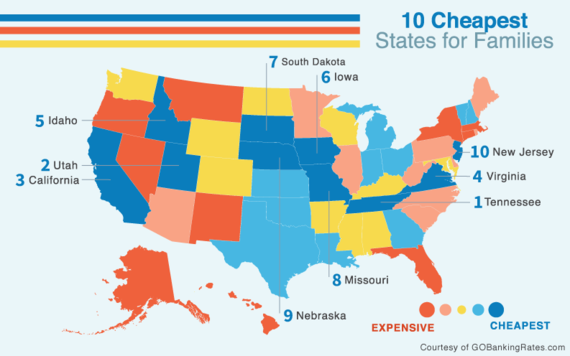 By Elyssa Kirkham, GBR Staff Writer
Household finances are tricky for everyone, and the number-crunching is especially hard for families. But location also has a huge effect on families' costs and ability to meet them. A study from the Economic Policy Institute, for instance, found that the average costs of a two-parent, two-child family could vary by as much as $57,000 each year from the cheapest community it surveyed (Morristown, Tenn.) to the most expensive (Washington, D.C.).
While child-rearing costs vary greatly by city, there are also significant differences from state to state. Some states offer higher incomes, whereas others keep key costs like food, housing and child care low. Some of the best states for families offer paid family leave, a crucial benefit that can help families fill the financial gaps in times of need.
GOBankingRates looked at all of these factors to rank the states and determine which ones make raising a family financially feasible. Here are the 10 cheapest states to raise a family, where households face the lowest costs while earning higher incomes.
10. New Jersey
The biggest benefit for families living in New Jersey is the overall higher incomes they earn. The state median household income of $65,321 is the fifth highest in the nation, giving families more means within which to live.
New Jersey is also one of just three states to offer paid family leave, with state laws that grant up to six weeks of paid family leave in a 12-month period. Workers on paid family leave receive two-thirds of their pay up to $604 a week for total benefits of up to $3,624 for the six-week period. New Jersey laws allow a total of 12 weeks of family leave in a 24-month period (including paid family leave).
New Jersey's Senate Democrats have also introduced an initiative, "New Jersey: Investing in You," which includes a focus on expanding prekindergarten education and other programs for children ages 5 and under, according to NJ.com. These benefits could be a welcome relief for families in New Jersey, where they face higher-than-average food and child care costs and the fifth-highest housing costs in the nation.
9. Nebraska
Nebraska lands at No. 9 among the best places to raise a family for its low costs, particularly for housing. Nebraska housing costs are below the national average, with a median monthly rent of $1,238 and the median listing price at $149,000. Nebraska's food and child care costs are also lower than most other states' average costs.
Even better, these lower costs aren't accompanied by lower earning potential for workers in this state. With a higher-than-average median household income of $55,107, Nebraskan families can enjoy lower living costs while still earning decent wages. Although the state lacks a family leave policy, Nebraskans still have a higher chance of being able to get ahead of their finances than many other U.S. families.
8. Missouri
Missouri's housing costs are the seventh lowest in the nation, with a median home listing price of $139,900 and a median monthly rent of $1,071. While the state's median income of $49,290 is below the $52,047 national median, families earning this amount and renting at a typical price could still keep housing costs fairly low at 27 percent of their pay, which is less than the 30 percent-of-income rent standard that most rental housing programs and personal finance experts use.
Food costs that are 5.8 percent lower than the national average and low child care costs help Missouri residents stretch their incomes further. For child care, Missouri residents pay less than the national median for all age groups considered in this study. For example, full-time care for a 4-year-old costs $6,074 in Missouri versus the $7,748 national median -- a savings of $140 a month. Although Missouri lacks a parental leave policy, the state offers other benefits. For example, Governor Jay Nixon announced a $3 million investment in the state's early education program, Missouri Start Smart, in September 2015.
7. South Dakota
South Dakota lands at No. 7 among the cheapest states for families because of the state's affordable child care costs, which are the fifth lowest in the nation. Parents in South Dakota can get full-time child care for an infant for just $5,571 a year and $5,319 for a 4-year-old. Food costs are about average.
South Dakota lacks any family leave laws, and the median household income of $50,488 is below average. But South Dakota families take home just $130 less a month compared to the national median while spending $250 less on child care each month and $50 less on monthly rent, on average. With these advantages, South Dakota families' budgets can come out ahead of most American families.
6. Iowa
Low food and housing costs in Iowa are some of the biggest benefits the state offers families on a budget. Median monthly rent is $130 less a month in Iowa ($1,112) than the national median, and the median home listing price is $60,000 lower in this state than the national median.
Food costs are also 7.3 percent lower than the national average. Lastly, child care costs in the state are about on par with national medians, but Iowa has no family or parental leave policy.
With these overall low costs, Iowa households can stretch their budgets further, even though the median annual income of $53,364 is just above the national median of $52,047.
5. Idaho
Although Idaho's median income of $49,952 is behind the national median, this lower income is offset by the state's low cost of living. Idaho has the third-lowest food costs in the nation, paying 10.4 percent less than the national average. The state also offers affordable housing, with a median monthly rent of $1,100 and a median house listing price of $189,990.
The Gem State's low costs extend to child care, which are the 10th-lowest rates in the nation. Full-time care is $6,483 a year for an infant and $6,380 for a 4-year-old  -- just $530 to $540 a month on average. Idaho has no parental leave laws, but the Idaho State Board of Education is currently working on a $9.8 million program to extend full-day kindergarten to children who are showing signs of reading difficulties.
4. Virginia
Virginia families have bigger budgets to work with thanks to having the fourth-highest median income in the nation. At $65,635 a year, a family earning the Virginia median income would take home $1,132 more per month than a family earning the national median.
Virginia residents pay more for housing than most Americans, but these costs aren't disproportionate to the state's median income. A family paying the median monthly rent of $1,504 and taking home the median income, for instance, would pay 27.5 percent of their earnings for housing. Households in Virginia also enjoy food costs that are 7.2 percent lower than the national average and child care costs that are only moderately higher than the national median.
Virginia has no parental leave policies, but nearby District of Columbia introduced new legislation in 2015 to provide its residents with up to 16 weeks of paid family leave in a year, the most generous family leave policy in the nation. If it passes, Virginia residents who work in the capital would also be eligible for these benefits, reported The Washington Post.
3. California
California currently offers the most generous family leave benefits of any state. California laws allow workers to take up to 12 weeks of unpaid family leave in a 12-month period, which can be combined with up to four months of maternity leave or disability leave to give new mothers a total of up to 28 weeks off.
The state also offers up to 6 weeks of paid leave to care for a newborn, adopted child, or seriously ill family member, providing benefits equal to 55 percent of the beneficiary's weekly pay up to $1,104 a week. Moreover, California requires employers to give workers up to 40 hours of leave each year to participate in their children's educational activities.
Additionally, California has a $57,161 median household income, which is about $5,000 higher than the national median, and parents in California pay child care costs that are about average.
The real pain points for California families' budgets, however, are food and housing costs. California has the second-highest housing costs of any state, with a median monthly rent of $2,267, which is 47.6 percent of the median household income.
2. Utah
A dollar will go further in Utah when it comes to food and child care. The state's food costs are 7.8 percent lower than the national median, and child care is at least $1,100 cheaper a year for every age group included in this study, though the state lacks a family leave policy.
Families earning the state's median household income of $60,053 have $667 more in their monthly budgets than the average American household. Their incomes are lagging, however, because of a strong gender gap in employment and wages similar to figures from the 1970s.
Utah has the lowest percentage in the nation of mothers of young children in the labor force and one of the highest gender pay gaps in the country. Women are paid $0.70 for every $1 men are paid, according to Bloomberg. Support for new state laws aimed at closing the labor and wage gap could help strengthen Utah families' finances.
1. Tennessee
When it comes to affordability for families, Tennessee comes out on top due to its low costs for the biggest budget items. This state has the second-lowest child care costs in the nation, paying just 63 percent of the national median for full-time infant care ($5,857 a year).
Housing and food are also cheap. Tennessee families pay just under $200 less a month than the national median for rent, and the state's median home listing price is $30,000 lower than the national median. Food costs are 5 percent cheaper than the national average. Even with the state's underwhelming median income of just $42,785 and a lack of family leave, Tennessee still offers families low costs and affordable living.
Full Ranking: The Best and Worst States for Families on a Budget
GOBankingRates surveyed the costs and factors that affect family finances in all 50 states. Here is the full ranking of the best and worst states for families on a budget, with the No. 1 cheapest state listed first and the most expensive state listed last at No. 50.
| | | | | | |
| --- | --- | --- | --- | --- | --- |
| 1 | Tennessee | 18 | Ohio | 35 | Arizona |
| 2 | Utah | 19 | Georgia | 36 | Minnesota |
| 3 | California | 20 | New Hampshire | 37 | Illinois |
| 4 | Virginia | 21 | Mississippi | 38 | North Carolina |
| 5 | Idaho | 22 | Kentucky | 39 | Delaware |
| 6 | Iowa | 23 | Arkansas | 40 | Maine |
| 7 | South Dakota | 24 | Wyoming | 41 | Florida |
| 8 | Missouri | 25 | Alabama | 42 | Connecticut |
| 9 | Nebraska | 26 | Colorado | 43 | Oregon |
| 10 | New Jersey | 27 | Washington | 44 | Massachusetts |
| 11 | Michigan | 28 | North Dakota | 45 | Nevada |
| 12 | Oklahoma | 29 | Maryland | 46 | Alaska |
| 13 | Texas | 30 | Wisconsin | 47 | Montana |
| 14 | Indiana | 31 | South Carolina | 48 | New Mexico |
| 15 | Vermont | 32 | West Virginia | 49 | New York |
| 16 | Louisiana | 33 | Pennsylvania | 50 | Hawaii |
| 17 | Kansas | 34 | Rhode Island | | |
Methodology: GOBankingRates surveyed costs of parenting and family living as well as median income in all 50 states to generate this ranking. GOBankingRates scored each state for the following five factors: (1) median income, (2) state family leave policies, (3) food costs, (4) housing costs and (5) child care costs. Each category was weighted equally and used to generate a family affordability score for each state.
Food cost data was unavailable for New Mexico, as were school-age child care costs for Minnesota and North Dakota. Rankings were controlled for missing data.
More from GOBankingRates:
Calling all HuffPost superfans!
Sign up for membership to become a founding member and help shape HuffPost's next chapter