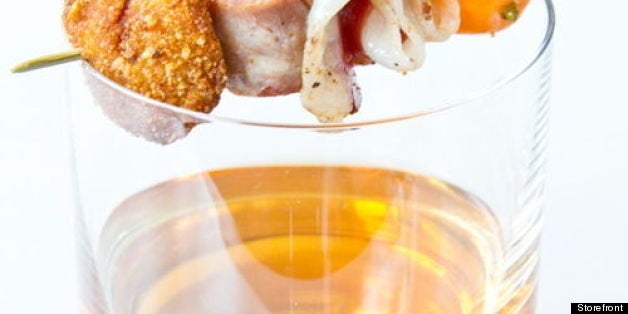 More and more bars now serve "cocktails for carnivores," a.k.a. fleshy refreshers, a.k.a. alcoholic drinks containing meat. These vegan-repellers bring a whole new meaning to the term "bloody Mary."
Chef Bryan Moscatello makes this poultry-ific pleaser with Monkey Shoulder scotch, kumquat syrup, Creole bitters and a skewered garnish featuring candied kumquat, duck confit, duck prosciutto and a deviled duck heart, finished with a lemon twist because, you know, it can't all be duck: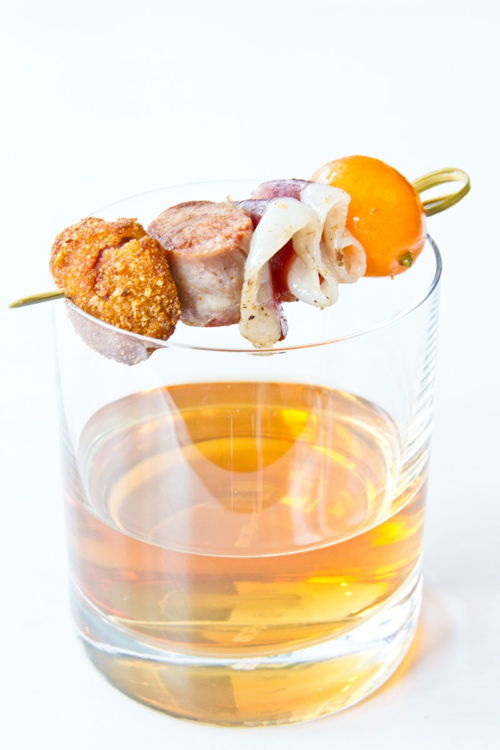 2. The Bay of Pigs, served at Portland, Oregon's Urban Farmer steakhouse:
This hot Cuban-inspired cocktail is made with Bacardi 8 Year Old rum, herb-bark-orange Calisaya liqueur, maple syrup, fresh cinnamon, coffee and frothed milk, garnished with bacon: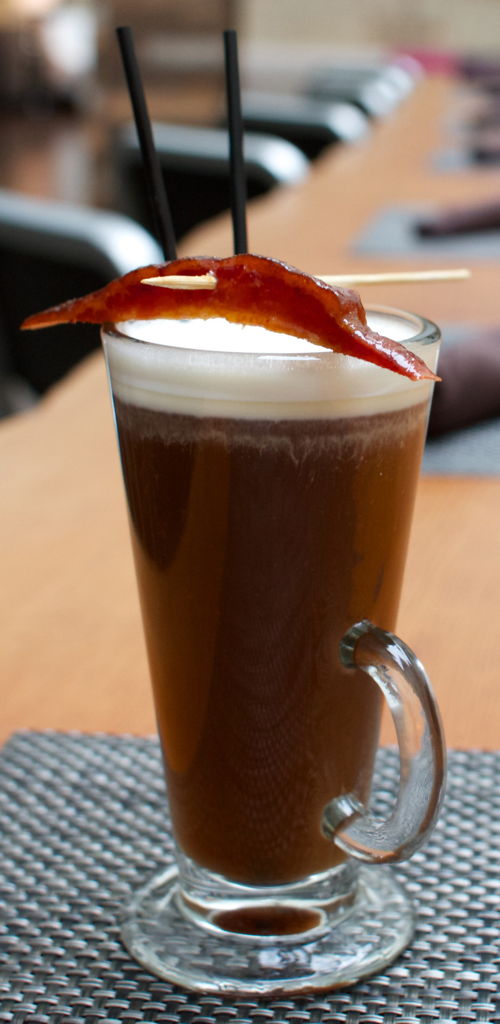 3. The Red Snapper, created by Demitri's®:
Whip these up with Bluecoat American Dry Gin; Demitri's® All Natural Bloody Mary Seasoning; Demitri's RimShot Rim Salt; tomato juice, V8, or Clamato and a lime wedge, further garnished with a slice of bacon, pepperoni, celery stick, pickled beans or asparagus or all five.
Beverage Director Jeremy Back makes this with Maestro Dobel Diamond Tequila, a fig shrub, cracked black pepper foam and prosciutto dust.
5. El Vaquero, served at Bocanova in Oakland, CA:
Bar Manager Stella Davies created this using pisco, smoked paprika, beef bouillon, Burlesque bitters and the Piedmontese digestive Barolo Chinato, garnished with a jalapeño slice and beef jerky: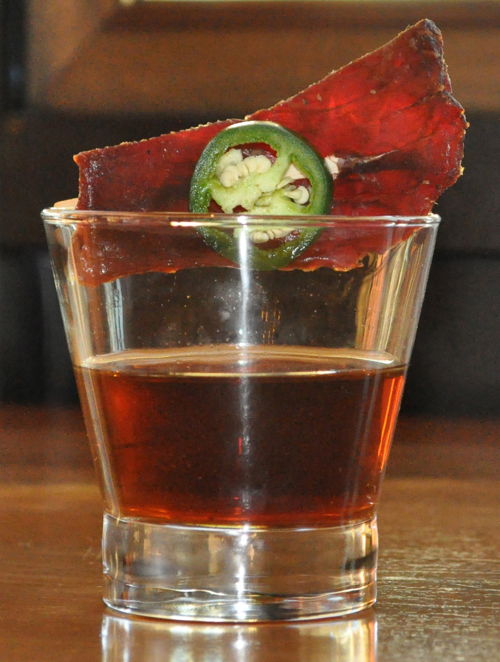 6. The Candied Bacon Maker, served at Charles Court in Colorado Springs' Broadmoor Resort:
Bartender Kirsten Schopen uses bacon-infused Makers Mark, maple syrup, lemon juice and Apfelkorn apple liqueur, topped with a candied bacon slice and lemon twist garnish: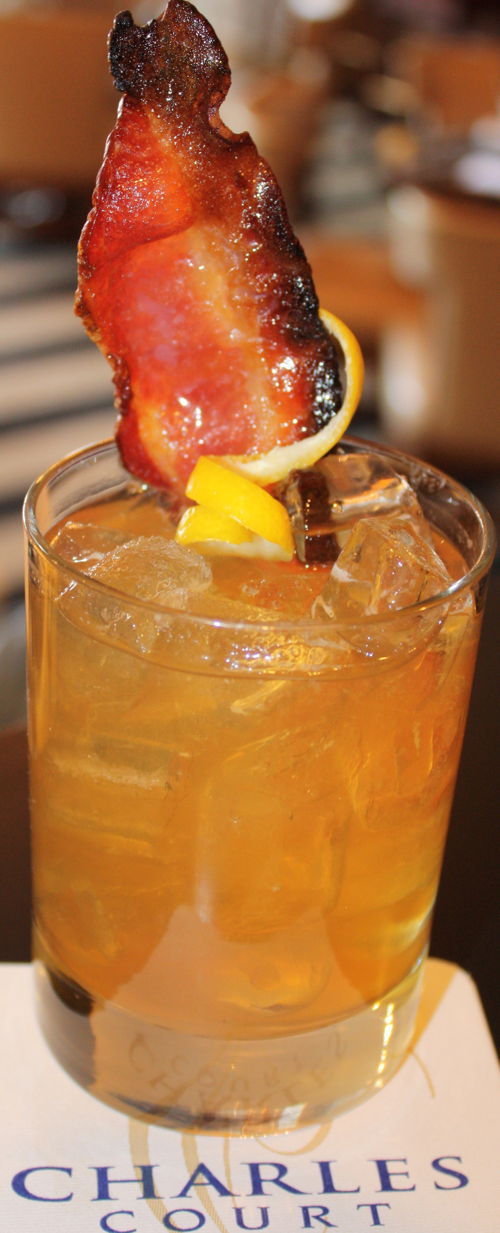 Pastry chef Sally Bowers worked with the restaurant bar's staff to create this boozy shake, which gets its name from its blend of bourbon-bacon maple syrup, vanilla ice cream and bourbon, topped with whipped cream and candied bacon: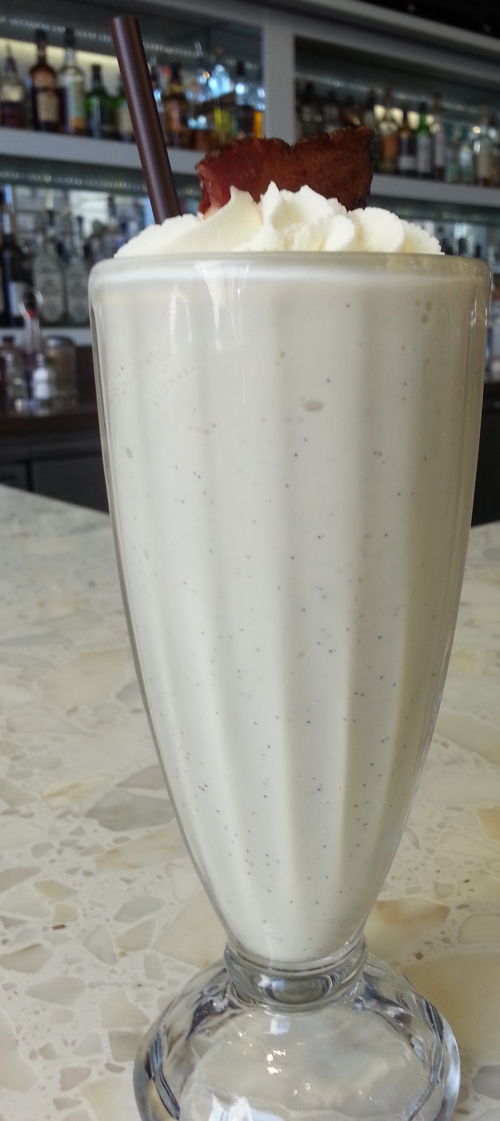 8. Mona's Madrona, served at The Bluff on San Juan Island, Washington:
Named after a local camel, this sweet, meaty Manhattanoid treat includes High West Double Rye, aromatic bitters, Calisaya, house-made madrona simple syrup and house-smoked bacon.
"I use the smoked bacon in this drink to balance the bitter and sweet that is already in the drink itself to hit all parts of the tongue and create a taste that changes every sip," explains chef Aaron Rock, who forages the madrona bark himself before cooking it down slowly in sugar-wate; the result is a Western alternative to maple syrup. Find his recipe for this cocktail below.
9. The Picán Old-Fashioned, served at Picán in Oakland:
Bar manager Sam Babalola presides over this rich nostalgic drink containing bacon-infused George Dickel No. 8 whisky, maple syrup, orange, cherries and bitters.
10. The Hamlet, created by me and served at my house:
I devised this ham-and-cheese cocktail using whiskey, half-and-half, simple syrup, aged cheddar cheese and prosciutto. I couldn't decide whether to call this liquid quiche a Manhamtan, a Cheesy Mary or a Hamlet and finally settled on the latter.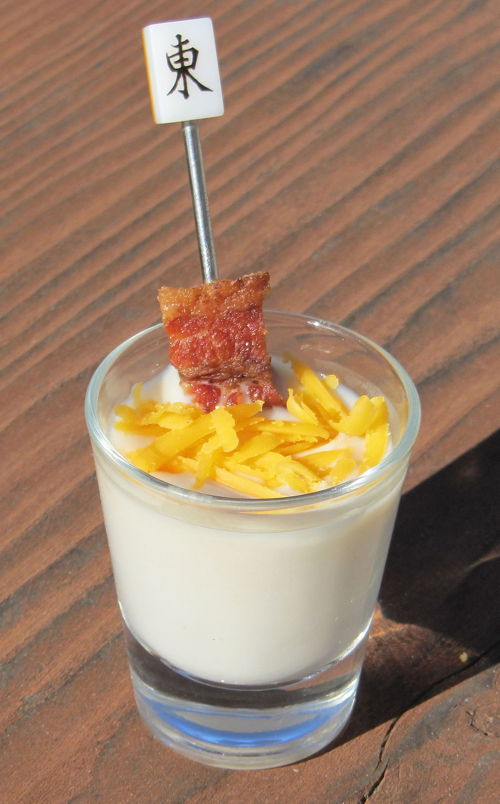 Granted, the mating of meat and alcohol usually goes the other way around: alcohol into meat, Burgundy into beef burguignon, mirin into sukiyaki -- not meat into alcohol. Because May is National Barbecue and Burger Month, the folks at Boston Beer are urging everyone to make barbecue sauce and even ketchup using Boston Lager craft beer as an ingredient. (For the beery ketchup, mix two parts ketchup, two parts mayonnaise and four parts beer.)
But even the folks at Boston Beer have been seduced into the absolute perversion of meat-into-alcohol rather than alcohol-into-meat. Two years ago, they partnered with celebrity chef David Burke to create an Oktoberfest-style beer containing grilled beef hearts. It was briefly served at Burke's restaurants.
"One way to get meat in a cocktail is with fat washing, which is usually done with bacon fat -- preferably something super smoky like Benton's," says Katie Loeb, who tends bar at Sophia's in Philadelphia and is the author of Shake, Stir, Pour: Fresh, Homegrown Cocktails. "I'd do a bacon-fat wash on a bottle of Bluecoat, then make yummy Red Snappers," says Loeb, who shares with us some recipes; see below.
Body and spirit -- bonded in so many ways.
Katie Loeb's Bacon-Infused Spirit
Ingredients: 3 or 4 slices bacon, or enough to render 1 ounce of fat (Benton's is a favorite for this, but any extra-smoky variety will do); 1 750-ml. bottle of spirit.
Method: Cook bacon in pan and reserve rendered fat. When bacon fat has cooled a bit, pour off one ounce from pan. Pour spirit into a non-porous container. A big cleaned jar works well for this. Strain the bacon fat into the container and infuse for 4 to 6 hours at room temperature. Place mixture in freezer until all the fat is solidified. With a slotted spoon, remove fat and strain mixture back into bottle through a gold coffee filter to remove any burned bits or small globules of fat.
Katie Loeb's Basic Bloody Mary Mix, from Shake, Stir, Pour: Homegrown Cocktails
Yield: About 5 cups (1.2 L)
Ingredients: 1 46-ounce (1.3 L) can or bottle of vegetable juice such as V-8 (or regular tomato juice); 3 tablespoons (45 g) prepared horseradish; 1 tablespoon (11 g) spicy Creole mustard; 2 tablespoons (10 ml) Worcestershire sauce; ¼ cup (60 ml) fresh lemon juice; 2 tablespoons (30 ml) Tabasco sauce; ½ tablespoon (9 g) celery salt; ½ tablespoon (9 g) salt and each freshly ground black pepper.
Method: Mix all the ingredients together in a large container and whisk vigorously to combine, or blend by pulsing gently in the blender until thoroughly combined. This keeps very well when refrigerated; however the spices and horseradish will separate and fall to the bottom of the container, so be certain to mix thoroughly to combine before using.
Katie Loeb's Smoky Red Snapper
Basic proportions are 1 part spirit (2 oz.) to 2 parts mix (4 oz.). Roll between mixing glasses to combine. Never shake tomato juice; it gets a weird texture. Or make by the pitcherful with same proportions. Serve over ice in tall glasses. Garnish with a lemon wedge, celery stalk or a crisp slice of bacon across the top of the glass.
Aaron Rock's Mona's Madrona
Ingredients: 2 ½ oz High West Double-Rye; dash madrona syrup; 2 dashes aromatic bitters; splash of Calisaya; 1 slice house-smoked bacon.
Method: Add contents into shaker, stir and pour, then garnish with house-smoked bacon strip.
Duck Duck Duck image courtesy of the Storefront. El Vaquero image courtesy of Bocanova. Hamlet image courtesy of Kristan Lawson. Bay of Pigs image courtesy of the Urban Farmer. Triple B image courtesy of The Original Dinerant. Candied Bacon Maker image courtesy of Charles Court. All images used with permission.
Related