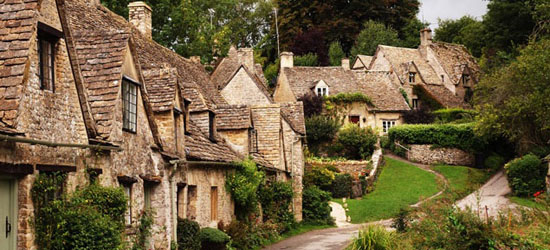 Photo Courtesy of Dreamstime. Article by the editors of Budget Travel.
America hasn't cornered the market on Coolest Small Towns! Sure, we love London and Paris as much as the next traveler. But over the years, some of the most charming, delicious, historic, and, well, cool places in Europe that we've covered in Budget Travel have been off-the-beaten-path villages and towns. As the saying goes, good things really do come in small packages.
CESKY KRUMLOV, CZECH REPUBLIC
One of the oldest villages in the Czech Republic, Cesky Krumlov is set in a valley in Bohemia south of the Blansko Forest and circled by the Vltava River. The village grew up around the 13th-century Gothic castle of the Lords of Krumlov, which has 40 buildings and palaces, gardens, and turrets and today is a major performing arts location. The cobblestone streets of Cesky Krumlov's Old Town are lined with Gothic, Baroque, and Renaissance buildings housing art galleries, cafes, and quaint B&Bs. One of the best ways to experience the town is to take a ride down the Vltava on a wooden raft ($24, en.ceskykrumlov-info.cz).
How to Get There: Prague, about 110 miles away, is connected to Cesky Krumlov by a three-hour bus ride ($10 each way; jizdnirady.idnes.cz).
Founded in 1593 as a stronghold of the Venetian Republic, this UNESCO World Heritage town was built in a unique, 18-sided octadecagon shape. When viewed from above, the fortress community looks like a delicately made paper snowflake, with streets radiating out of the structure like sunbeams. Tucked into a valley with a lagoon running into the Adriatic Sea, the land surrounding Palmanova yields high-quality Chardonnay, while the local waters are stocked with mullet, sea bass, and other delicious fish. In town, look out for the symbol of a leafy bough, or a frasca, hanging outside of restaurants to pinpoint ones serving regionally sourced food, such as the classic Venetian dish baccalà, made with dry-salted cod. At night, the city's earth-and-stone defensive works are lit up like a movie set.
How to Get There: Palmanova sits between Venice and Trieste in northeastern Italy. It's accessible by car along the A4 and A23 motorways and Highway 352. Venice is 75 miles to the southwest, while Trieste is 34 miles to the southeast. The town also sits close to the Cervignano del Friuli station and is serviced by the Udine railway (prices vary).
ROTHENBURG OB DER TAUBER, GERMANY
Germany's so-called Romantic Road -- which slices north to south through the southern German state of Bavaria -- earned its name for its string of stunning castles. But most of the region's bastions are stand-alone tourist attractions, not thriving municipalities. A charming exception is Rothenburg ob der Tauber, a red-walled town set up on a hill above the Tauber River. It has all the pastoral views and scenery of the Romantic Road's other castle stops yet has a strong civic pulse, too. Walt Disney was so taken by the town, in fact, that he used it as inspiration for the village in the movie Pinocchio. An earthquake destroyed the castle's main tower in 1356, but the town's red-roofed medieval and Renaissance houses have endured for centuries and were fully restored after World War II. Visitors can tour the castle's stone towers -- protected beneath covered walkways -- and stop by its base, where crafts shops sell everything from antique clocks to handmade garden gnomes. Cuisine is celebrated here in a way it isn't in larger German cities like Frankfurt or Berlin, let alone in castle canteens elsewhere. You may come here for the shining armor -- but you'll return for the delicious renditions of Bavarian comfort foods (more spätzle, anyone?).
How to Get There: The closest major tourist city to Rothenburg ob der Tauber is Munich, which sits about 130 miles southeast. Train service runs between the two cities and takes about three hours (tickets from $67). You can also drive: The A7 autobahn runs right past town.
Located on the River Coln in hilly west-central England, Bibury was described by 19th-century artist-writer William Morris as "the most beautiful village in England" -- which is saying something in a country known for its watercolor views. Honey-colored 17th-century stone cottages, the Saxon Church of St. Mary, and a still-working 1902 trout farm are some of the ancient village's must-sees. The most photographed spot is Arlington Row, a collection of 14th-century stone buildings that were converted into weavers' cottages in the 1600s.
How to Get There: The closest train station to Bibury is 12 miles away, in Kemble. Multiple trains make the 80-minute journey from London's Paddington Station (nationalrail.co.uk, round trip from $57). Cirencester, seven miles away, is linked to London by daily buses (nationalexpress.com, round trip from $30). There is no public transport directly to Bibury, but taxis are available and local hotels will often arrange transport for guests.
On the banks of the Danube, in the shadow of a castle from the Middle Ages, Dürnstein is one of those impossibly quaint towns where everything, from the red-tiled roofs to the baroque clock tower to the winding cobblestoned alleys, seems lifted straight from the Brothers Grimm. Just an hour downriver from Vienna, Dürnstein is an under-explored retreat and a gateway to the surrounding Wachau valley, a grape region prized for crisp, dry Rieslings and Grüner Veltliners. To experience the area like a local, take a seat inside a Heuriger, a cozy tavern that sells only indigenous wines, namely those from the most recent harvest. Authentic establishments hang fir branches above their doorways to welcome the thirsty, while Schrammelmusik (traditional fiddle-and-accordion folk music) plays from within. Although the Wachau is known for its grapes, it is the Marille (apricot) that sets the region apart. In early April, the valley erupts in pale-pink blossoms, and the fruit begins showing up in strudels, pork dishes, and Marillenknödel (apricot dumplings rolled in butter-toasted bread crumbs). Wieser Wachau Shop & Café, with locations throughout the valley, sells apricot soap, schnapps, and marmalade (wieser-wachau.at).
How to Get There: The town is best reached by car and is only about an hour drive from Vienna on the A1 autobahn. For a more picturesque route, opt for a day trip river cruise on the DDSG Blue Danube MS Admiral Tegetthoff (ddsg-blue-danube.at/eng, round-trip $39).
Related