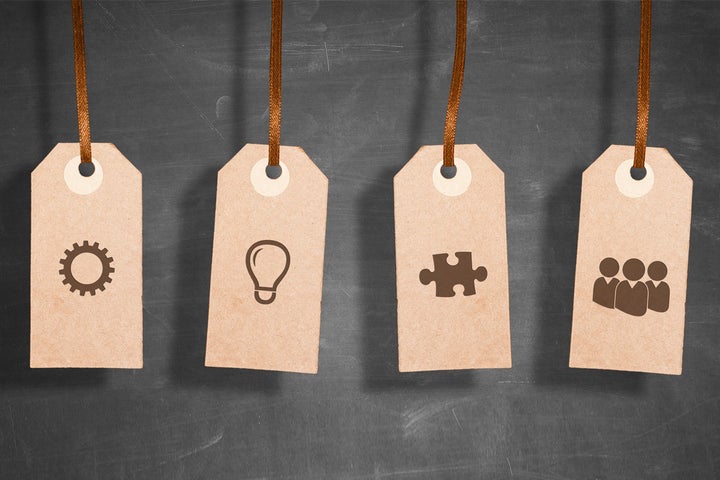 By Karina Welch, Corporate Marketing Manager, Blue Fountain Media
As marketers, we have many, many demands on our time. Whether it's managing and optimizing a campaign, preparing a report, helping pitch a new client, or simply trying to stay up-to-date with what's going on in the industry, it feels like there's always something else that needs to get done. That's why having the right digital marketing tools at your fingertips is so important. The right tools can help cut down on time spent on more menial tasks like day-to-day management and reporting, freeing up time for more important initiatives. A good set of marketing tools will not only help you manage campaigns more efficiently but also better, offering insights and/or features that help optimize and improve your campaigns.
Here, in no particular order, are ten digital marketing tools we've found that make life easier for the marketers who use them:
1 - Sprout Social
Sprout Social is a powerful platform for social media monitoring and engagement. Sprout's inbox gathers social mentions from different networks in one place and makes it easier to manage responses to those mentions and comments. Sprout can also handle content calendarization and post scheduling across platforms -- which marketers know can be a serious time suck without the proper management tools. Add analytics and reporting on top of that and you've got a pretty handy social tool on your hands.
2 - Facebook Insights
Facebook Insights is a given for anyone using Facebook for marketing or advertising. The analytics tool allows page admins to see an overview of page activity, understand the reach and performance of each post, and get a sense of the demographics of page visitors and followers. If you're not paying attention to this one, you're missing out on valuable audience data and insights.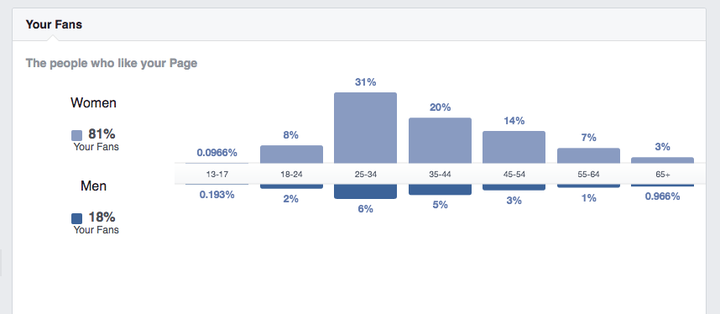 3 - Mailchimp
Mailchimp is pretty much the best DIY email marketing platform in the business. For brands without custom email creative, Mailchimp allows users to create emails from templates and customize visuals and text with drag and drop tools. Mailchimp also makes A/B and multivariate testing simple to execute and analyze, allowing users to automatically distribute to the remainder of their list with the winning creative and to gain useful insights about their audience that can be used to improve future campaigns. All this plus robust segmentation and automation capabilities make Mailchimp one of our all-time favorite tools.
4 - Optimizely
Optimizely is a powerful tool for experimentation and testing. The platform allows users to run A/B and multivariate testing to find ways to improve and optimize the user's browsing experience and increase conversions over time. Optimizely also offers the ability to personalize website experiences through targeted content delivered in real-time based on historic or current behaviors.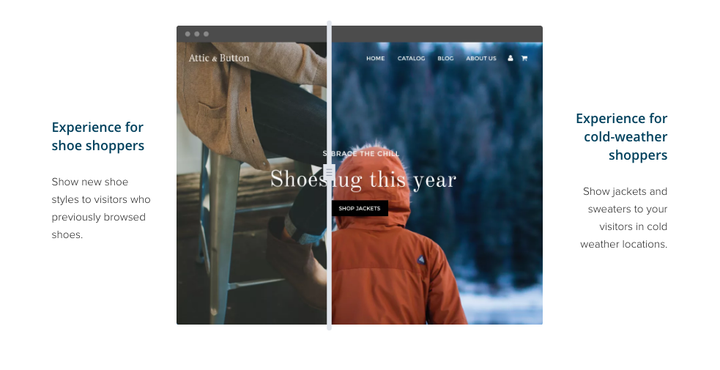 5 - Hotjar
Hotjar is a great tool for generating insights into how users behave on your website. The tool provides heatmapping as well as recordings of user interactions with your site. Recordings allow you to observe which points in the browsing process causes users to get frustrated and abandon their search or which content they spend the most time with, for example. You can also pose questions to users to get direct answers about their interactions with your site. Together these features make Hotjar a powerful tool for identifying website issues and user insights that can be optimized towards in the future.
6 - Google Analytics
Google Analytics is an incredibly robust website analytics platform -- but you probably already knew that. It's one of the most popular analytics platforms on the market, after all. It's impossible to list all of GA's features in a short blog post, but suffice it to say the platform offers deep insights into how users found your site, how they behaved once they got there, and what the conversion flow looks like. GA's robust feature set, plus the fact that it's free, make it a no-brainer for marketers looking to understand their users better.
7 - eMarketer
On the research end of things, few tools are as useful to a digital marketer as eMarketer is. There's nothing worse than spending hours on Google searching in vain for the one statistic or graph you need to prove your point, and then finally giving up without the right data in hand having lost valuable time in the search. eMarketer effectively eliminates this dilemma by aggregating an enormous amount of research and data on digital topics in one place. Virtually any topic you can think of in the digital space, eMarketer has research on it. It's relatively easy to search and filter within the platform and they make it convenient to download charts and graphs in JPG, XLS, and PDF formats.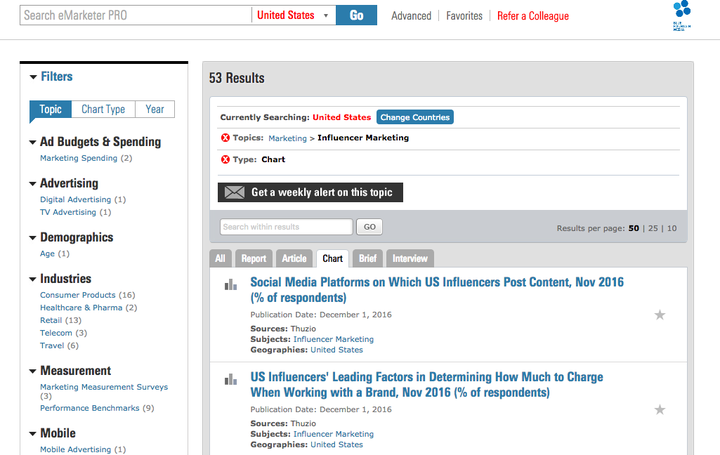 8 - Google Trends
Google Trends is a simple but indispensable tool for digital marketers. It allows you to explore search term volume worldwide and in specific locations. You can also compare search terms against one another and explore related queries or topics. It's a powerful tool for marketers to monitor the popularity of topics and search phrases that relate to their brand and industry.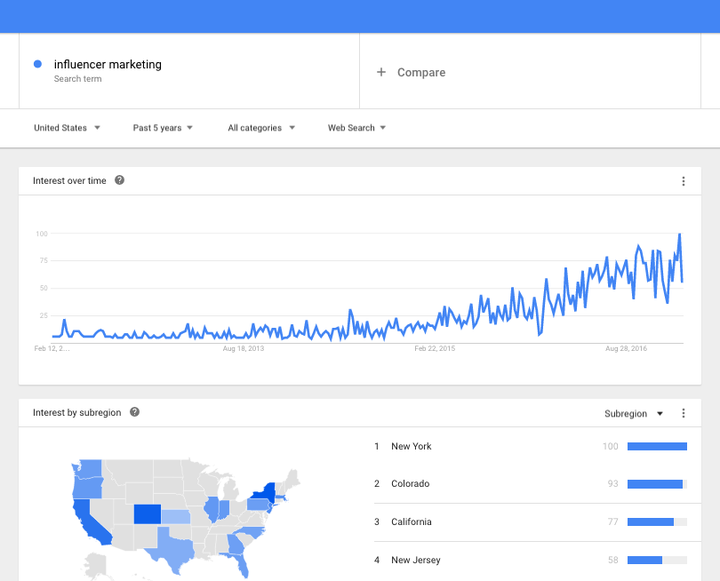 9 - Google Keyword Planner
This one's an oldie but a goodie -- and another indispensable tool for digital marketers concerned with search, either paid or organic. The keyword planner allows you to explore keyword data including average monthly searches, estimated competition, and suggested bids. You can search for keywords by entering or selecting a category or search term, or by providing a link to a landing page which the tool then analyzes to provide suggested search terms. The tool is definitely geared towards paid search, but that doesn't mean meaning can't be extrapolated to search phrases and groupings for organic search efforts and content marketing.
10 - SEMRush
If you need more keyword data, SEMRush is a great tool to augment your results. The tool will show you organic and paid metrics as well as a lot of other information you can't get from the Google Keyword Planner. With SEMRush you can access organic search rankings for your keywords and see competitor ad copy all in one dashboard.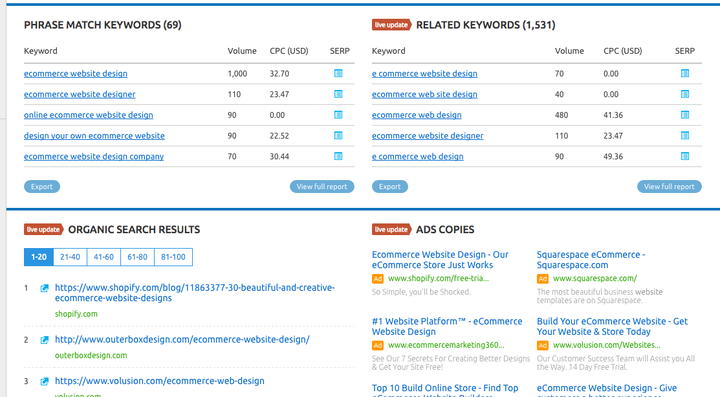 There are any number of digital marketing tools you could put your time and money towards, but this list includes many of our favorites. There's no tool on the market that can solve all of your problems and meet all of your needs. The best approach is to experiment with different tools until you find the ones that work best for your brand's individual needs.
Karina is a Corporate Marketing Manager at Blue Fountain Media, a top digital agency in NYC specializing in website design and digital marketing. Karina is passionate about all things digital and is always on the search for the next marketing and technology trend.
About Advertising Week Europe
Now in its fifth year, Advertising Week Europe is a hybrid of inspiring thought leadership, entertainment and special events celebrating the industry and its people. For one week, from 20–24 March, the brightest leaders from the marketing, advertising, technology and entertainment industries join together in London to share their visions, passions, and best practices. From seminars and workshops led by some of the greatest minds in the industry by day, to world class entertainment in London's most iconic venues by night – Advertising Week Europe's premier roster of events is like no other.
Related
Popular in the Community