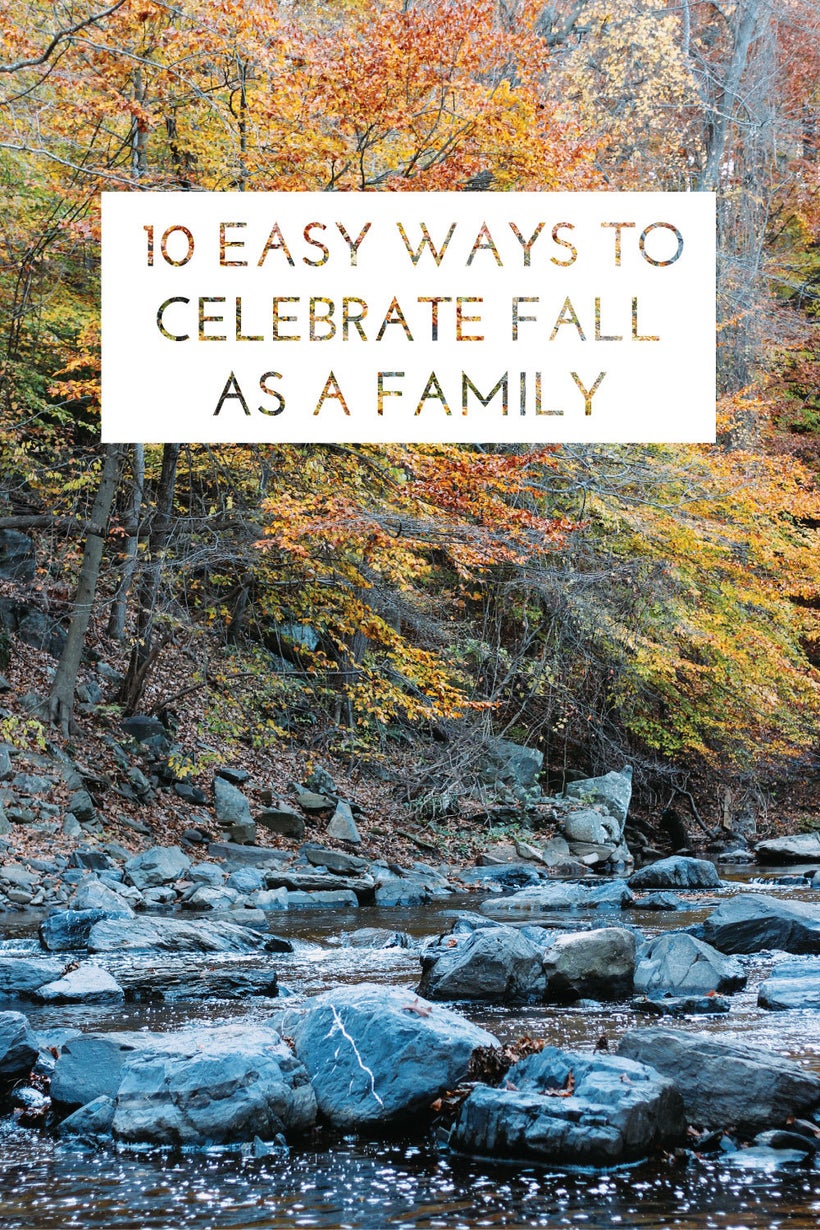 You might recall that our family loves a good seasonal bucket list. But I know that with all the back to school busyness, most families don't have time to create one. In fact, you are probably just looking for a few good simple ideas to spend time together. So, here you go. Our ten favorite easy ways to celebrate fall together as a family.
1. Help with the harvest — you don't need to have a farm to partake in seasonal pickings. We love to take the kids apple or pumpkin picking and then cook something yummy together.
2. Set family goals for the school year — back to school means back to routine for our family. Use that organization time to collectively come up with new family goals for the school year. From something as simple as emptying backpacks promptly to everyone spending less time on technology, it's a good moment to set goals.
3. Take in the great outdoors — I love taking our kids hiking in the fall—it's the perfect time in between hot summer and the cold to come for them to get out and explore. Think about simple activities you can do on a walk together that will help you appreciate each other. We like to pause and do a little meaningful quiet time together or solicit the kids to contribute to a family discussion on a particular topic.
4. Chill out — as our kids get older, school gets more and more academically taxing. Ease up a bit on organized activities and plan some after school or weekend time to just hang together. Sometimes the unplanned time leads to the best conversations and bonding experiences.
5. Be deliberately thankful — there is a whole fall holiday designed around being thankful, but practicing it in a deliberate way is an excellent family activity. Each year, every member of our family writes (or tells) a list of specific things for which they are thankful. It doesn't need to be elaborate or grandiose, it's the process of doing it together that makes in meaningful.
6. Make a seasonal sensory material — fall is full of sensory changes—crisp leaves that rustle, the smell of burning fireplaces, colder air moving in. Embrace those by making a fun play material with your kids such as pumpkin pie playdough or spooky oobleck. Sensory play is a wonderful way to help your kid's senses develop and is just plain fun.
7. Volunteer — fall is the perfect time to practice gratitude. Plenty of people in this world don't have family who care for them over the holidays. Think about pitching in at Thanksgiving to those in need or planning ahead for the winter holidays to gather donations.
8. Get active together — it's easy to hunker down inside during cold months and put exercise on the back burner. Plan ahead by encouraging the family to get active together. A Turkey Trot is a fun way to involve kids and make room for Thanksgiving dinner!
9. Watch a spooky movie together — I personally cannot stand being scared, but my kids love it. Err on the side of spooky and pick a classic movie to get everyone in the mood. You can make movie time extra special by serving a seasonal treat (e.g., apple slices and caramel).
10. Decorate for the holidays together — whether you're a fan of Halloween or prefer the bountiful celebration of Thanksgiving, making simple decorations together is a great way to spend time as a family. And my kids love seeing their handiwork hung in the house.
Calling all HuffPost superfans!
Sign up for membership to become a founding member and help shape HuffPost's next chapter
This post was published on the now-closed HuffPost Contributor platform. Contributors control their own work and posted freely to our site. If you need to flag this entry as abusive,
send us an email
.