I consider myself a hardcore feminist (I've even got the T-shirt), one attuned to all the gender stereotypes bombarding us daily. I work hard to combat them whenever and wherever I can. But I don't live in a vacuum, and I've found myself falling into traps I thought I could avoid: like talking tougher and playing rougher with my son than my daughter. Sometimes "Hey, buddy" just pops out while I'm tickling him with much less mercy than I showed my daughter at his age.
But I didn't know quite how insidious my own gender biases were until I read Parenting Beyond Pink and Blue: How to Raise Your Kids Free of Gender Stereotypes by developmental psychologist Christia Spears Brown, Ph.D. (and my new imaginary best friend). I've been mentioning it to every parent I know ever since, trying to drop it casually into conversation without sounding like a cult member. But then I remembered I could aim bigger, try to reach a larger audience. So I'm telling you now, reader: Parenting Beyond Pink and Blue should be required reading for all parents and teachers!
As a scientist, Brown doesn't just use a lone study here and an outlying study there to make her case, as many other writers do when trying to prove how even little boys are from Mars blah blah blah. She's all about meta-analyses, which analyze the findings of many, often hundreds, of studies on a similar topic. It's in that kind of data where you find out just how similar kids are -- a fact that doesn't get much play since studies showing differences make much catchier, sexier headlines. (Plus, we as humans like to pack things into neat little boxes, no matter how many exceptions to the boxes' rules we encounter.)
Sure, there are a few genuine difference (girls' first words come a little earlier; boys have a little less impulse control), but the areas of similarity far outweigh the areas of genuine difference: "For most traits and abilities, boys differ from other boys and girls differ from other girls more than the two groups differ from each other. Just because we like to ignore the variation within a group of boys or a group of girls doesn't mean it doesn't exist." Spears explains that even when the average boy differs from the average girl, the distributions are often largely overlapping, meaning you can't predict what a child will be like based on their gender.
It's only after a lifetime of being squished into their respective gender boxes that women and men's brains do actually conform and reflect bigger differences than there actually need to be -- than there should be. After all, being encouraged to try and allowed to enjoy a variety of different experiences as you grow up regardless of whether those experiences are deemed "masculine" or "feminine" creates better brains -- not to mention more empathic humans. Gender-blind parenting, writes Spears, "is about enabling your children to maintain as many cognitive, social, and emotional abilities as possible."
Without ever being overly academic or pedantic, Brown cites study after study that show the incredibly negative impact gender stereotyping has on both boys and girls development, self-esteem and skills. For example:
"Parents routinely assume that their sons are more interested in math and science than their daughters [and they] hold these assumptions regardless of how their kids are actually doing in math and science."
"Girls have a more negative body image after playing with Barbie than before."
"Boys are doing academically worse in school than girls, across the school years, largely because the stereotype tells them to be tough, independent, and never ask for help."
"Dads who avoid the 'mom' stuff end up less satisfied with parenting than other dads."
"Analyses of national AP Calculus tests shows that almost five thousand additional girls a year would have scored high enough to earn AP credit had they indicated their gender at the end of the test instead of the beginning. Simply pushing back those gender thoughts until the test is over can keep performance higher."
The list goes on and on, with each finding more powerfully eye-opening than the next. The classroom studies she writes about are even more depressing in terms of how pervasive and damaging gender assumptions are -- and how daunting trying to affect change can be (beware of schools adopting different teaching styles based on gender). But knowledge is power. Did I mention that if you're a parent or a teacher you should read this book?
Again, you should read Parenting Beyond Pink and Blue. But in the meantime, here's a quick list of small, everyday changes recommended by Spears (or in some cases inspired by Spears' suggestions) that you can make to help your own kids turn out to be more fully formed, multidimensional successes, rather than simply macho dudes or girly girls.
1. Buy gender-neutral toys for your own and others' kids and encourage them to play with cross-gender toys from an early age (though keeping in mind that, after a certain age, anything labeled for a certain gender will be anathema to the "opposite" gender).
2. Before puberty, have co-ed birthday parties and playdates.
3. Don't refer to children as "boys" or "girls." Call them "kids/students" -- otherwise you're constantly dividing kids into opposing "other" groups and reinforcing how this one aspect is THE most important factor of their identity.
4. Avoid making sweeping statements about how all boys are X, Y and Z or how all girls are A, B and C (e.g. the dreaded "Boys will be boys.").
5. When your child is exposed to gender-stereotyping by TV, books, and other people, question this stereotyping with your child and give them several examples of exceptions to these "rules." (When my kids say boys don't wear pink, I pull up loads of pictures of men rocking pink shirts, pants, shoes, etc.)
6. Don't assign chores based on gender: girls can take out the trash, boys can help with the laundry, etc.
7. Talk to boys as much as girls, especially about their feelings, and encourage caretaking and nurturing in them -- they might be parents too, some day (just like William from "Free to Be You and Me"!).
8. When reading in class, make sure you don't automatically assume animals/aliens and other "it" characters are male; change any terms like "firemen" and "policemen" and "mailman" to "firefighter" and "police officer" and "mail carrier."
9. Don't compliment girls on their appearance (e.g. a new haircut or outfit) - compliment all kids on their hard work and effort, and ask about their interests. And make sure you count and talk numbers with girls (since parents statistically do this more with boys).
10. Monitor -- and censor -- the media they consume. A lot of shows' and games' bread and butter is gender stereotyping, portraying girls as interested in looks and boys, while encouraging boys to be aggressive and violent. Ban commercials (TiVo and Netflix can help with that).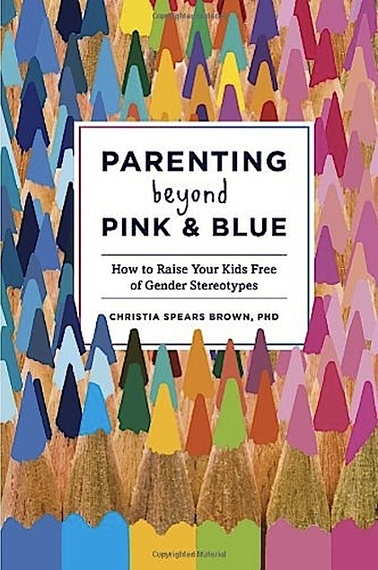 Related