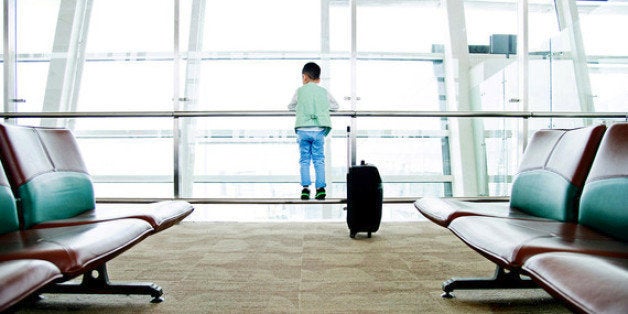 Having kids definitely slowed my husband and me down. When you've got a 3-year-old and a 6-month-old, it's can be hard to get to the grocery store--forget horseback riding in Patagonia or partying all night on a houseboat in Paris. Still, we've managed to keep traveling without resorting to, um, resorts. This year we took a road trip through the Pacific Northwest (admittedly, in a minivan) and spent nearly three weeks winging it around Europe. The key to being intrepid with small children is being willing to go with the flow--but smart travel strategies help, too. Here's what a travel editor has learned from flying, driving, pushing, carrying and sometimes dragging her two children around the world.
We try to pack light, but when you have kids there are some things you simply do not want to be without. I start my packing list a week before we leave, because the everyday items can be the easiest to forget. I have no desire to repeat the Vancouver Car Seat Incident, which was made infinitely worse by the fact that we had run out of baby wipes.
When our son was younger, I'd buy a bunch of small toys the day before a trip to keep him occupied in the air. Today, we load an iPad up with "educational" games, pack kid-friendly headphones (earbuds don't sit well in little ears) and let him watch "Penguins of Madagascar" as many times as he wants. Friends in 18B: You're welcome.
On many (though not all) international flights you can get a baby bassinet--a little cot for infants that attaches to the wall in front of the bulkhead seats. They're free, but you have to reserve them in advance. Book as early as possible, call at least once before the flight to confirm the bed, and remind the flight crew when you board that you reserved one. It's a hassle, but the payoff for your arms is huge.
It's worth paying up for travel cribs, strollers, etc., that are durable and lightweight--an extra five pounds feels like 50 when you're running for a flight. Our phil&teds travel crib cost about $200 and is a little complicated to assemble. But it clocks in at just seven pounds and can even fit in a large suitcase.
Open your wallet for anything else relatively inexpensive that might make the trip easier. That includes but is not limited to: priority boarding, checked bags, and airline seats with extra legroom. And don't forget small bills for vending machines and to tip people who help you.
I always pack a few big black plastic garbage bags, a few grocery sacks and a wad of painter's tape in our luggage. Classy, I know! But the big bags work as blackout curtains in too-bright rooms (the tape won't mark walls). The little ones are good for dirty laundry, used diapers and snack trash, and can cover less-than pristine seats (see: the Vancouver Car Seat Incident).
Specifically, rent a house or an apartment equipped for young children whenever possible. You generally get more space than in a hotel, you can cook or eat in, you won't have to worry as much about safety or damage, you might be able to borrow gear like cribs and strollers, and there's built-in entertainment for your little ones. (What kid doesn't love playing with someone else's toys?) When searching Airbnb, check "family friendly" in the amenities list, then scan for listings that have photos of children's rooms.
Another reason we usually stay in rentals is that it's such a hassle to reserve hotel suites or connecting rooms. But sometimes we need last-minute lodging, or the rental options are unappealing. My secret weapon is Book a Suite, a website that's exactly what it sounds like. When booking, make sure that the "suite" is actually more than one room and not just a larger-than-normal guest room.
I was really anxious before our recent trip to Europe. Was I completely insane to take two babies on a three-week-long, figure-it-out-along-the-way adventure? I kept reminding myself that I wanted our family to challenge the boundaries of our comfort zone. The takeaway from trip: Children are almost always capable of exceeding expectations. You can even take a toddler to a contemporary art museum without anyone crying, including you.
One evening at an upscale sushi restaurant on the other side of the country, my normally well-behaved son started hollering and trying to scale the velvet banquette. "What's wrong with him?" my husband said. The better question: What was wrong with us? You can't take a 2-year-old sightseeing all day, let him skip his nap, and then expect him to behave in a fancy restaurant. We've learned that sometimes you need to quit while you're ahead. And, that you can have pizza delivered in Paris.