Just because summer is over doesn't mean you have to say goodbye to festival season. For travelers and students visiting Europe we have put together a round-up of this fall's best music and art festivals. Cities like Paris, Berlin, Barcelona and Istanbul are bursting with things to do this autumn from the international CoffeeFest in Belgrade to Barcelona's La Merce.
Push away those end of summer blues because it's time to go exploring:
Tiger Dublin Fringe, September 7-20
If you're passionate about independent art, then the Tiger Dublin Fringe festival is for you. This is one of the most important cultural festivals in Europe where you will be able to enjoy everything from theater and dance to music, circus, comedy and live art. And this is the 21st edition and there's no doubt that it will be a very special one.
Downtown Festival Istanbul, September 16-20
This is one that we really love. Every year The Downtown Festival in Istanbul recreates a European city, turning the Turkish capital into a different place. Last year they chose Berlin, but this year artists, musicians DJs and live performers will come together to turn Istanbul into a mini Paris! Oh la lá!!! Get ready for an amazing party, and you may even learn how to say Paris Seni Seviyourum. That's Turkish for Paris, I love you.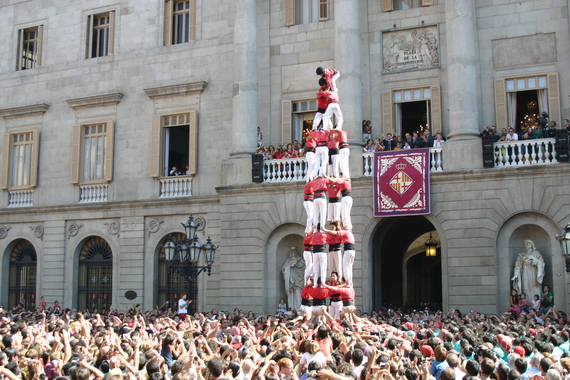 La Mercè in Barcelona, September 18-24th
La Mercè takes over the entire city of Barcelona where for you'll find music, and live art around every corner. Festivities go all week s endurance is key here and by the way, did we mention that it's totally free? In addition the concerts keep an eye out for the human towers, (els castellers in Catalan) that can be as high as 33 feet; and the pagan fire run (correfocs in Catalan) which is a spectacular Catalan tradition you need to see to believe. Want someone to break down all the cultural references? Let the locals be your guide.
Caixa Alfama in Lisbon, September 18-19
The best way to get to the heart of Portugal is to listen to their music, and Fado is the soul of this charming country. So if you are planning on traveling to Lisbon this September you'll have the great opportunity to enjoy over 40 live concerts that will take place around the city. Be careful, Fado will get stuck in your head!
RomaEuropa Festival, from September 23
This festival takes over the Italian capital for 3 months where you'll breath and live culture from theater and dance to music and everything in between.And to satisfy your appetite for delicious Italian food, you shouldn't miss the opportunity to cook with a local chef and learn some of the secrets of traditional Roman cuisine.
CoffeeFest in Belgrade, September 25-26
If you're one of those people that can't say good morning until your first cup of coffee, you should start looking for flights to Belgrade now! The Serbian capital gathers coffee lovers from all over the world, and of course, the best coffee beans, machines and techniques for you to indulge in a one of a kind coffee experience. Some of the best baristas in the world will be there so get ready for an expert class in coffee.
Nuit Blanche in Paris, October 3
Nuit Blanche is a free annual festival that holds the entire city captive. Hosted the first Saturday of October, this dusk til' dawn event is full of the best live music, art exhibitions and video installations around and with the museums open all night there's absolutely no way you'll be getting any sleep. Parisians dance all night and the city keeps the public transportation running 24 hours so you can visit Paris from East to West without missing a thing.
Hipnotik Festival in Barcelona, October 3
Are you a hip hop lover? Then you should immerse yourself in the Hipnotik Festival where you'll discover local artists and the best breakdancing in Europe. During your visit you should definitely take the opportunity to appreciate Barcelona's street art with a local artist. Hip Hop and graffiti, what else can you ask for?
London Cocktail Week, October 5-11
London is known for its famous Martini, which agent 007 made famous world wide. But there are many more specialty cocktails that deserve your attention. Purchase a £10 bracelet and you'll have access to the city's best bars which will be serving up unique cocktails for £5. Ever wanted to try juniper infused gin? Now's your chance. But if you want to master the art of making quirky cocktails take a class with a local bartender, you wont regret it. Cheers!
Festival of Lights in Berlin, October 9-18
Keep your eyes wide open for the Festival of Lights in Berlin, because you don't want to miss a single minute of it. Local and international artists take over the monuments of Berlin to transform them into live art.
We told you there's life after summer. Enjoy!